If games like Pac-Man, Space Invaders, Missile Command, Street Fighter and Tekken bring you happy memories, then you will definitely like these 2 tips to retro gaming arcades in Tokyo.
In most parts in the world, entertainment game arcades became unfashionable in the early 90's and lost market to home game consoles. However in Japan, arcade game centers managed to live on in parallel with the modern gaming consoles. The modern-day gaming arcades can be experienced in all larger Japanese cities, including most neighborhoods in Tokyo. Typically found near train stations or entertainment streets big-brand arcades such as Sega and Taito have managed to keep the hype alive by following the technological development of the game world. Go to Akihabara in Tokyo, and you will find more game arcades than you can count on two hands – many of them with as many as 7 floors!
Now, most Japanese gaming arcades tend today focus on, loud and flashy modern games (music and dance games are very popular) along with classic UFO-catchers etc. In this post, I will talk about two smaller shops which have specialized in retro arcade games:
Super Potato is primarily a shop selling old consoles and games, but they do have a floor filled with old game machines. Mikado however is purely a game arcade, in two levels filled with many of the classic games from the 80's and 90's.
Super Potato (Akihabara)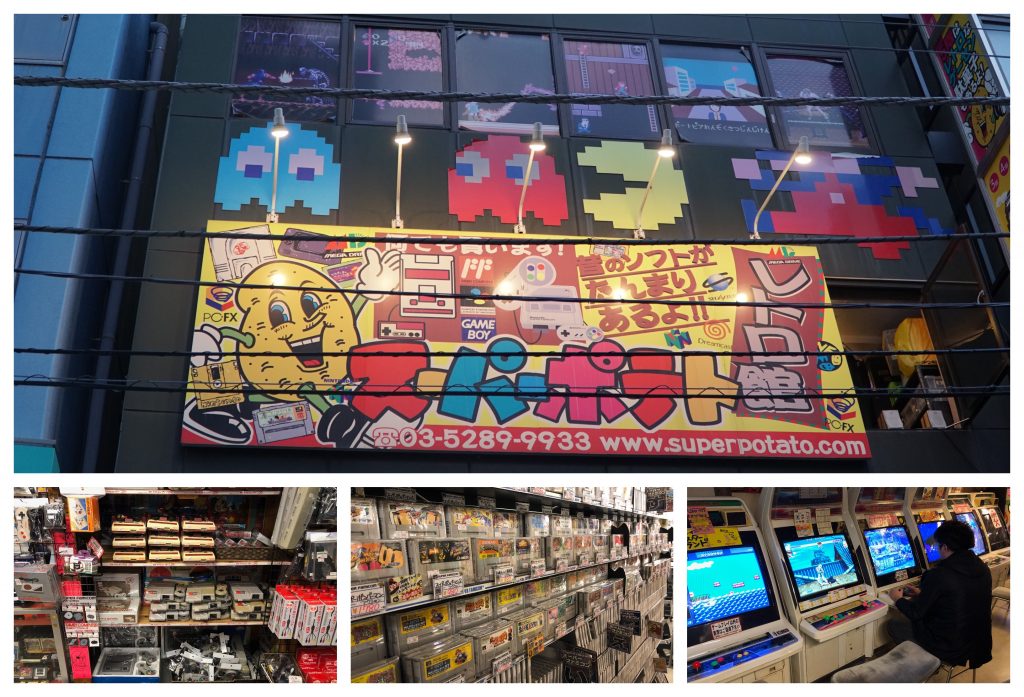 The first recommendation on my list is Super Potato in Akihabara, Tokyo. Super Potato is a shop selling old game consoles and games. It has been around for more than 10 years, and actually has a couple more shops around the country. The shop in Akihabara is the main location, and has three floors; the first floor stocks second-hand classical Japanese game consoles such as the Japan-only Nintendo Famicom and an enormous selection of games. The second floor stocks more internationally familiar consoles such as Super Nintendos, Gameboys, Nintendo 64, Sega Saturn etc. On the third and last floor of Super Potato you find a small game room where a selection of classical arcade games are available. In the corner of the room is a small shop selling Japanese retro snacks and drinks.
Super Potato is a super fun place to visit, even if you get just a slight kick out of old gaming. Unfortunately over the years it has become very popular with tourists in Tokyo, and moving around the shops narrow isles can be a little stressful with the large number tourists taking photos and browsing the unusual selection of machines. If you want to purchase some rare games, or pick up an old console, then Super Potato is definitely the place to go. However if you just want to play some old games, then I much recommend you to go to Mikado, which is the next location on my list.
Mikado (Takadanobaba)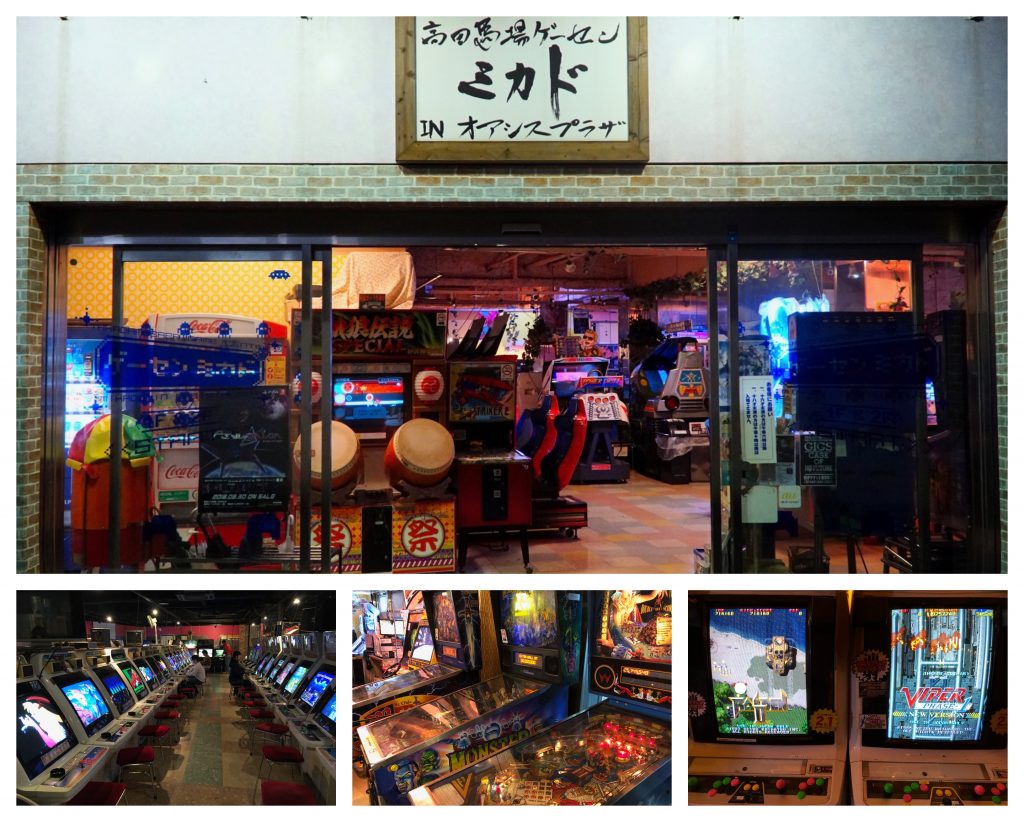 Mikado is heaven for fans of retro arcade games. This 2-floor arcade is located a few hundred meters from the train station in Takadanobaba, and is still enough off the beaten path that you don't see many tourists dropping in. The shop has two entire floors of old game machines, ranging from old pin ball machines, over Pac-man to Street Fighter, Missile Command and various old in-seat car games. Mikado is very authentic, and at first sight it can appear worn-out, but it really just adds to the authenticity I think.
Like many of the more authentic places in Japan, Mikado does allow smoking inside, just so you are prepared for it. There are vending machines and toilets available, so you can game all night!