If you travel in Japan on a tight budget, but still want the experience of staying in a traditional Ryokan, then keep reading! With this Ryokan Hostel you can get the Ryokan experience starting at only ¥2950 ($27/€23). That is including free public and private onsen baths!
Book K's House Historical Ryokan Hostel
What is a Ryokan?
A Ryokan is a traditional Japanese inn. Often a Ryokan is located in a scenic area and has beautiful traditional Japanese rooms with sliding doors, tatami floors and futons to sleep on. Many Ryokans even have dinner and breakfast menus included. These menus often include local produce and dishes, and can be a real feast – also for the eyes. Some Ryokans offer public and/or private Onsen baths. Onsen is a bath with natural hot spring water.
Staying at a Ryokan is a great way to experience traditional Japanese culture, but it can be quite expensive. Typically prices will start at ¥5000 for cheap Ryokans with no onsen and no food. A nice ryokan in a scenic location, with a private onsen and an evening and morning serving, will easily cost you around ¥30,000 ($270/€230) for two persons. Surely you'll get a very unique experience, but for budget travelers accommodation in that price range can be completely out of question.
K's House Historical Ryokan Hostel
The solution for the budget traveler is K's House Hostel in the hot-spring town of Ito on the Izu peninsula. K's House is a small chain of hostels. They have 12 unique hostels in popular destinations around Japan. In my opinion the best one is their Historical Ryokan Hostel in Ito. Actually, it might be the best hostel I have ever stayed in – anywhere!
K's House Ryokan Hostel in Ito is located in a beautiful, 100 year old wooden building which used to be an Onsen bath house. On the backside of the building runs a quiet, yet burbling river to which many of the rooms have a view. At night, walking around the historic streets near the hostel can really make you feel like you are in the 1800's Japan. The classic wooden buildings, weak light from the houses and the sound of the river makes an incredible scene!
The unique feeling of the traditional Japan continues inside the building where the wood work, sliding paper doors and tatami floors are beautifully kept. And don't forget, no matter which room you book you have access to the shared and private onsen baths free of charge! The only thing you won't get here are the fancy meals, but for that there are plenty of nice places to eat nearby.


The hostel offers several types of rooms – both privates and dorm style. All of the rooms are traditional Japanese style rooms, meaning Tatami floors, sliding doors, rice paper walls and futons for sleeping on. The dorm rooms aren't your typical bunk bed rooms. Instead you get your own little section of the tatami floor for your futon. The room is divided in small sections by elegant wood panels, to give a bit of privacy.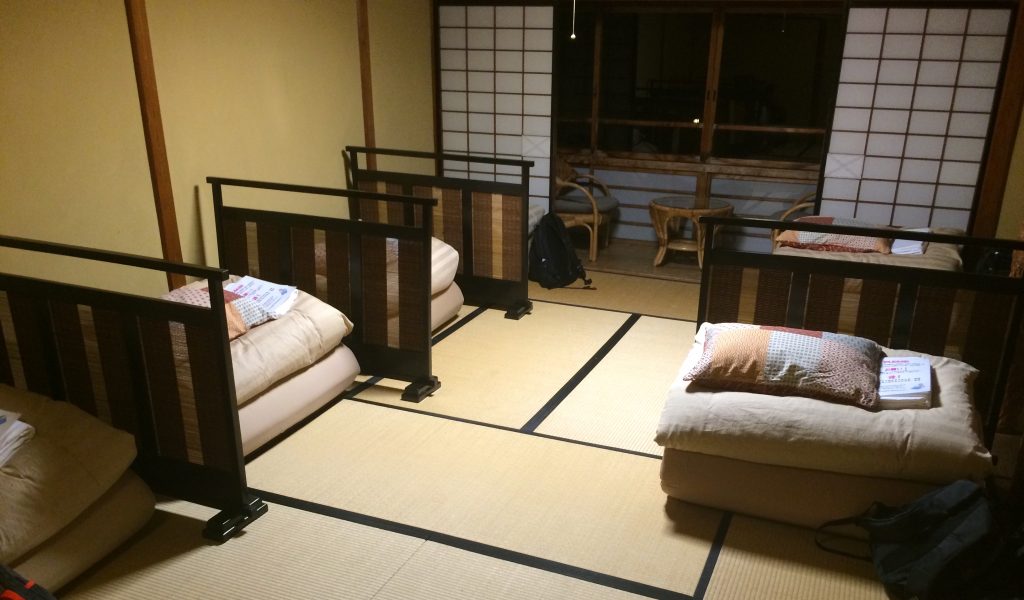 Prices and recommendations
Dorms start at ¥2950 ($27/€23) and privates at ¥3800 ($37/€29) in 2018, and all types include access to the hostels onsen facilities. I really recommend this place. I had such a great experience staying here. The staff is super nice (they even helped us book our next stay in Shimoda over the phone), and the building is just extraordinary. The private onsen is a bit small, but if you don't mind sitting close with your partner, then it's amazing! If you consider making a daytrip from Tokyo, then I recommend that you go and explore the Izu peninsula. You can use K's House in Ito as your base. Izu is a beautiful place, has a lot of nature and is way less crowded than other side trip destinations.
Book
Book K's House Historical Ryokan Hostel.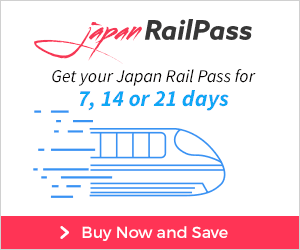 Getting There
By train: from Tokyo Station take the Tokaido-Sanyo Shinkansen line to Atami Station. From Atami station take the JR Ito Line to Ito Station. The entire trip is covered by the Japan Rail Pass. From Ito station it's a short 10 minute (650m) walk to K's House Historical Ryokan Hostel.
Scenic train: the Odoriko Superview train headed for Shimoda makes a stop in Ito. You can take it from Tokyo Station or Shinagawa Station if coming from Tokyo. Reservations are recommended. The train is covered by the Japan Rail Pass until Ito. The stretch between Ito and Shimoda is not covered.