Amami Islands, or Amami-guntō as the archipelago is official named, is a beautiful group of islands, located about mid-way between Kyusuhu and Okinawa. Amami is part of the Ryukyu Islands, just like Okinawa, but it is technically a part of Kagoshima Prefecture in Kyushu. The climate, nature and landscape has many similarities with Okinawa, including the mild winters and hot summers. There are numerous beaches around the islands, and especially on the main island, Amami Ōshima, there are some stunning beaches which rival those found on the more southern Okinawan islands. So why not pack your snorkeling and beach gear, and head to the more authentic Amami islands for your next beach holiday?
Hotels in Amami Amami Private Guided Daytrip 3D2N Package Stay in Amami
A lot of tourists coming to Japan automatically aim for Okinawa when they want to enjoy beaches, crystal clear waters and world class snorkeling. Okinawa is much more known internationally than Amami, which is a shame because Amami can offer all the same experiences as many of the Okinawa islands. Amami has some of the best beaches and snorkeling water in the country, rivaling those of the popular Okinawan islands. The Amami islands come with some advantages over Okinawa; especially the combination of beaches and mountains is unique, but Amami is also very attractive because it isn't overly tourist oriented like Okinawa Honto and Ishigaki. The Amami island can provide a much more authentic experience.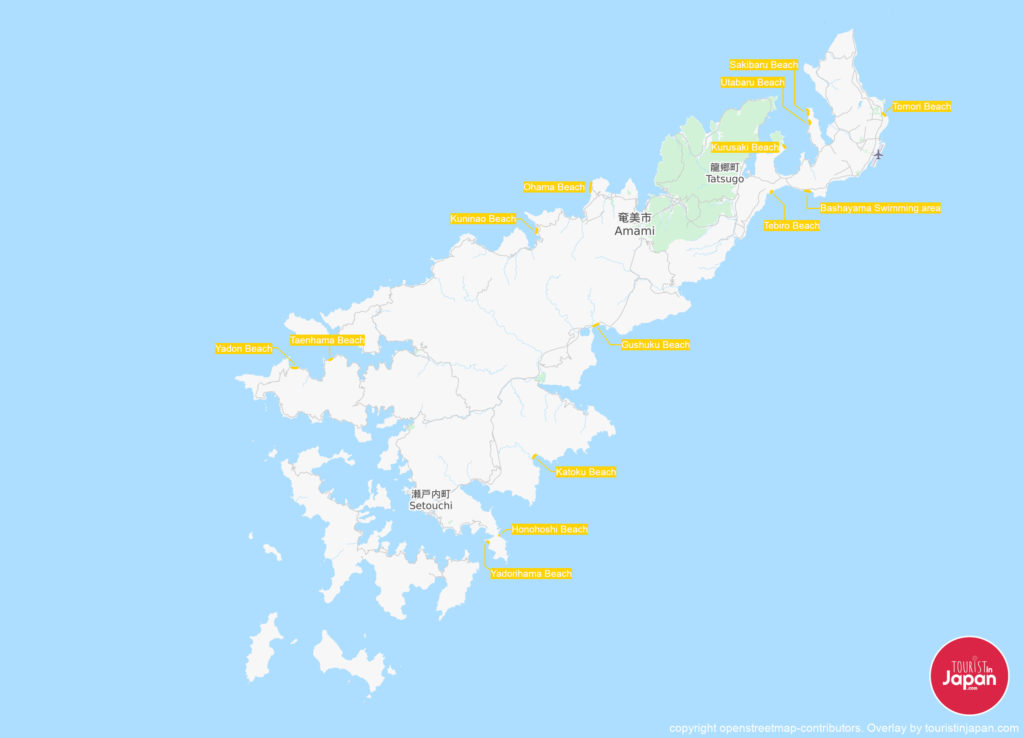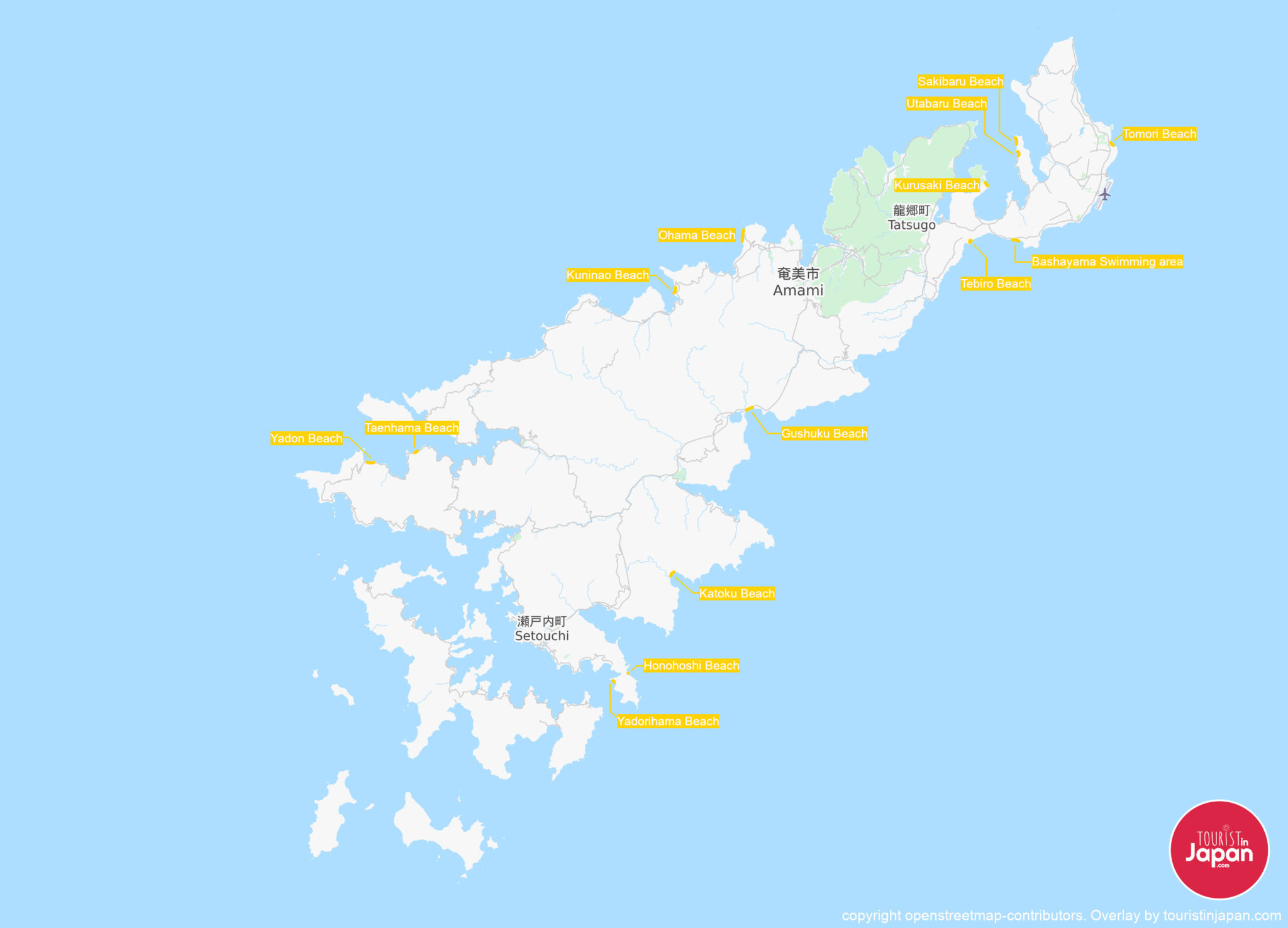 Map of major beaches on Amami Island. Map copyright openstreetmap-contributors. Overlay by touristinjapan.com
Beaches on Amami Island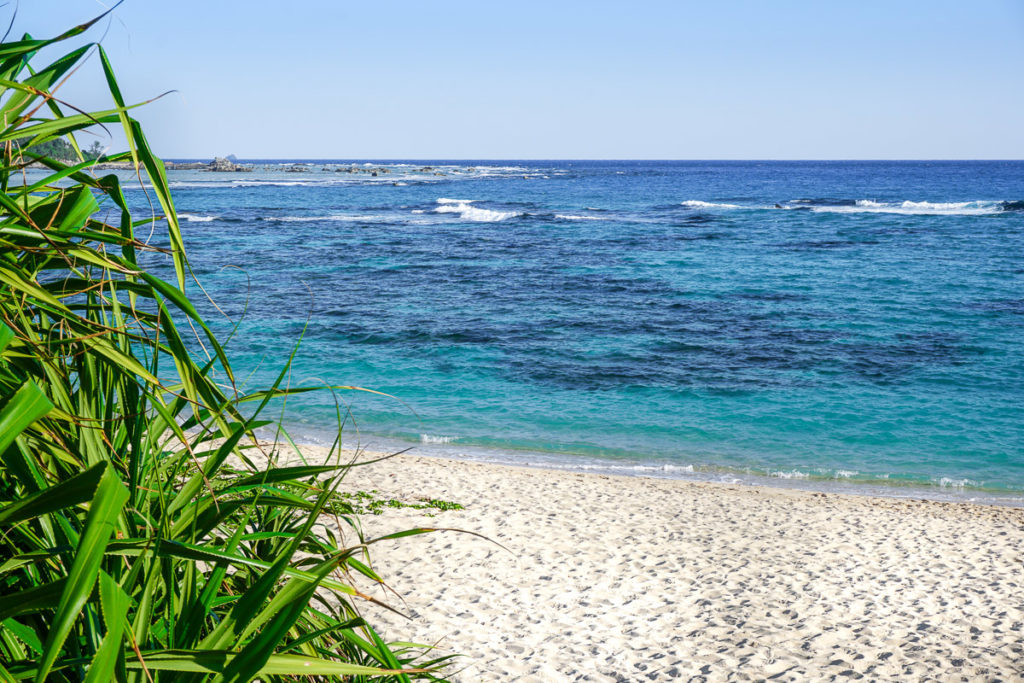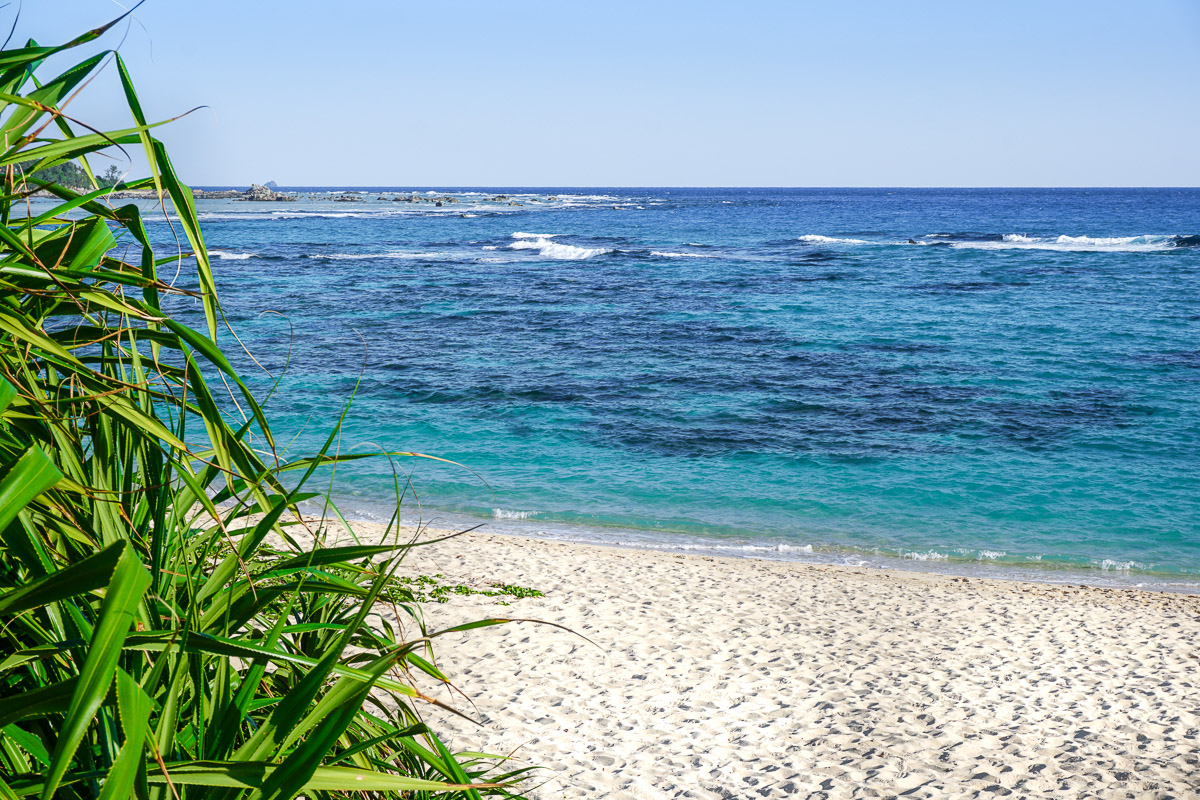 Tomori Beach ?
A bright white sand beach, backed by lush greenery and the beautiful turquoise water makes Tomori Beach worthy of a travel magazine front-page. It is one of the most stunning beaches on Amami, and is suitable for both swimming, snorkeling and sunbathing. Accessible by bus.
Facilities: Parking, Toilets.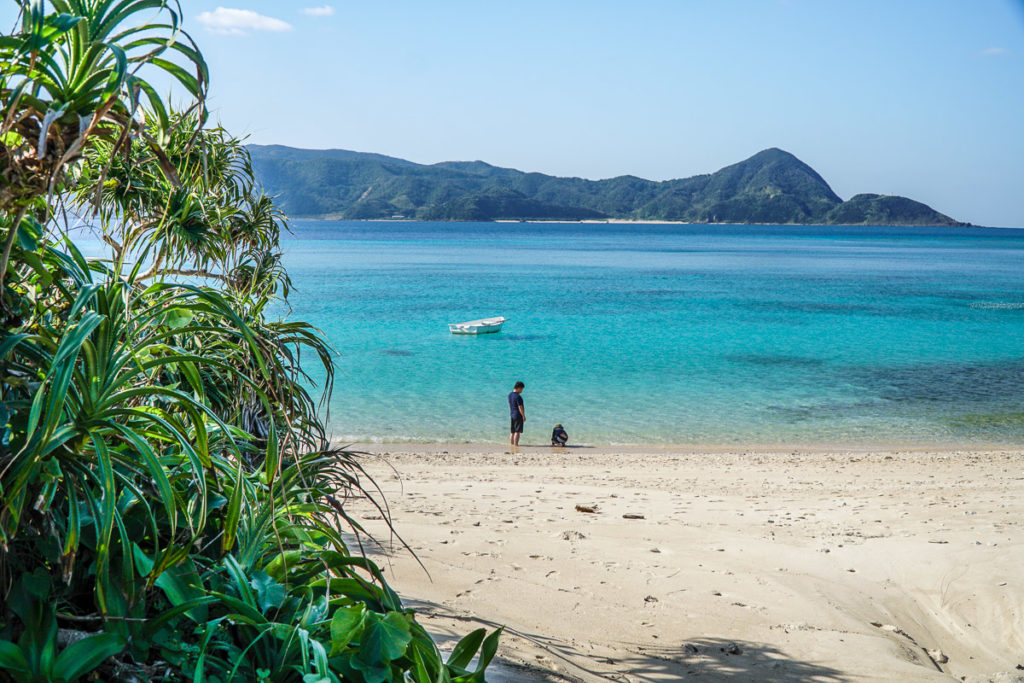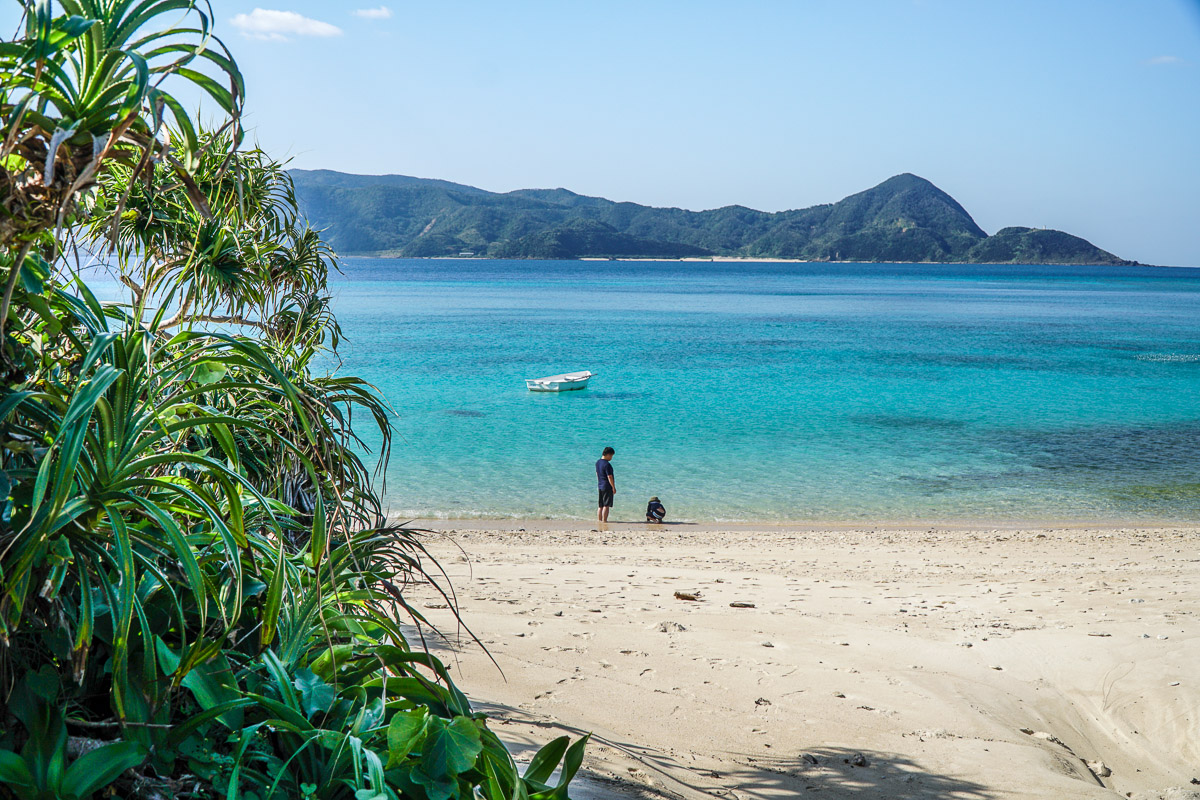 Sakibaru Beach
Sakibaru Beach is a stunning white-sand beach with crystal clear water and great views of the green hills surrounding the bay. This is, like Tomori Beach, one of the best beaches on the island. Sakibaru is not accessible by bus, and therefore sees slightly fewer visitors. This makes it an even more magical beach. Perfect for swimming, snorkeling and relaxing in the sun.
Facilities: Parking, Shower, Toilets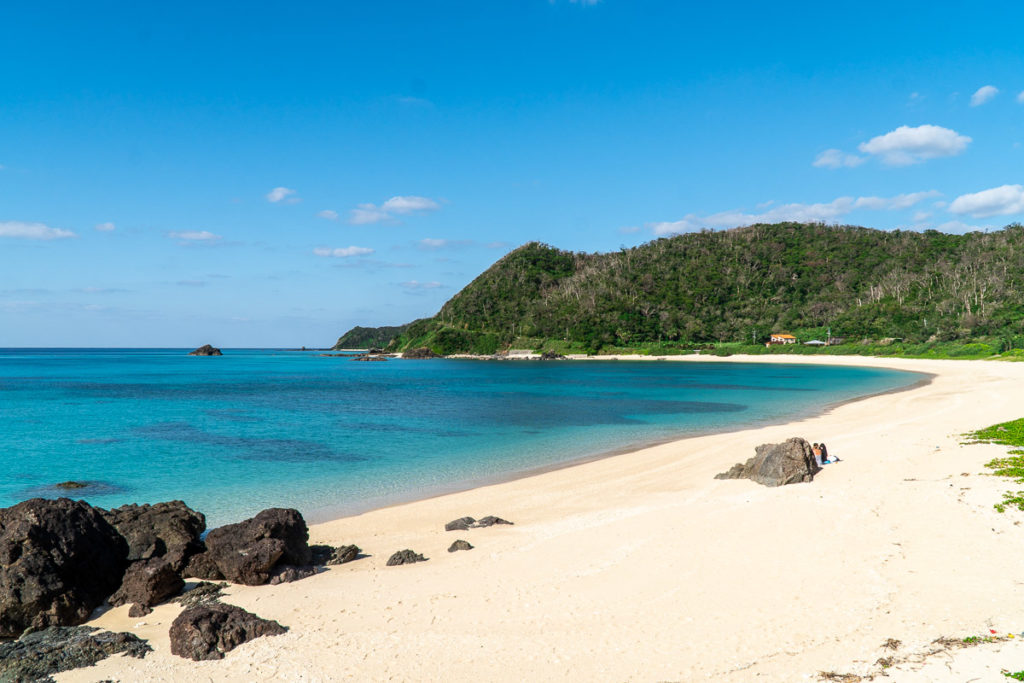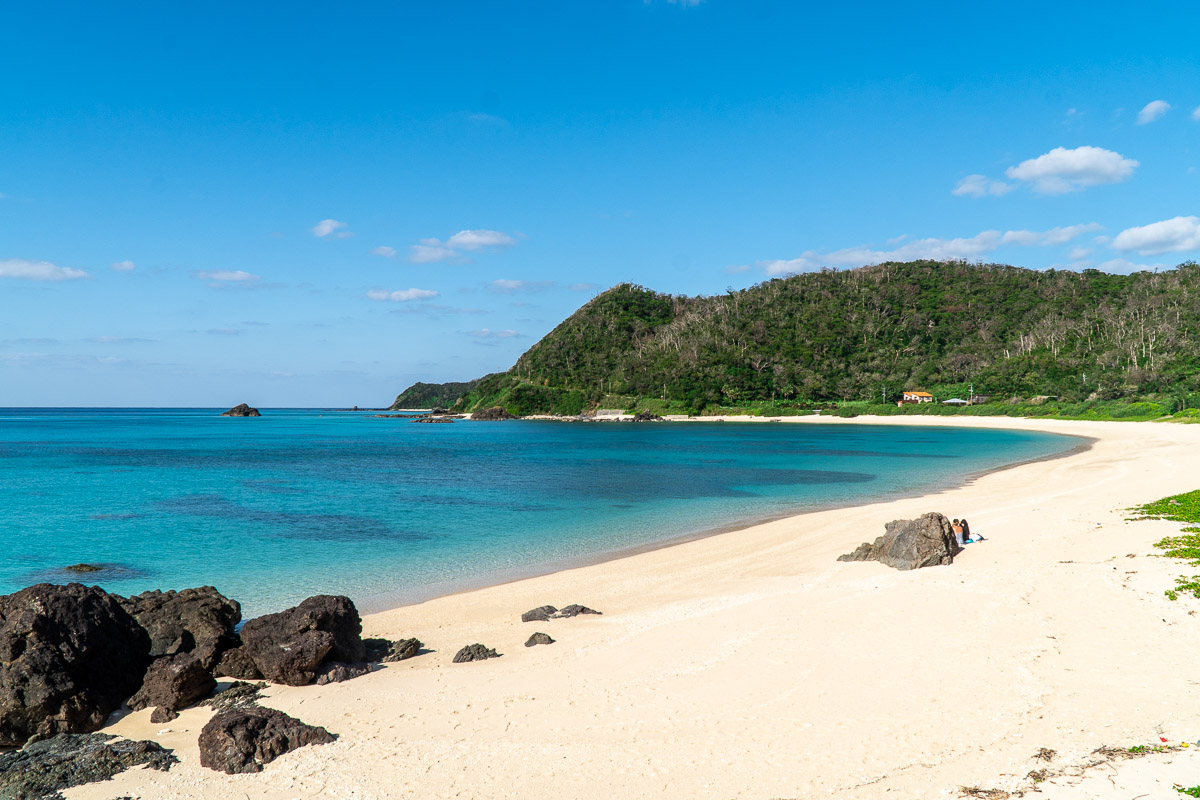 Utabaru Beach
Beautiful white-sand beach located just south of the popular Sakibaru Beach. It is less visited than Sakibaru, and may therefore be a great place for spending a calm and quiet day. There is a small udon shop and a salt factory across the road.
Facilities: Parking, Toilets


Kurasaki Beach ?
Kurusaki Beach is a long white-sand beach with clear waters. It's a great location for snorkeling and sunbathing. There are beautiful views of the green hills on the opposite side of the bay.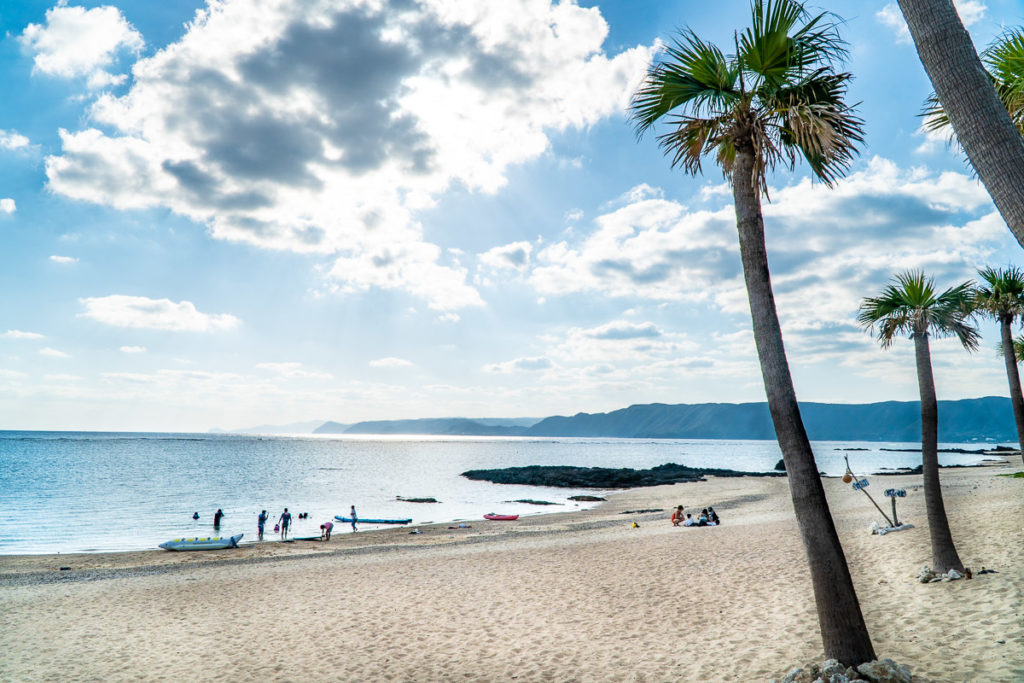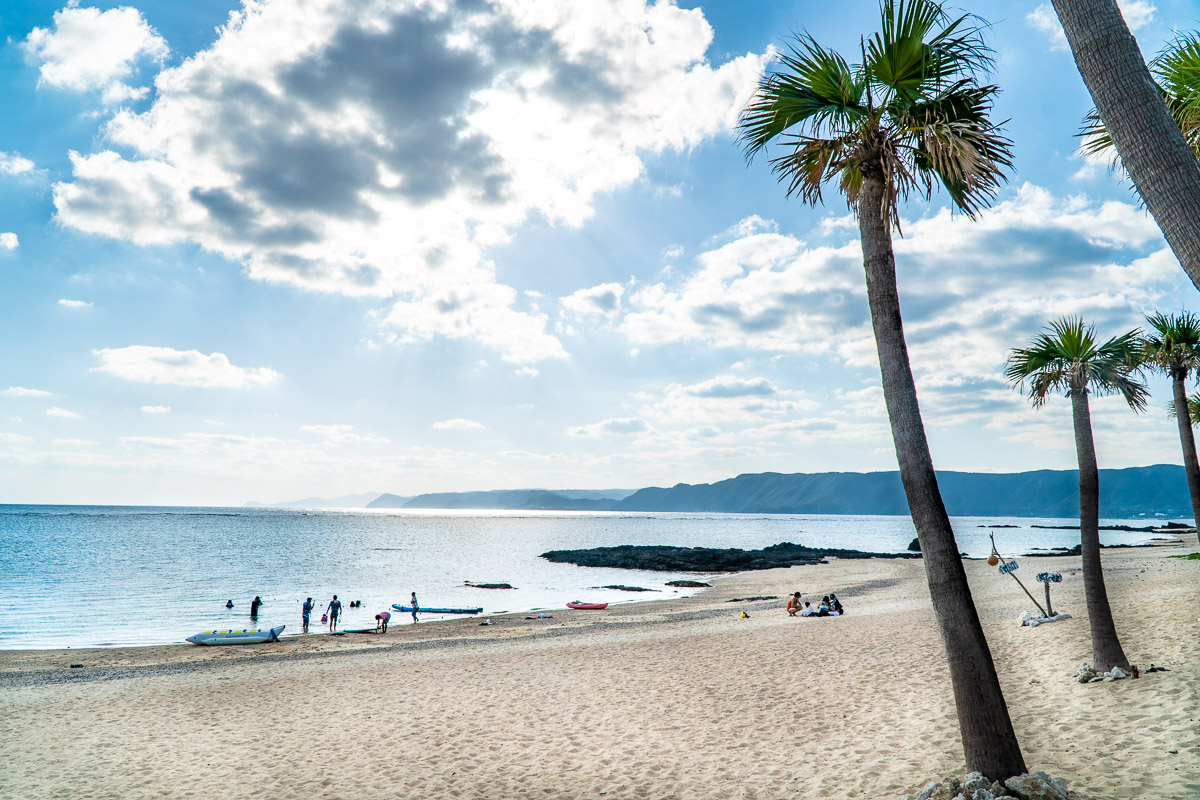 Bashayama Swimming Area
Picturesque beach located in front of a resort hotel with souvenir shop and restaurant. The "Marine Village Amami" is located on the beach, providing options to buy water experiences, ice cream and drinks. In the clear water you have chances of spotting sea turtles, so bring your snorkeling gear.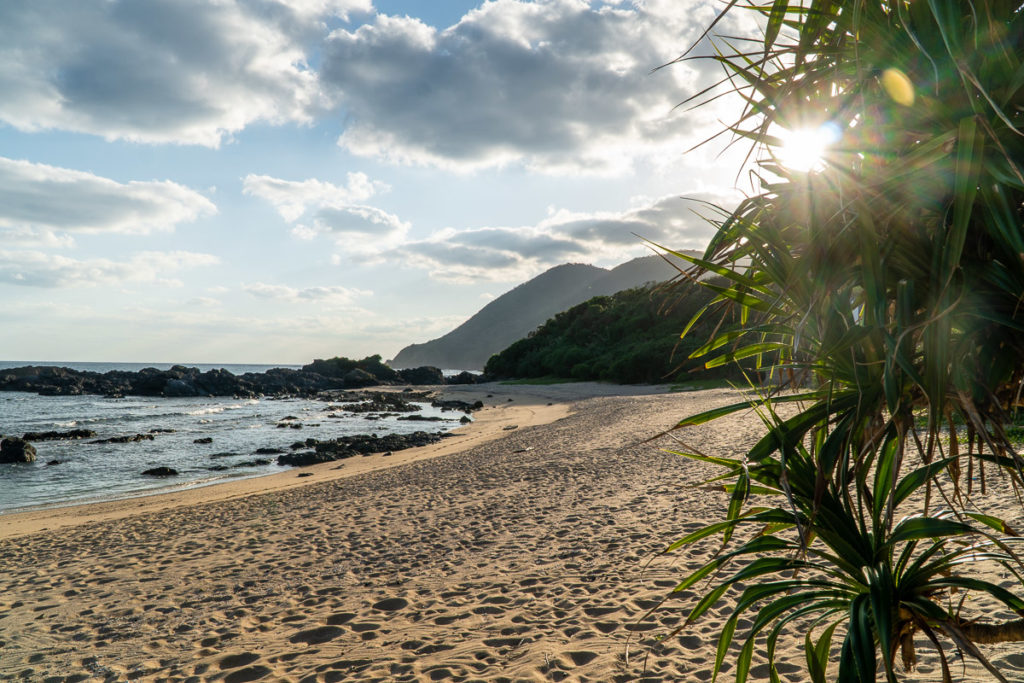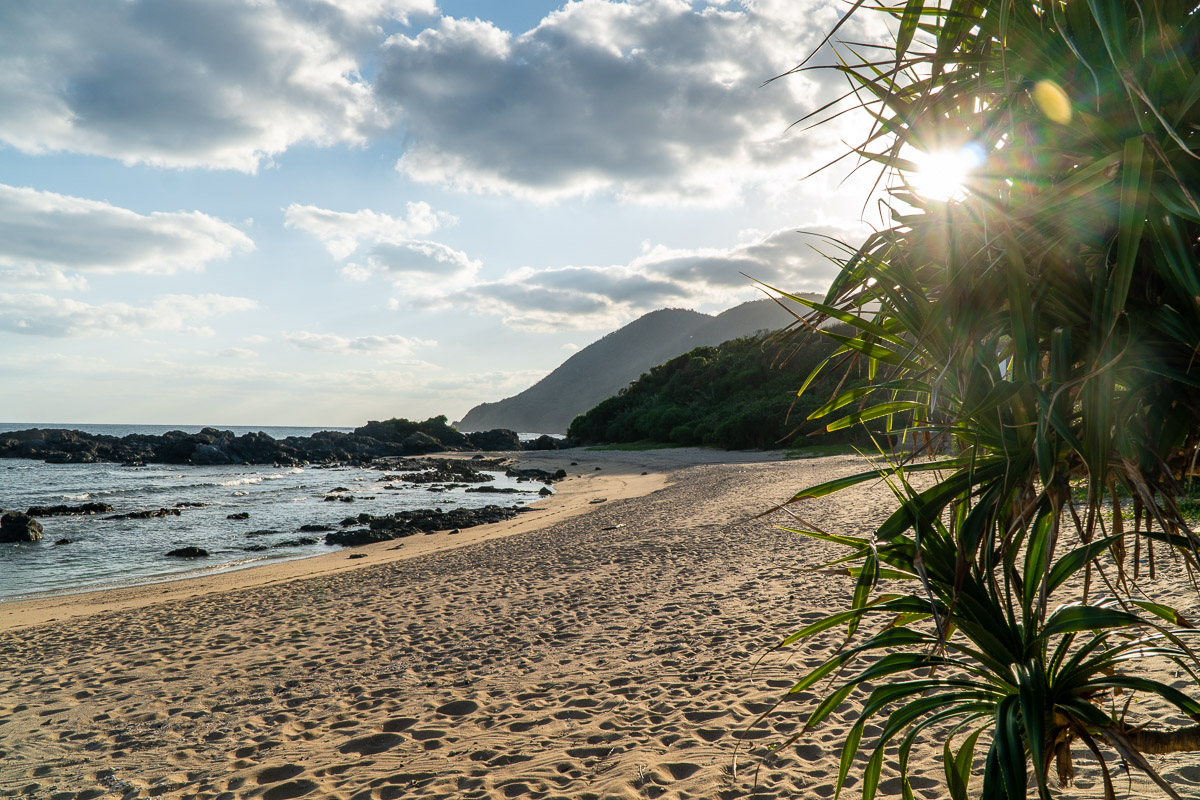 Tebiro Beach ?
Tebiro Beach is a famous surfing beach. Surfers from around the country come here to ride the waves. Due to the big waves, this beach isn't always the best option for swimming and snorkeling. It is however fine for sunbathing.
Facilities: Parking, Toilets, Vending machines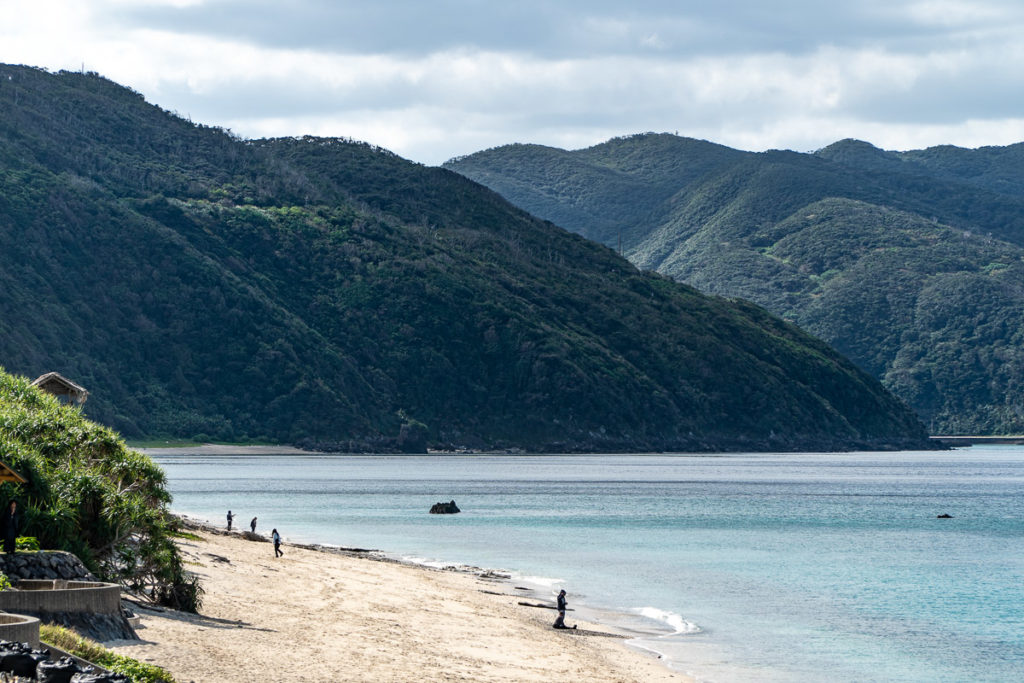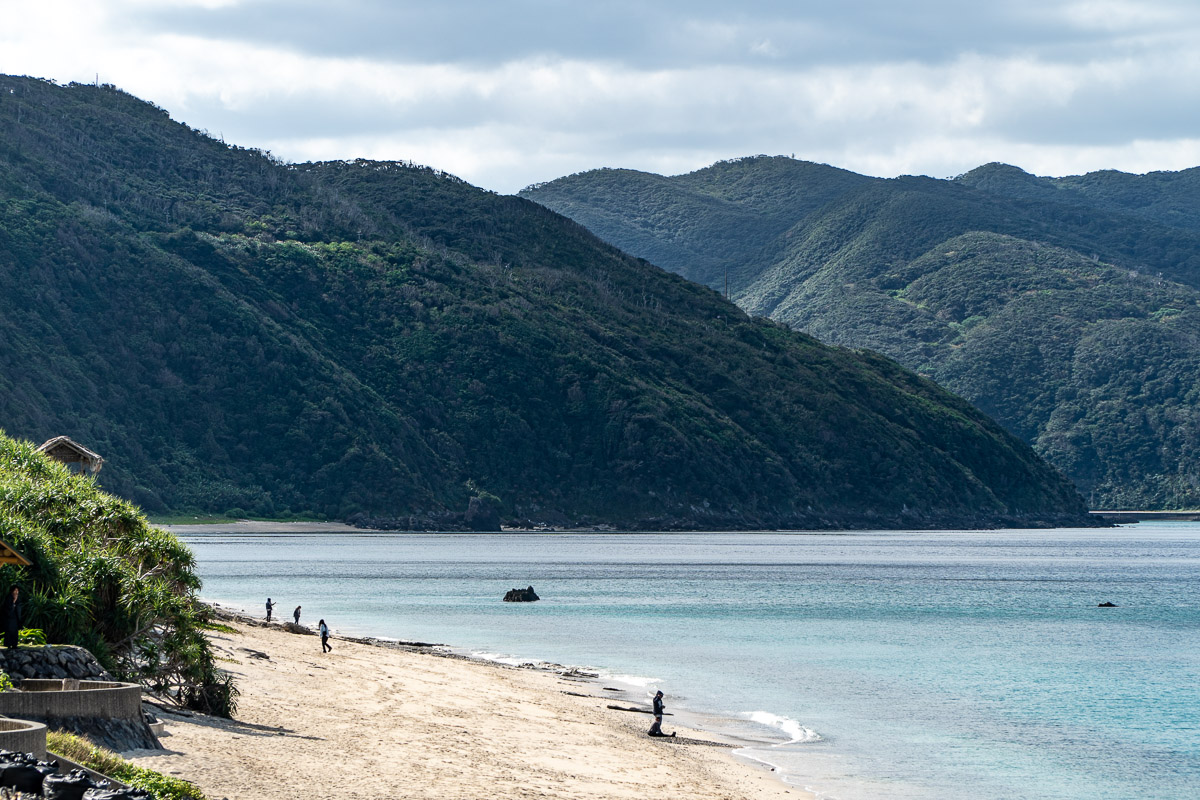 Ohama Beach ?
Ohama beach is a large recreational area, featuring beautiful swimming areas, palm trees, museums and outdoor facilities. The beach is known to be an egg-laying spot for the loggerhead and green sea turtles. There is also a large indoor pool facility. Ohama beach has a great orientation for viewing the sunset.
Facilities: Parking, Showers, Toilets.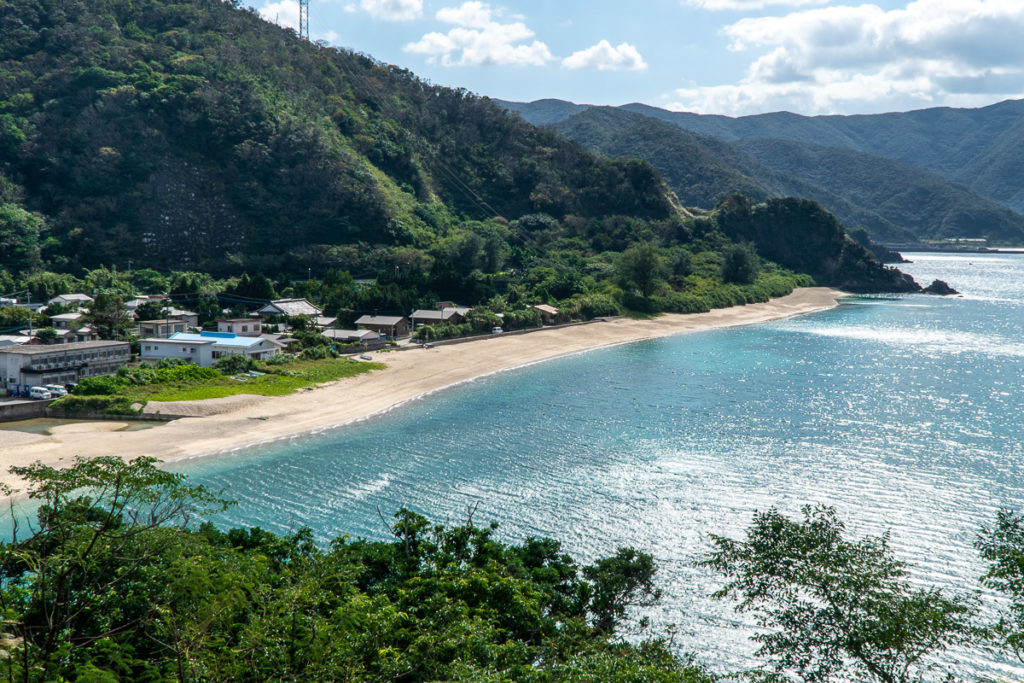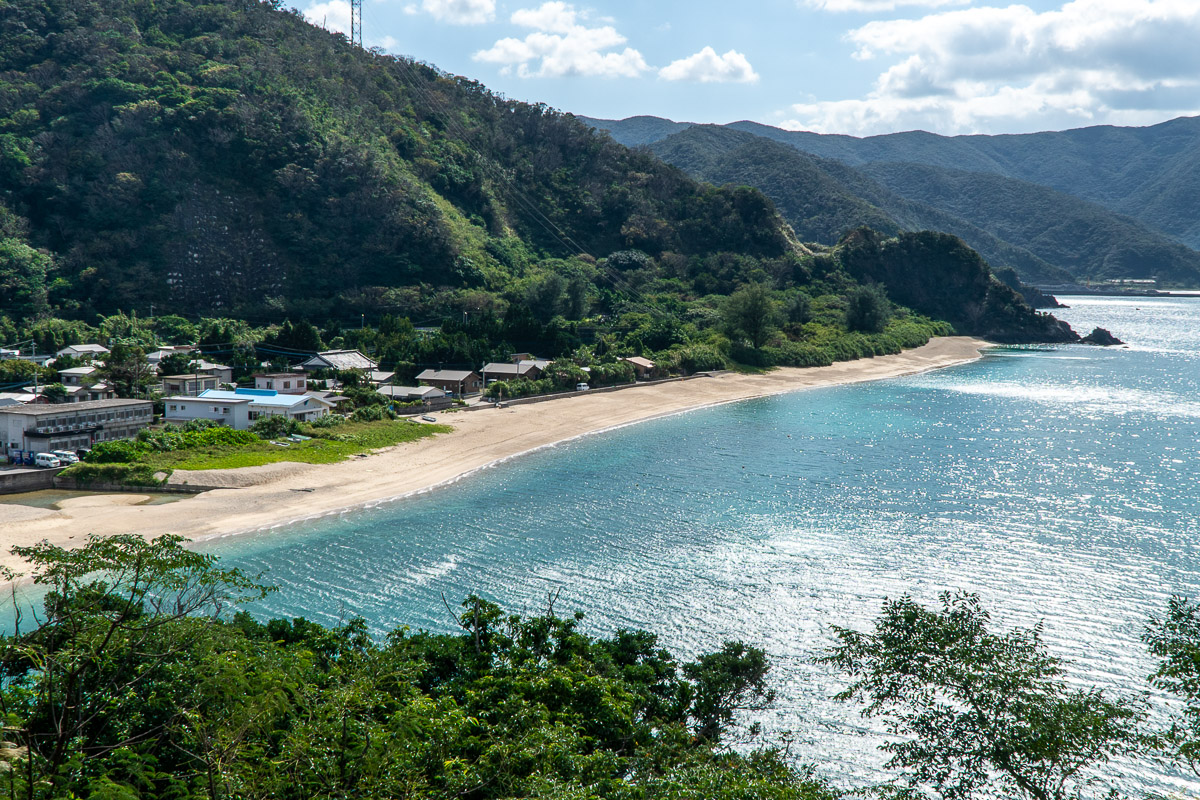 Kuninao Beach ?
A relaxed beach with a beautiful mountain backdrop. The beach is located in the Onkatsu Bay, which provides calm waters, making it a good beach for families. There are also many corals here, making it a great snorkeling spot.


Gushuku Beach ?
Gushuku Beach is a surfer beach. The waves here are great and attract a large number of surfers from around the country. It's not the best beach for snorkeling and swimming, but great for fishing, camping and relaxing.


Taenhama Beach
Short beach with great options for swimming and snorkeling. There are many colorful fish to see here. The beech is a narrow strip of whiteish sand, backed by the mountains. There is a unique view of Edateku Island across the water – a small, uninhabited island.
Facilities: Parking, Toilets, Showers


Yadon Beach ?
Yadon beach is one of the best beaches for snorkeling on the southern part of the island . The beach lies in the Yakeuchi bay which shields it from big waves. There are plenty of coral and fish to see, even close to the beach. It is a good beach for families.
Facilities: Parking, Toilets, Showers


Katoku Beach
Located at the bottom of a small bay, Katoku Beach can both be very calm and have good waves for surfing. There are large, forest covered mountains on three sides of the beach, making it a highly scenic location.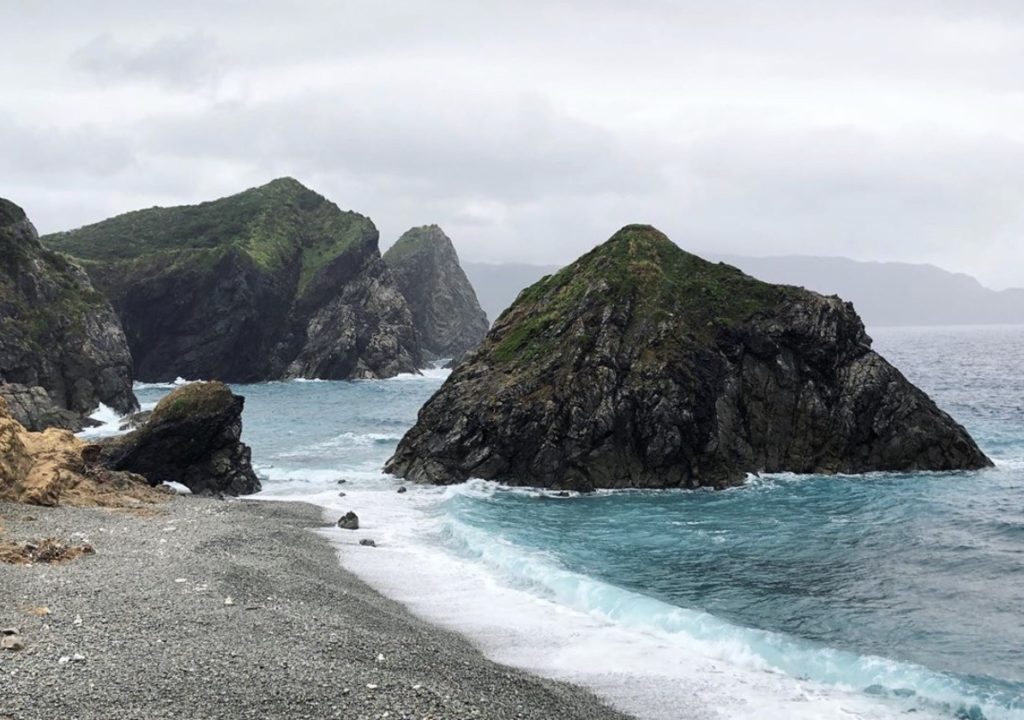 Honohoshi Beach
This is not a beach for swimming or snorkeling. The waters are wild and the beach is covered in round stones. It is however an incredibly beautiful beach, and one of the few beaches on Amami which has smooth, rounded stones covering the entire beach. It is a perfect beach for meditation or scenery viewing.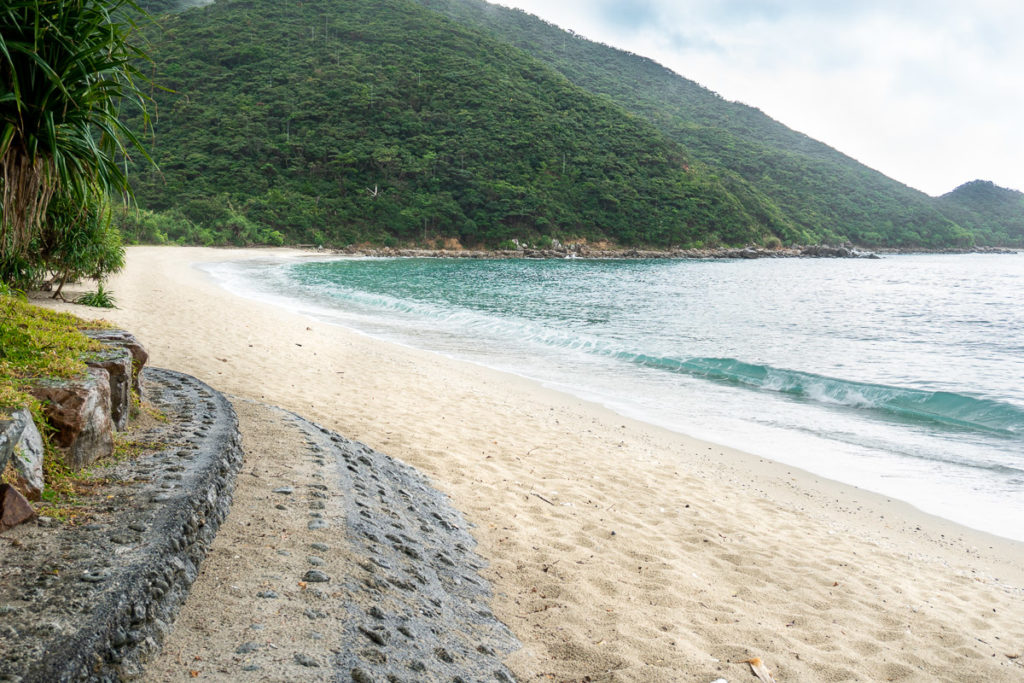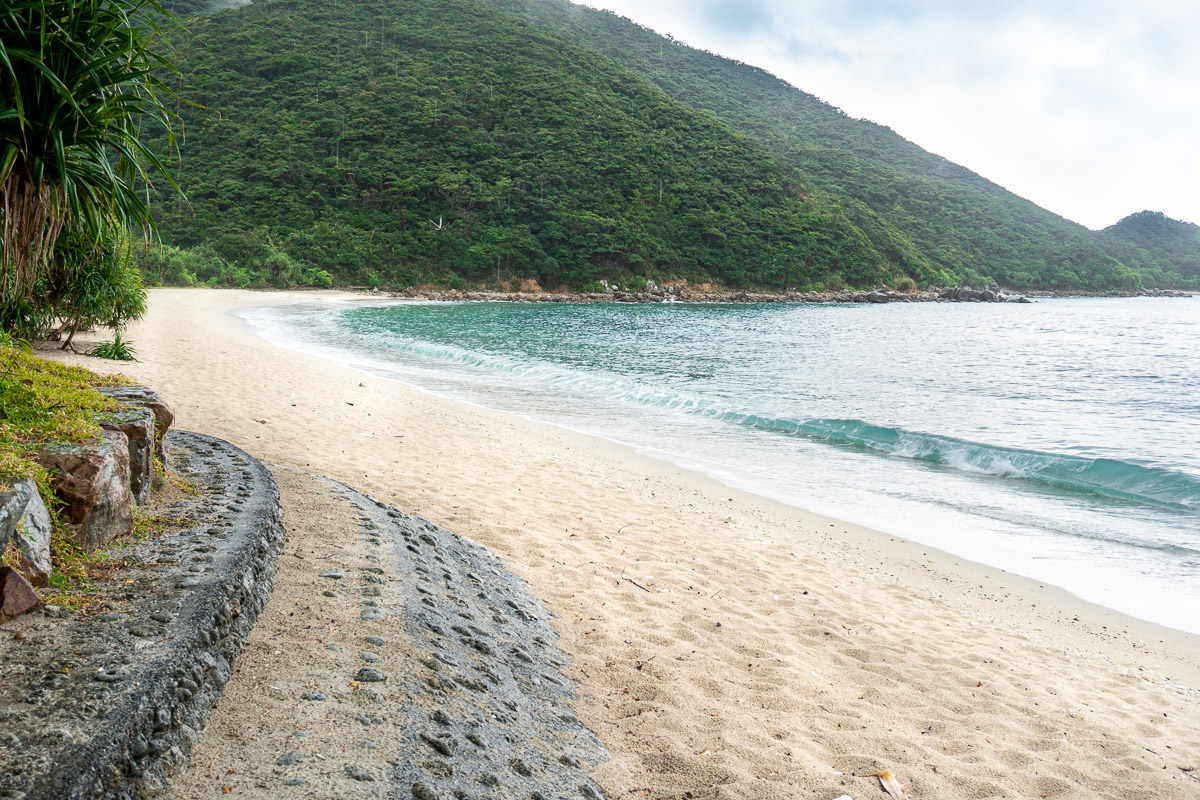 Yadorihama Beach
Yadorihama is a Scenic beach located in the southern most part of Amami island. The beach sand is white and the water a beautiful hue of blue. There is a camp site and a spa resort nearby.
Beach safety
This section is not supposed to scare you away from the beach. However, there are some dangers on the beaches of Japan which you should be aware of. Know however, that incidents are rare, but can be serious. It is therefore important that you are aware of the potential dangers, so you can take your precautions. While Amami isn't a part of Okinawa, it is close to Okinawa and is home to some of the same dangerous animals. Please read this article about beach safety in Okinawa.
Suggested Hotels in Amami