Tojinbo Cliffs (東尋坊) is a 1km stretch of rocky coastline, found just north of Fukui City in Fukui Prefecture. The rock formations here are famous for their odd hexagonal shapes, making them appear almost man made (in fact they are natural). Tojinbo also has a commercial area aimed at tourists, including an observation tower, several restaurants and shops. Boat tours are available too.
Hotels in Fukui Hokuriku Arch Train Pass
The 30 meter (98ft) tall Tojinbo cliffs protruding the wild waves of the Sea of Japan are an impressive sight. As you stand there, admiring the waves splashing hard against the rock, it is easy to notice the unusual shapes some of these cliffs have. Some of the rocks have pentagonal and hexagonal shapes, like they were manually shaped columns placed in the ground by humans. Realizing that these are not man made, but natural formations, and that they have been standing there for more than 12 million years is an impressive thought. The unique shapes have some resemblance to the strangely shaped rock formations of the Jogasaki Coast on the Izu Peninsula.
A legend about the ghost of a corrupt Buddhist priest is associated with Tojinbo Cliffs. It is said, that a priest from the nearby Heisen-ji temple was killed here, and that his ghost still haunts the cliffs. He was supposedly thrown into the sea from the cliffs by angry locals. Other ghost stories are also connected with this location. Generally the cliffs have a theme of death associated with them.
There is, conveniently, a direct bus between Tojinbo and the old Maruoka Castle further inland. You can take bus #85 directly from Tojinbo to the castle.
Tojinbo Tourist Street
The "pedestrians only" road leading up to the tip of the cape, and Tojinbo Cliffs, is lined with a surprising amount of restaurants and shops selling local produce and souvenirs. It's a good place to try out some of the area's famous sea food. A few minutes up the road one passes Tojinbo Tower, a quite old looking observation tower. The tower is still open to tourists, who can purchase an entry ticket on site. On the second floor, there is a restaurant which serves, among other things, local sea food.
View from Tojinbo Tower: Ken Mayer. CC BY 2.0. Tojinbo Tower: 663highland. CC BY-SA 3.0.
Tojinbo Tower
| | |
| --- | --- |
| Hours | 09:00 – 17:00 |
| Entrance Fee | ¥500 adults, ¥300 children |
| Website | Tojinbo website |
Coastal hiking path near Tojinbo Cliffs
From the tip of the cape, paved hiking paths extend both north and south along the shore. It's the perfect way to escape the touristy area of Tojinbo, and enjoy the beautiful coast line without distractions. In the northern direction you will enter a small village where you can cross a beautiful, red bridge leading to the small island, Oshima (meaning island). Oshima also has some nice trails and beautiful nature, making it great for further exploration.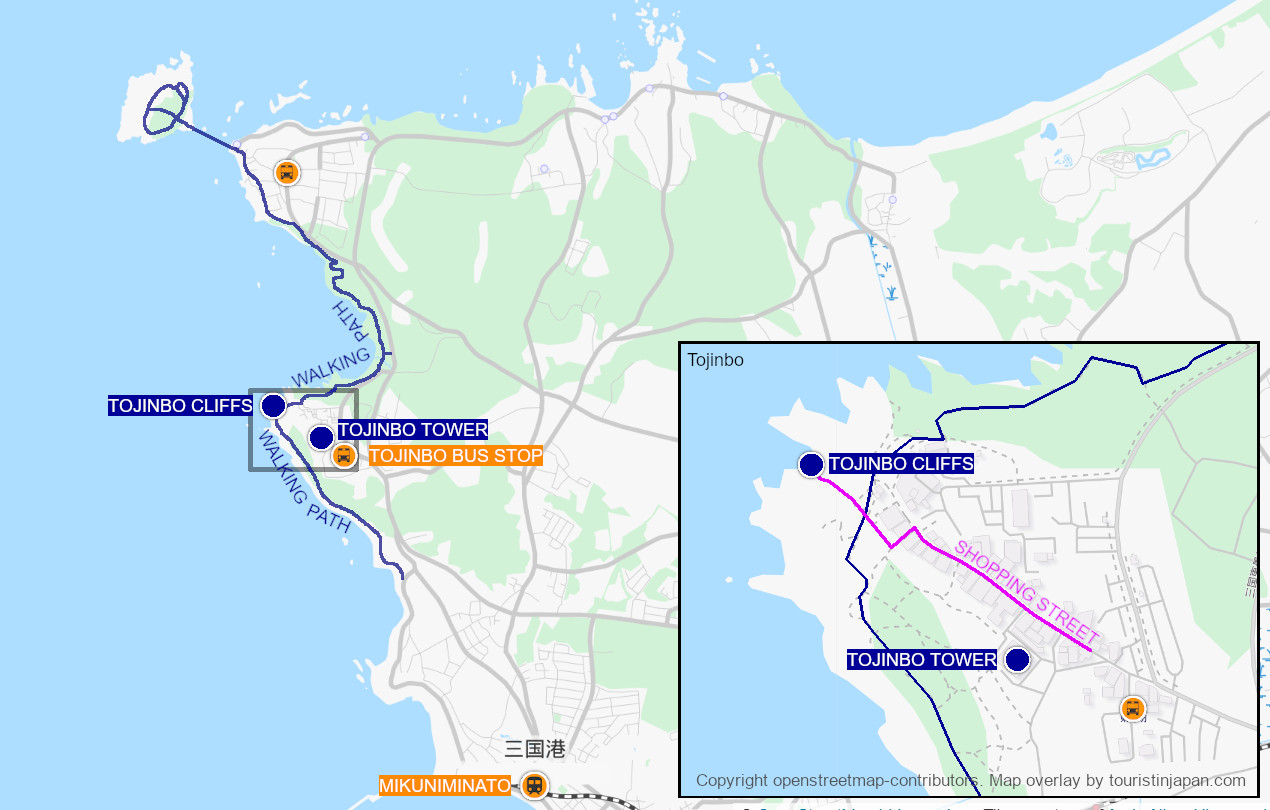 Map copyright openstreetmap-contributors. Overlay copyright touristinjapan.com
Getting there
By train: from Fukui Station, take the "Echizentetsudo-Mikuni-Awara Line" to Mikuniminato Station. From there it is a 30min 2.6km (1.6mi) walk to Tojinbo Cliff. Alternatively, take the bus when you get off the train (see below). The train is run by echizen-tetudo and is not covered by the JR Pass. 52min, ¥770.
? Echizen Tetudo website

By bus: From Mikuniminato Train Station, take bus #84 to Tojinbo. (take #85 to come back). From Fukui Station, you can get to Mikuniminato Train Station, either by train (see above) or by bus #16.
? Keifuku Bus website
Cover photo by 663highland. CC BY 2.5.