Higashi Chaya District in Kanazawa, is one of the city's three traditional entertainment districts. In this historic area one finds beautiful, old edo-period buildings with tea houses, crafts shops, galleries, restaurants and museums. The feel of the area is much like it would have been 200 years ago.
Accommodation Kanazawa Tours Hokuriku Arch Train Pass
Kanazawa is rich on traditional Japanese culture. This also shows in the number of old entertainment districts. No less than three traditional districts have been preserved, Higashi Chaya (East Chaya) being the largest and most popular one, Kazue-Machi Chaya the second-largest and Nishi Chaya the smallest one. Chaya, which means "tea house", is a designation used for regular tea houses as well as establishments where Geishas entertain guests with song, dance, games and alcohol. These types of areas are often referred to as Geisha districts.
Higashi Chaya is the most crowded of the three traditional entertainment districts in Kanazawa. It is however also the most impressive one, and a lot of traditional Japanese culture is packed into a small area made up of just a few streets. With it's tea houses, Wagashi shops (traditional sweets), museums and even a gold-leaf shop, Higashi Chaya is the perfect place to experience traditional Japan.
All photos above © touristinjapan.com
Attractions in Higashi Chaya
Ochaya Shima is a historic tea house used by geisha to entertain guests in the late edo period. Today, the building has been converted to a museum – but remains intact internally and externally. Ochaya Shima offers a great look into a traditional Chaya. Visitors can see the guest rooms on the second floor, and the private and dressing rooms of the Geisha on the ground floor. It is possible to buy a cup of green tea and a traditional sweet in the museum – a great way to experience the old tea house. There is a ¥500 fee to enter the museum.
Official website of Ochaya Shima.


Kaikaro Teahouse is an actual, operating Chaya where geishas still entertain wealthy and prominent guests in the evenings. An evening with a geisha can be very expensive, but during daytime visitors are admitted to the premises to get a sense of the atmosphere. Day-time entrance is ¥700 or ¥1'250 including a serving of green tea. Guided tours of the building take place on the hour throughout the day. If you want to experience a real geisha show, then you can book a Geisha Experience here, at a different location in Kanazawa.
Official website of Kaikaro


Kanazawa Yasue Gold Leaf Museum is located a few streets north-west of the historic district of Higashi Chaya, but is definitely worth the 5 minute walk. Gold leaf is one of Kanazawa's traditional exports, and a product which the city is very proud of. The museum is a great opportunity to learn more about a product which is such an essential part of Kanazawa's history and identity. Kanazawa Yasue Gold Leaf Museum was established in 1974 by a craftsman who wanted to ensure that the art of gold leaf production was handed down to coming generations. It has some absolutely stunning pieces on display, including gold covered vases, traditional folding screens, boxes, robes and a gold covered Kannon sculpture.
Official website of Kanazawa Yasue Gold Leaf Museum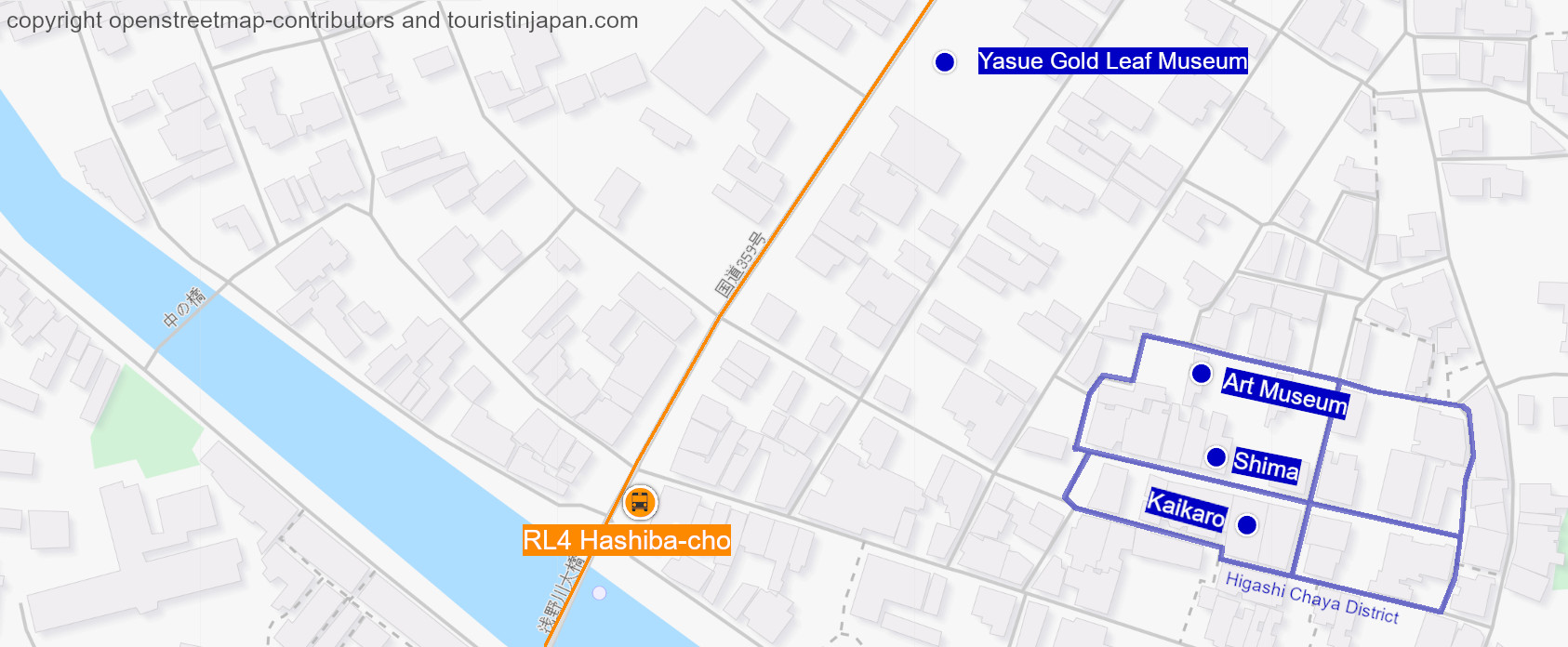 Getting there
The Higashi Chaya district is located just across the Asano River, about 1km east of Omicho Market. It is also just a few minutes away from the smaller Kazue-machi Chaya District.
Loop bus: the loop bus which runs around Kanazawa stops near Higashi Chaya. Both the Right Loop and Left Loop can be taken. The stops are respectively RL4 (Hashiba-cho) and LL10 (Hashiba-cho) or LL11 (Higashiyama). One-way fare: ¥200. A day pass costs ¥500.
Official Bus website: hokutetsu.co.jp
JR Bus: if you have JR Pass, then you can take advantage of the JR Bus which runs through Kanazawa. It is free for holders of the Japan Rail Pass. Both the Korinbo Line and the Owaricho Line, which depart from Kanazawa Station, stop near Higashi Chaya. On the Korinbo Line, get off at off at stop #8 (Higashi Chaya District) when departing from Kanazawa Station. If driving towards Kanazawa Station, get off at #1 Higashi Chaya District. On the Owaricho Line, get off at stop #4 (Higashi Chaya District) when departing from Kanazawa Station. In the opposite direction, get off at stop #1.
Nishinihon JR Bus website: nishinihonjrbus.co.jp