Nishi Chaya District in Kanazawa, is one of the city's three traditional entertainment districts. In this small area (just 1 street), one finds beautiful, old-style 2-story buildings, housing tea houses, shops with traditional crafts and a museum displaying a complete replica of an original Chaya tea house.
Accommodation Kanazawa Tours Hokuriku Arch Train Pass
Kanazawa is rich on traditional Japanese culture. This also shows in the number of old entertainment districts. No less than three traditional districts have been preserved, Nishi Chaya (West Chaya) being the smallest one. Chaya, meaning "tea house", is a designation used for regular tea houses as well as establishments where Geishas entertain guests. Areas like Nishi Chaya are sometimes referred to as Geisha districts.
While Nishi Chaya surely is the smallest of the three, it is also the least crowded one. The main street is located in walking distance from the Ninja Temple, making it an ideal addition to your itinerary before or after visiting the temple. With minimal crowds, this area is an amazing spot to take photos in front of the traditional tea houses.
All photos above © touristinjapan.com
Nishi Chaya Shiryokan Museum is located towards the southern end of the street, and is a great opportunity to learn more about the traditional tea houses. The museum is designed as a replica of a traditional Chaya, giving visitors a look into the insides of these types of establishments. Being entertained by a Geisha in a Chaya can be quite expensive, so the museum is an affordable way to get a peek inside.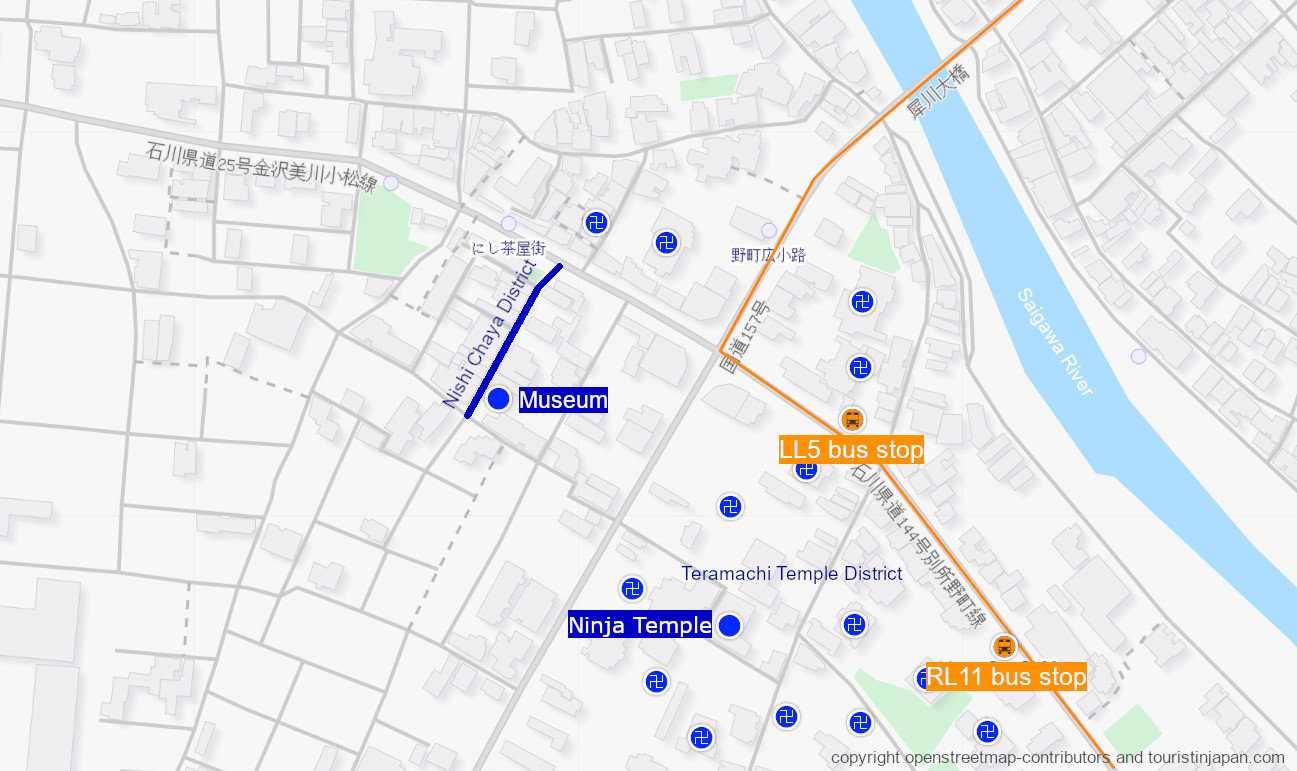 Getting there
The Nishi Chaya district is located near the quiet Teramachi temple district, and in walking distance of the Ninja Temple.
Loop bus: the loop bus which runs around Kanazawa stops near Nishi Chaya and Ninja-dera. Both the Right Loop and Left Loop can be taken. The stops are respectively RL11 (Hirokoji) and LL5 (Hirokoji). One-way fare: ¥200. A day pass costs ¥500.
Official Bus website: hokutetsu.co.jp
JR Bus: if you have JR Pass, then you can take advantage of the JR Bus which runs through Kanazawa. It is free for holders of the Japan Rail Pass. The Korinbo Line, which departs from Kanazawa Station, stops somewhat near Ninja-dera. Get off at stop #4 when departing from Kanazawa Station or stop #5 when going towards Kanazawa Station.
Nishinihon JR Bus website: nishinihonjrbus.co.jp