Matsue is a small city in the Chūgoku region in Western Japan. Too far from the main cities to be considered as part of a traveller's itinerary but also too near to feel like you're leaving the beaten path, this small city is often overlooked when considering options in Japan. This is a shame because Matsue has a charm that is hard to find anywhere these days: the city is full of stories.
Set within rolling hills and sitting on the shores of a large lake, with streets criss-crossed with canals and rivers, Matsue is a picturesque city with the benefit that many of the main attractions are within comfortable walking distance.
Guidebook: Matsue – The Storytelling City
Shimane Art Gallery and Lake Shinji
Matsue's main feature is Lake Shinji, the seventh largest lake in Japan. It's a calming, meditative presence barely ten minutes walk from the train station and, if the conditions are right, it hosts some beautiful sunsets that never fail to attract crowds of locals and visitors.
There is an island shrine called Yomegashima, which literally translates to Island of the Daughter In Law. The story behind this island is that a woman, trapped in a loveless marriage, was escaping across a frozen Lake Shinji back to her home in Matsue, but fell through thin ice and drowned. The god of Lake Shinji saw this and, in sympathy, raised up an island from where her spirit could see the lights of her beloved hometown. The island is quite beautiful: a fragile patch of land that seems to float on the lake, dotted with pine trees and a grey stone torii gate.
A walk along its shores is an excellent way to unwind and that will lead you to Shimane Art Gallery. This gallery is always worth a visit and there are artworks dotted about outside the building. The most notable of these is named Usagi Shinjikoor Lake Shinji Rabbits by the artist Satoshi Yabuuchi. This sculpture is twelve depictions of the same rabbit as it scampers across a grassy area in a wide arc.
This artwork has acquired a superstition since it was made in 1999: it is said that offering clam shells in front of a rabbit and rubbing its back will bring you luck. Local tourist guides tell you that the second rabbit will bring happiness but I've asked around and no one seems to know why that should be, nor what kind of fortune the other rabbits bring.
Both photos above © Andrew Endersby.
Matsue Castle
After the lake, the next main attraction that Matsue offers is the castle. It sits on a hill about ten minutes walk north from the lake and is one of the last twelve remaining original castles left in Japan. It's also quite a remarkable sight. It's painted pitch black and it glowers across the city below, a far cry from the more common white-walled castles that you'll find elsewhere.
It was built in 1611 and the first three owners of the castle all died soon after taking control. This run of short reigns was attributed to a curse by a woman who was apparently buried alive in the foundations when the castle was being built. The fourth lord gave her ghost an offering and this, it seems, was enough to lift the curse and his clan kept ownership of the castle for centuries.
The castle is now a museum (entrance 670 yen and it's half price for international tourists so bring your passport) that houses exhibits relating to its history and the view from the top offers a 360 degree panorama of the surrounding area. The castle grounds also house a number of shrines including, near the north-west exit, the Jozan Inari Shrine with its hundreds of statues of foxes. If you are patient or lucky enough to find the one that has a ball, then that will bring you luck.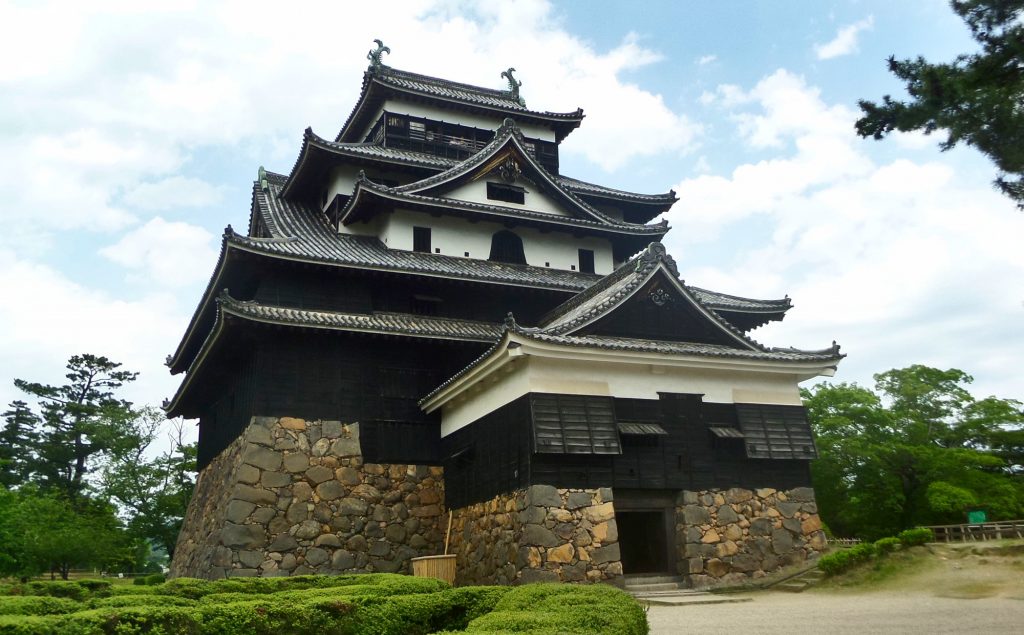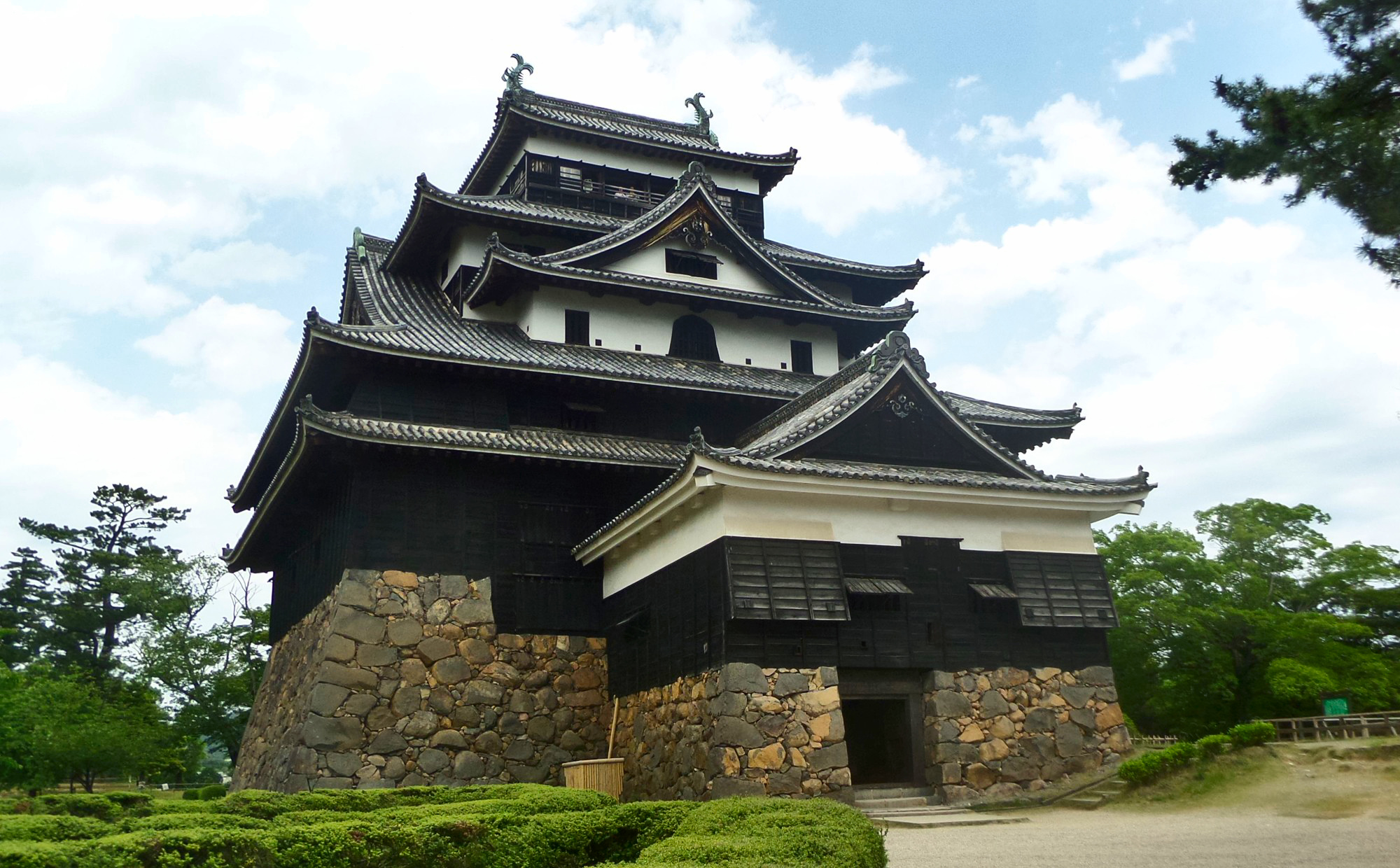 Both photos above © Andrew Endersby.
North of the castle
The road that runs along the northern part of Mastue Castle's moat hosts a number of museums including two about Lafcadio Hearn, the journalist who settled in Japan in the 1800s and wrote about Matsue at length. This book, Glimpses of an Unfamiliar Japan, beautifully captured a great deal of the folklore of the area and he is held in high regard in the city to this day.
North from the moat is an area called Okudanicho which rewards the idle wanderer, with many temples and shrines dotted around its residential streets, two of which are worth a visit. Manju Tempe sits at the end of a long road that runs through Okudanicho, and is worth visiting for the way the temple seems to draw you through its grounds: first, the perfectly raked zen garden, then you'll see some statues through a doorway and, on investigation, you find yourself in a Japanese garden with a stream flowing through it. Beyond that a secluded cemetery, surrounded by forest, leads you up a hill at the back of the temple.
Near Manju Temple is Tawara Shrine. To reach the main hall, there's a long tree-lined flight of stone steps, flanked by statues of animals from the zodiac. At the top is a shrine with a surprisingly busy layout. The main hall has two sections, which is a rarity, and there are plenty of auxiliary shrines which are miniature recreations of main halls representing distant shrines.
Both photos above © Andrew Endersby.
Eating and Drinking
Matsue has two areas for restaurants and bars: Higashihonmachi, which is north of the Ohashi River and contains the red-brick streets of the shopping area. The second area is around the station, especially Shin Ohashi Street, recognisable for its covered walkways.
The lake that Matsue stands beside offers a wide range of fresh seafood and the locals are rightfully proud of the Seven Delicacies of Lake Shinji, a set meal that includes clams, fish, shrimp and eels. You can eat this at Kawakyo, a small restaurant with English speaking staff (head north from Ohashi Bridge, turn right at the traffic lights), but it's a good idea to get there early.
Shin Ohashi Street is packed with options including an Irish pub, St James's Gate (head north from the traffic lights at a T-junction, and take the next right. You'll see the sign for Guiness up ahead).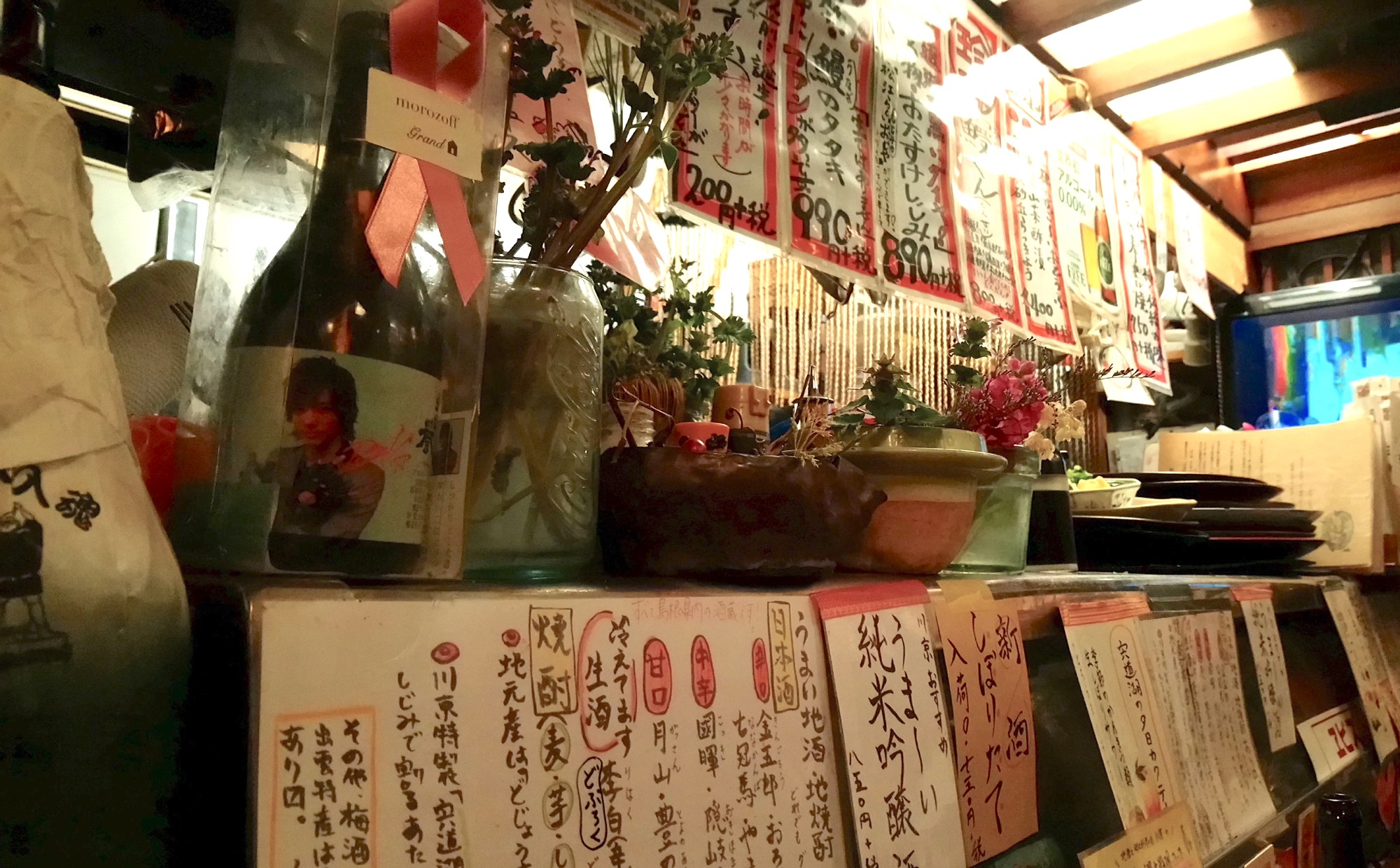 Accommodation in Matsue
Matsue is not a huge tourist destination, so the vast majority of hotels available in the centre are aimed at businessmen and feature familiar brand names such as Dormy Inn and Tokyo Inn. These are clustered around Matsue Station and offer a convenient base from which to explore the city.
Elsewhere in town, Matsue New Urban Hotel is near Matsue's second train station, making it perfectly placed for excursions to the castle, the shopping area and the lake.
For those looking for a more Japanese style of accommodation, options are far fewer. Nestled down a side street near the lake is Ryokan Terazuya, a small inn with a restaurant. Nearer the station is the larger Notsu Ryokan, which boasts its own open air spa.

Hotel Recommendations for Matsue city

Kitatono Guest House (budget)
Super cozy and well located guest house with bunkbeds and regular rooms. The prices are very low, making it an ideal place for the budget traveler.

Dormy Inn (mid-class)
Standard middle-class business and family hotel located very near Matsue station. Convenient location and reasonable prices.

Matsue New Urban Hotel (mid-class)
Located near Matsue's second train station, making it perfectly placed for excursions to the castle, the shopping area and the lake.

Notsu Ryokan (Japanese-style)
A nice, larger ryokan near the station. This traditional japanese-style hotel has it's own open air spa.

Hotel Ichibata (Luxury)
Luxurious 4* hotel located next to Matsue-Shinjiko-Onsen station. The hotel has its own spa and wellness center. The rooms have great views of the lake.

Find more hotels in Matsue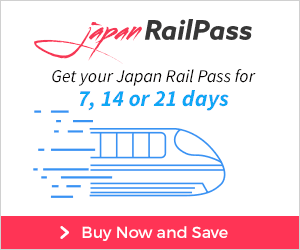 Getting there
Tours: You can buy the authors guidebook to Matsue here and book a guided day-trip here.
By plane: You can reach Matsue by domestic flights going to Izumo Enmusubi Airport (IZO) or Yonago Kitaro Airport (YGJ) and there are bus services from both of these to Matsue Station. Yonago Kitaro Airport also has weekly services going to and from Hong Kong and Seoul.
By train: Take the bullet train to Okayama and then take the limited express service "Yakumo Express" to Matsue Station and enjoy the lovely countryside rolling past the windows. The train, including the bullet train, is covered by the Japan Rail Pass.
By car: This is only really an option if you're prepared to pay for toll roads that'll reduce the time spent on the road. You can rent a car here.
By bus: There is a coach service from Hiroshima to Matsue that costs only 500 yen for foreigners (you must have your passport when buying a ticket). There are other coach services between Matsue and Osaka, Kyoto, Okayama and Tokyo.
This is a guest post written by Andrew Endersby, author of the Matsue travel guide.