Wajima is a small city (pop: 27'700) located on the Noto Peninsula, in Ishikawa Prefecture. It is the largest city in Okunoto, which is the northern part of the Noto region. The city is defined by it's main industries: fishing, lacquerware and tourism.
Due to its location facing the Sea of Japan, Wajima has historically been a significant port town in the trade between Japan and mainland Asia. When walking around the city it is also clear that the harbor is the heart of the settlement. The city is located on the eastern side of a protruding cape which provides a naturally calm area for a harbor.
The city of Wajima is a good hub for exploring the Noto peninsula, but it also has some interesting attractions of its own. It is especially famous for its morning market, kiriko museum and the local lacquerware production.
Map of Wajima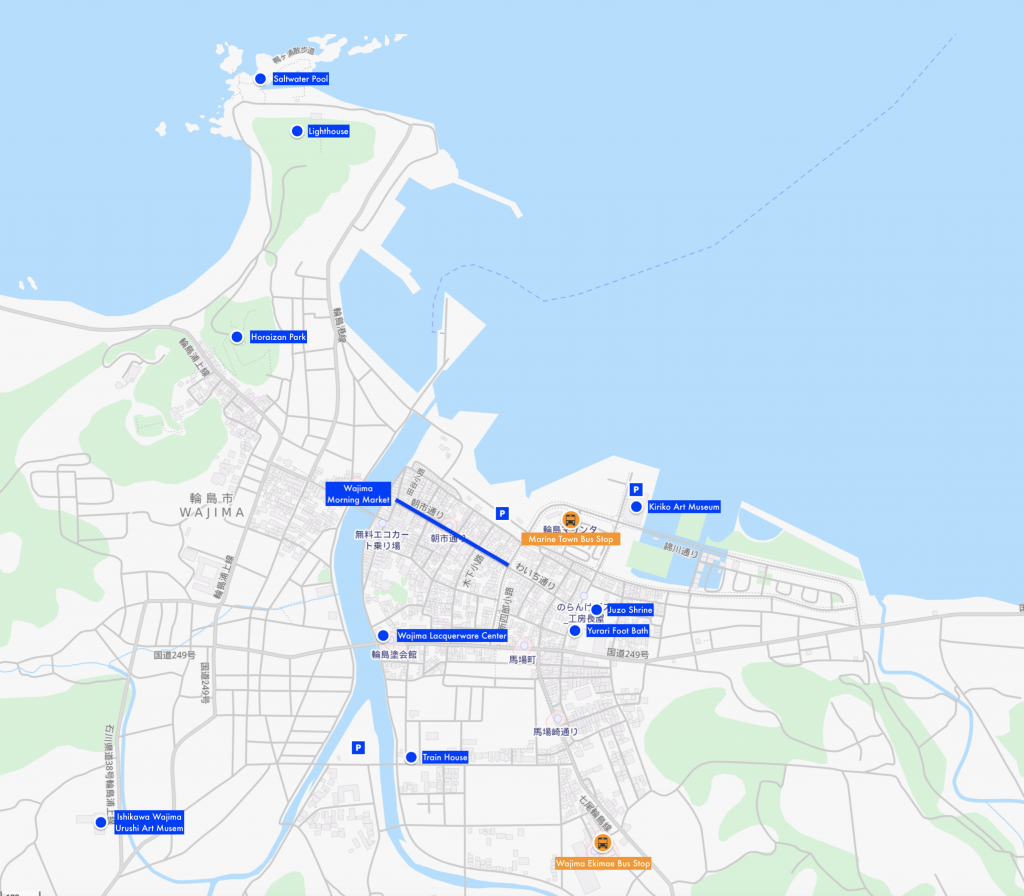 Attractions in Wajima

Wajima Kiriko Art Museum
displays a collection of unique kiriko lanterns. In the Noto region, the huge kiriko lanterns are used during festivals to guide portable shrines which are carried around as part of the festival ceremony. This museum, which is dedicated to the kirikos is a stunning, visual exhibition of the art pieces that these floats are.
Nearest parking: parking is available next to the museum. Parking coordinates: 37.396876, 136.907159.
Entry fee: ¥620

Wajima Morning Market (Asaichi)
with its more than 1000 years of history, and a huge selection of local produce, is one of the most atmospheric markets in Japan. Every morning between 8:00 and 12:00 locals sell their produce here: fish, vegetables, fruits, woodwork and lacquerware. The market spans the entire Asaichi-dori avenue, and stands range from old ladies with a basket of greens to large stands of fresh and dried fish.
Nearest parking: parking is available right next to the harbor or at the Kiriko museum. Parking coordinates: 37.397445, 136.902288.
Entry fee: free

Wajima Nuri Kaikan
is a lacquerware (nuri) shop and museum located centrally in Wajima. The city is well known for its high-quality lacquerware, and a visit to Wajima wouldn't be complete without seeing some of the beautiful and durable lacquerware products of the area. The first floor is a shop, while the second floor hosts an exhibition which can be visited against a small entrance fee.
Nearest parking: parking is available right next to the harbor or at the Kiriko museum. Parking coordinates: 37.397445, 136.902288.
Entry fee: ¥300
Photo credit: Sébastien Bertrand. Licensed under CC.

Mechanical front yard
this isn't an official Wajima tourist attraction, but it is so strange and wonderfully weird, that it's worth walking by. Near the city hall, a private home has been modeled in the shape of a train. On the premises around the home is what can best be described as a mechanical garden. The front yard is filled with homemade models of rockets, airplanes, tanks, boats and other strange contraptions. It's truly a sight to see. Please be respectful when visiting, as it is private property.
Location: Near Kamishinbashi (bridge) and City hall. 37.391221, 136.900914.
Planning your visit
Wajima is the perfect hub for exploring the rural peninsula of Noto. If you book a hotel in Wajima for a couple of nights, then you have a good base for venturing out into the rough nature this remote area of Japan has to offer.
If you need to collect inspiration for your explorations, then check out the complete collection of articles about the Noto Peninsula. You can easily spend a day exploring this Noto Kongo Coast, south of Wajima, and another day exploring the Okunoto Coast north of Wajima.
If you prefer a guided tour of the peninsula, then several tour services are available, both private and bus tours.
Book a private tour of Noto Peninsula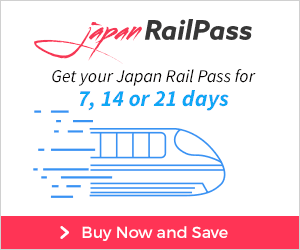 Getting there
By car: Wajima is located on route 249, and can be reached in 2 hours from Kanazawa, 1 hour from Wakura Onsen or 4 hours from Nagoya.
By bus: the train service to Wajima was closed years back, so bus is the only option for public transport. From Anamizu Station, busses leave approximately every hour. The ride is about 1h to Wajima at costs ¥760 (2018). Busses are also available directly from Kanazawa station to Wajima. The ride is about 2 hours, and costs ¥2260.
JR Pass: You can't go all the way to Wajima on a JR Pass. You can do it a bit cheaper though. If you have a JR pass, your cheapest option is to take the JR Nanao Line from Kanazawa to Nanao (free with JR Pass). In Nanao you change to the privately owned Noto Railway and take the train to Anamizu (¥830). From Anamizu take the bus to Wajima (¥760). This total to ¥1590, and is therefore slightly cheaper than the direct bus. It is somewhat slower though.
By plane: Noto Airport is located a 20 minute drive away from Wajima city. There are a couple of daily flights between Tokyo and Noto Airport.
Planning a trip to the Noto region? Then check out all the other articles about the Noto Peninsula.