In Tokyos "nerd paradise", the shopping center Nakano Broadway, you can have a gigantic 8 flavor ice cream. Not only is it huge, but it has 8 different tastes and colors.
Nakano Broadway, known as the place to shop if you are a bit of a geek. This shopping center has shops for almost any hobby you may have, especially if you are into manga and anime. In the basement of Nakano Broadway you find some food shops, and amongst those you will find the soft serve ice cream shop Daily Chico (デイリーチコ). Here you can get a variety of generously sized, flavorful and colorful soft serve ice creams. The main reason people come here however is the gigantic 8 flavor ice cream. All 8 varieties put on top of each other in one single cone. It sounds crazy and it is crazy. Don't eat before you go!
The flavors are Strawberry, Coffee, Milk, Chocolate, Ramune, Grape, Banana and Matcha. All this deliciousness is yours for just ¥480 – that is only $4.5.
If you are lucky like I was then your favorite flavor is at the bottom of the stack, forcing you to eat through all the layers – oh, what a shame huh? Also, be careful not to take too long with your photos, and don't enjoy each layer for too long. After all it is an ice cream and they don't last forever..
A last tip for you before you board the train to Nakano (and I learned this the hard way): don't get this ice cream before dinner!
You might be interested in my other Tokyo posts. I also recommend these very popular articles: Japan Rail Pass, Visiting Japan on a budget and Top Travel Guides for Japan.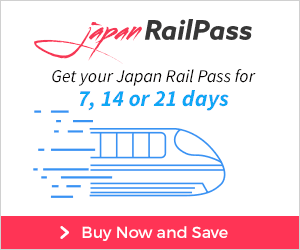 Getting there
By train
Take the train to Nakano station. From there you can walk to Nakano Broadway.
The Chuo Line, Chuo-Sobu Line and Tozai line make stops at Nakano Station.