Fukui Prefecture is among the 5 smallest of Japan's 47 prefectures, when ranked by population. It is an area often overlooked by tourists, but in fact there are some really interesting experiences to be had in this rural prefecture. This itinerary is suitable for a 2-day excursion in Fukui Prefecture. Check out the 1-day itinerary if you are short on time. On the first day it takes you to two of the biggest attractions in the area. The second day focuses on a beautiful hike in the mountains outside the city. This itinerary can easily be made as a side excursion from Kanzawa, but staying in Fukui City is recommended if you plan on doing both days. Suggestions for hotels etc. can be found at the bottom for this article.
Hotels in Fukui Hokuriku Arch Train Pass
The first day will start off with the ancient, and magical feeling Eihei-ji temple in the deep forests of Fukui. You get to explore this huge temple, and it's labyrinth of covered wooden walkways. When you are done exploring, get some lunch at one of the towns noodle shops before catching the bus to Ichijōdani Asakura Clan Historic Ruins. Here you can explore the remains of a once big and important city, which was completely destroyed and forgotten. On the hills surrounding the valley you will find some great view points where you can enjoy the beautiful scenery, before returning to Fukui city. On the second day, you will take the train out into the country side to hike the beautiful Mt. Arashima.
2-day itinerary Fukui Area
Day 1 – History
Day 2 – Hiking
all photos © touristinjapan.com
Transport details
Planning your transport in advance is advantageous when you travel in more rural areas, like Fukui Prefecture. Below is a suggestion for transportation. Check the schedules before going, as some busses are infrequent.
Day 1 Transport Details
Prices may change, so bring enough cash.
Day 2 Transport Details
The JR Kuzuryuko Line is covered by the Japan Rail Pass.
Details of itinerary
Day 1 details

Eihei-ji Temple
Eihei-ji is an ancient Sōtō Zen temple, located in the wooded hills outside Fukui City. The temple, which was founded in 1244 by Dōgen, is made up by 70 buildings and structures. Eihei-ji's buildings are located at different heights up along the hill, and many of them are interconnected with covered wooden walkways, making the temple grounds feel like a magical labyrinth of ancient structures just begging to be explored. From the highest located buildings there are amazing views over the woods and the temple complex.
Entrance fee: ¥500

Ichijōdani Asakura Clan Historic Ruins
Ichijōdani Asakura Clan Historic Ruins are the remains of the once big and prosperous Ichijōdani castle town. The town, which was once populated by as much as 10'000 people, was completely destroyed during the 1573 Siege of Ichijōdani Castle. Today, a 200 meter stretch of the ruins have been reconstructed with walls and furnished houses. With a ticket it is possible to enter the reconstructed area and get a feeling for how the town would have been in the 1500's. You might even run into some actors, dressed in typical clothes of the period. The surrounding area contains a large number of ruins, including those of some Japanese gardens.
The Ichijōdani ruins have been designated a Special Historic Site and the garden remains are, as a group, categorized as Special Places of Scenic Beauty by the government.
Entrance fee: ¥220
Day 2 details

Mount Arashima Hiking
Mt. Arashima is listed as on one of the 100 best mountains (Hyakumeizan) in Japan. Located in i a very rural area of Fukui Prefecture it is not one of the most easily accessible mountains for hiking. However that makes it even more special, as you will only meet the odd hiker on the trails. This hike is fairly tough, but if you are used to hiking then you are in for a treat.
While Mount Arashima is located a bit far from everything, it is indeed possible to get there without a car (however it would be more convenient with a car). The JR Etsumihoku Line runs from Fukui (the city) up through the valley and makes stops a a bunch of smaller stations. Kadohara is the most convenient station to access Mt. Arashima. Be warned, the train leaves approximately 4 times a day with 3-4 hour intervals, so if you intend to do the complete hike you must be really efficient and in good shape unless you intend to spend the night at the station. A car is really recommended for this hike, but it is doable without if you are well prepared.
Lenght: 13km / 8mi round trip
Elevation gain: 1265m / 4150ft
Time: 5-7 hours
Difficulty: medium-hard
Planning your stay in Fukui
Hotels and accommodation
Tours, tickets and experiences
Fukui Prefecture and the neighbouring prefectures are full of amazing experiences, especially related to nature, culture and history. Adding a couple of experiences or tours could enhance your experience further and let you dive deeper into the local culture of the Chubu region. Below is a selection of tours, itineraries and experiences which you may find interesting.
Internet on the go
Having an internet connection can help you a great deal when navigating the streets of a new city. Booking Pocket Wi-Fi or getting a Japanese SIM-card for your phone can be a great way to help yourself out of a tricky situation or help you get the most out of your day.
Transport in Fukui
Fukui city has a convenient tram system for transport inside the urban area, as well as an extensive bus network. Additionally the Echizen Railway and the JR Kuzuryu Lines serve the suburbs and neighbouring cities.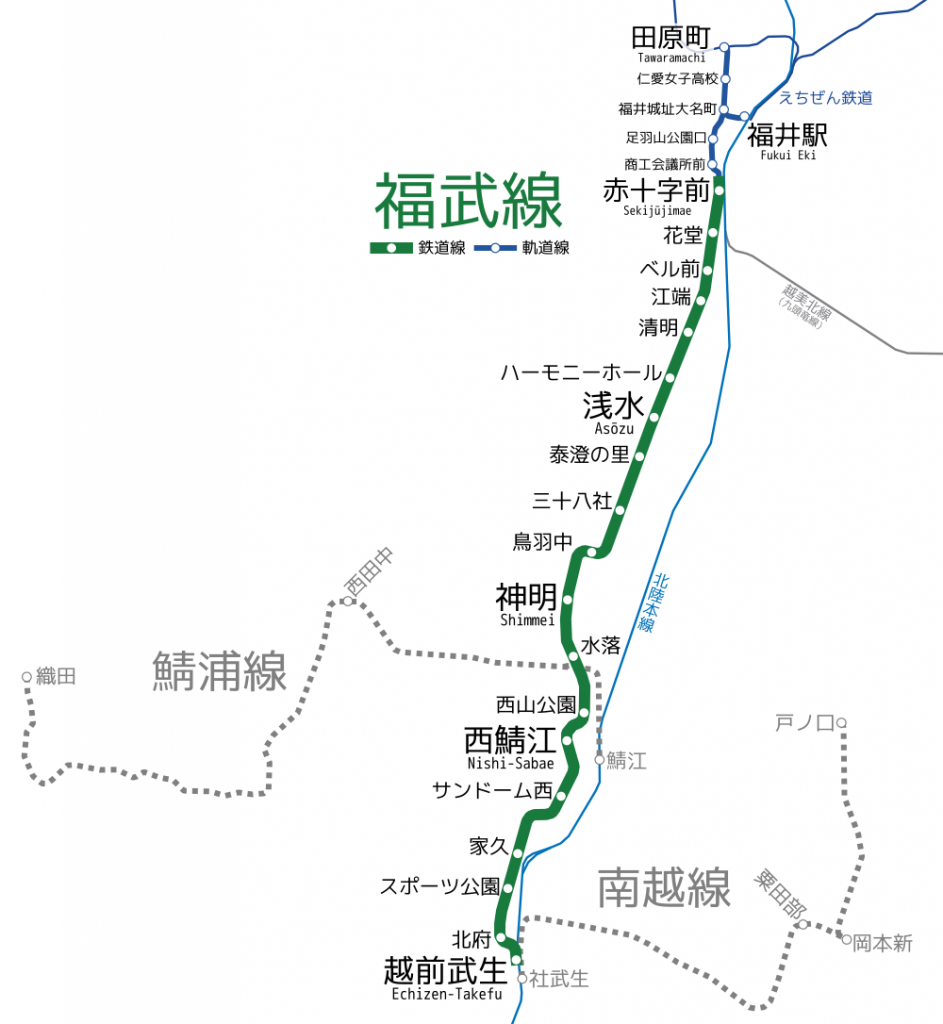 Getting to Fukui City
By train
Fukui is located on the JR Hokuriku line, between Kyoto and Kanzawa.
From Kanzawa you can take the JR Thunderbird (~50min), JR Shirasagi (~50min) or JR Hokuriku (90min) lines to Fukui. All the above connections are covered by the Japan Rail Pass.
From Kyoto you can take the JR Thunderbird line (~90min) or take the Tokaido/Sanyo Shinkansen to Maibara Station and change to the JR Shirasagi line (~110min). All the above connections are covered by the Japan Rail Pass.
By air
Fukui Airport (FKJ) is a small airport mostly used for private flights. Instead, you can you the nearby Komatsu Airport (KMQ). Komatsu Airport has connection to Tokyo, Sapporo, Sendai, Fukuoka, Naha, Seoul, Shanghai, Taipei and Hong Kong.
Busses operate between Komatsu Airport and Fukui Station (60min). Alternatively, take the train (Echizentetsudo-Mikuni-Awara Line, 25min) from Nishiharue Heartopia Station to Fukui Station. The distance between the airport and Nishiharue Heartopia Station is 1.6km and can be walked in 20 minutes. Alternatively take a taxi.