The Noto Peninsula in Ishikawa Prefecture is one of the most remote areas of Japans main island, Honshu. Located on the central western coast of Japan, the Noto peninsula is somewhat isolated on the opposite side of the "Japanese Alps" from the big metropoles like Tokyo, Kyoto and Osaka. The nearest larger city is Kanazawa (population 466,000) which makes a good starting point for an excursion into one of Japans most rural areas.
The Noto Peninsula is characterized by it's rough, coastal nature making it a harsh place to live. To an extend the locals live off of fishing and farming here. Lacquerware is one of the arts the region prides itself on along with it's famous Kiriko Lantern festivals.
The Noto Peninsula is the place to go if you want to explore the beautiful yet unforgiving nature of Japan, and get a chance to experience the country in an environment where very few foreign tourists make it past the museums.
For this 2 day road trip of the Noto peninsula you'll be driving your own car around the peninsula. You'll primarily be driving on the main road route 249 which follows the coast of the peninsula. There's at least 1 night required on the peninsula. Booking accommodation in Wajima is recommended.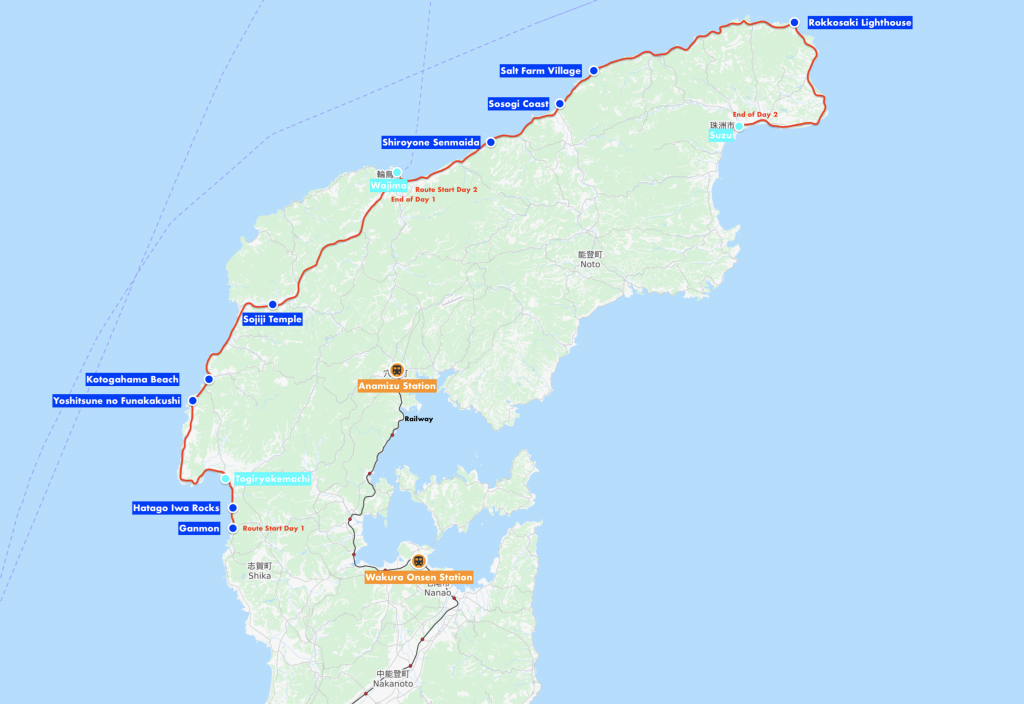 2-day itinerary Noto Peninsula
Day 1
The day will be spent exploring the beautiful Noto Kongo Coast and visiting important natural and religious landmarks along the way. You will see plenty of tiny fishing and farming villages as you move along the coastal road. The plan allows time for a few stops in small villages along the way. The Day ends in Wajima city.
Hotel Recommendation for Wajima:

Wajima Guest House (budget)
Affordable and local on the outskirts of Wajima. 1 parking spot available. Host is very friendly and helpful.

Hotel Route-Inn Wajima (mid-class)
Comfortable hotel located in the middle of Wajima city. Convenient location.

Wajima Onsen Yashio (luxury)
High-end, traditional Onsen hotel near Wajima centre.

Day 2
The second day starts with some exploration in Wajima city, followed by visits to famous landmarks along the Okunoto Coast. You'll explore rice fields, beautiful nature, salt farms and other great landmarks along the coast. The day ends at Rokkozaki Cape. Optionally you can continue to Suzu city to spend the night.
Hotel Recommendation for Suzu:

Farm Minshuku Tanaka (budget)
Cheap dormitory accommodation for the budget traveler. Charming, traditional Japanese facilities.

Suzu Beach Hotel (mid-class)
A great, modern hotel located near the beach of Suzu. Rooms are modern, western rooms. The hotel features a restaurant and indoor pool with waterslide.

Hyakurakuso (luxury)
Unique Onsen Ryokan in Ogi. Hotel has a special Onsen bath in a cave, and luxurious bathing platform directly in the sea. All rooms have sea view. Located 30 minutes south of Suzu city.

Itinerary details
Details of Day 1

Ganmon Sea Cave
and Gammon "Gate Rock" are two of the main attractions along the Noto Kongo Coast. Ganmon (lit. "Gate Rock") and Ganmon Sea Cave are located next to each other, in a small park-like area with footpaths. Located in a very dramatic environment of weathered rocks and beautifully clear water this is a must visit location on Noto Kongo Coast. Hit the "Read more" button to get more information about Ganmon Sea Cave.
Nearest parking: 37.094706, 136.727814
Entry fee: free

Hatago Iwa Rocks
, also known as Noto Futami, are a pair of sacred rocks located in the sea a few kilometers north of the famous Ganmon rock. The rocks are tied together by a rope and are so-called couple rocks or "married rocks". This place is especially beautiful around sunset. Hit the "Read more" button to get more information about Hatago Iwa Rocks.
Nearest parking: 37.122606, 136.727487
Entry fee: free

Yoshitsune no Funakakushi
, literally meaning "Yoshitsunes Boat Hiding", is a long, narrow gorge found on the Noto Kongo Coast. It is said that Yoshitsune, a Samurai in the 1200th century, hid his boats here from a storm when he was fleeing from enemies. Hit the "Read more" button to get more information about Yoshitsune no Funakakushi.
Nearest parking: 37.209107, 136.684359.
Entry fee: free

Kotogahama Beach
is located towards the end of the Noto Kongo Coast. The beach is famous for its singing sand (also called crying sand). The sand make a whining sound when you drag your feet across it. The singing sand on this beach was designated as an important cultural sound, when it was enlisted on the "100 soundscapes of Japan" list in 1996.
Nearest parking: The beach and free parking lot is located right on route 249. Parking coordinates: 37.226553, 136.704525.
Entry fee: free

Sojiji Temple
is a Zen temple located about half-way up the Noto Peninsula. Sojiji was once the most important Zen temple in Japan, overseeing 16,000 subordinate temples. Unfortunately, the temple buildings took great damage in a fire in 1898. As a consequence of the damage, the temples function as a main seat for the Soto Zen sect was transferred to a temple in Yokohama, south of Tokyo. Today all buildings have been rebuilt.
Nearest parking: Parking is available across the road from the entrance to the temple grounds. Parking coordinates: 37.287216, 136.768389.
Entry fee: ¥400
Details of Day 2

Wajima Morning Market (Asaichi)
with its more than 1000 years of history, and a huge selection of local produce, is one of the most atmospheric markets in Japan. Every morning between 8:00 and 12:00 locals sell their produce here: fish, vegetables, fruits, woodwork and lacquerware. The market spans the entire Asaichi-dori avenue, and stands range from old ladies with a basket of greens to large stands of fresh and dried fish.
Nearest parking: parking is available right next to the harbor or at the Kiriko museum. Parking coordinates: 37.397445, 136.902288.
Entry fee: free

Wajima Kiriko Art Museum
displays a collection of unique kiriko lanterns. In the Noto region, the huge kiriko lanterns are used during festivals to guide portable shrines which are carried around as part of the festival ceremony. This museum, which is dedicated to the kirikos is a stunning, visual exhibition of the art pieces that these floats are.
Nearest parking: parking is available next to the museum. Parking coordinates: 37.396876, 136.907159.
Entry fee: ¥620

Train shaped house
this isn't an official Wajima tourist attraction, but it is so strange and wonderfully weird, that it's worth walking by. Near the city hall, a private home has been modeled in the shape of a train. On the premises around the home is what can best be described as a mechanical garden. The front yard is filled with homemade models of rockets, airplanes, tanks, boats and other strange contraptions. It's truly a sight to see. Please be respectful when visiting, as it is private property.
Location: Near Kamishinbashi (bridge) and City hall. 37.391221, 136.900914.

Sosogi Coast
is a rocky and wild coastline of about 2km. This stretch is loved for its strangely shaped rock formations and the contrast between the blue sea and the dark stone. Main attractions here include Madoiwa (rock formation), Water flowers, the kissing tunnel and the Tarumi Waterfall.
Nearest parking: Parking is conveniently available next to Madoiwa Rock. Parking coordinates: 37.458627, 137.076036.
Entry fee: free

Okunoto Salt Farms
describes a collection of salt farms located along a stretch of the Okunoto Coast. One of the most visited farms is a road side station which has not only a salt shop, but also a museum which explains both the history of salt farming and the different processes which have been used over time. An old fashioned salt production is kept running to preserve the history and culture. Other farms are located in the area, and it's highly suggested to visit a few when in the area.
Nearest parking: Free parking is available at the road side station. Parking coordinates: 37.486361, 137.113225.
Entry fee: ¥100 (museum)

Rokkozaki Lighthouse
is located at the tip of the Noto Peninsula. The western architecture and it's white color really makes it stand out. The most impressive attraction here, however, is the fantastic view of the Sea of Japan. It is said that the sun can be seen both rising out of the sea and setting in to the sea from this location.
Nearest parking: Parking is available at a road side station near the lighthouse. However, a 10-minute up-hill hike is required to reach the building. Parking coordinates: 37.526002, 137.324428.
Entry fee: free

Planning your Noto Road Trip
Exploration is typically best if you don't plan every detail of the trip. However there are certain things which are good to think about before you head out into the rural countryside of Japan.
Car rental
Getting around the Noto Peninsula is best done by car. While you can book private tours, you do get a greater freedom by renting a car and driving yourself. A good starting point is either Kanazawa or Wakura Onsen, where rental cars are available. Book well ahead in time to avoid high charges.
Wi-Fi
You probably aren't venturing out into rural Japan because you want to be closely connected with the world. However, having an internet connection can help you a great deal when navigating the roads in a remote area with few people to ask for help. Booking Pocket Wi-Fi or getting a Japanese SIM-card for your phone can be a great way to help yourself out of a tricky situation.
Accommodation
The Noto Peninsula is remote enough that you shouldn't count too much on booking hotels on the go. Hotels are few, so booking in advance is advisable. The itinerary above has hotel suggestions for each day, with both cheap and luxurious options. Head over to booking.com to explore all hotel options on the Noto Peninsula.
Food
When you are leaving the comfort of the Japanese cities you must plan a bit ahead for your meals. On the Noto peninsula you can find small restaurants, noodle shops and convenience stores along the way, but don't expect them to be everywhere like you might be used to. Whenever you see a convenience store, take the opportunity to stock up on some snacks, drinks and food.