Kazue-machi Chaya District in Kanazawa, is one of the city's three traditional entertainment districts, and the second-largest of them. In this historic area, right next to Asanogawa bridge, one finds beautiful, old edo-period buildings, lined up along the Asano River.
Accommodation Kanazawa Tours Hokuriku Arch Train Pass
Kanazawa is rich on traditional Japanese culture. This also shows in the number of old entertainment districts. No less than three traditional districts have been preserved, Higashi Chaya (East Chaya) being the largest and most popular one, Kazue-machi Chaya the second largest and Nishi Chaya the smallest one. Chaya, which means "tea house", is a designation used for regular tea houses as well as establishments where Geishas entertain guests with song, dance, games and alcohol. These types of areas are often referred to as Geisha districts.
Kazue-Machi Chaya isn't a very big area, but it has a beautiful location right next to the river. One can stroll along the river, while enjoying the view of the beautiful wooden tea houses. This district is also less crowded than Higashi Chaya on the other side of the river. That can make for a more enjoyable experience and some very nice photo opportunities. Today, many of the buildings house restaurants, so why not enjoy a nice dinner in a historic location.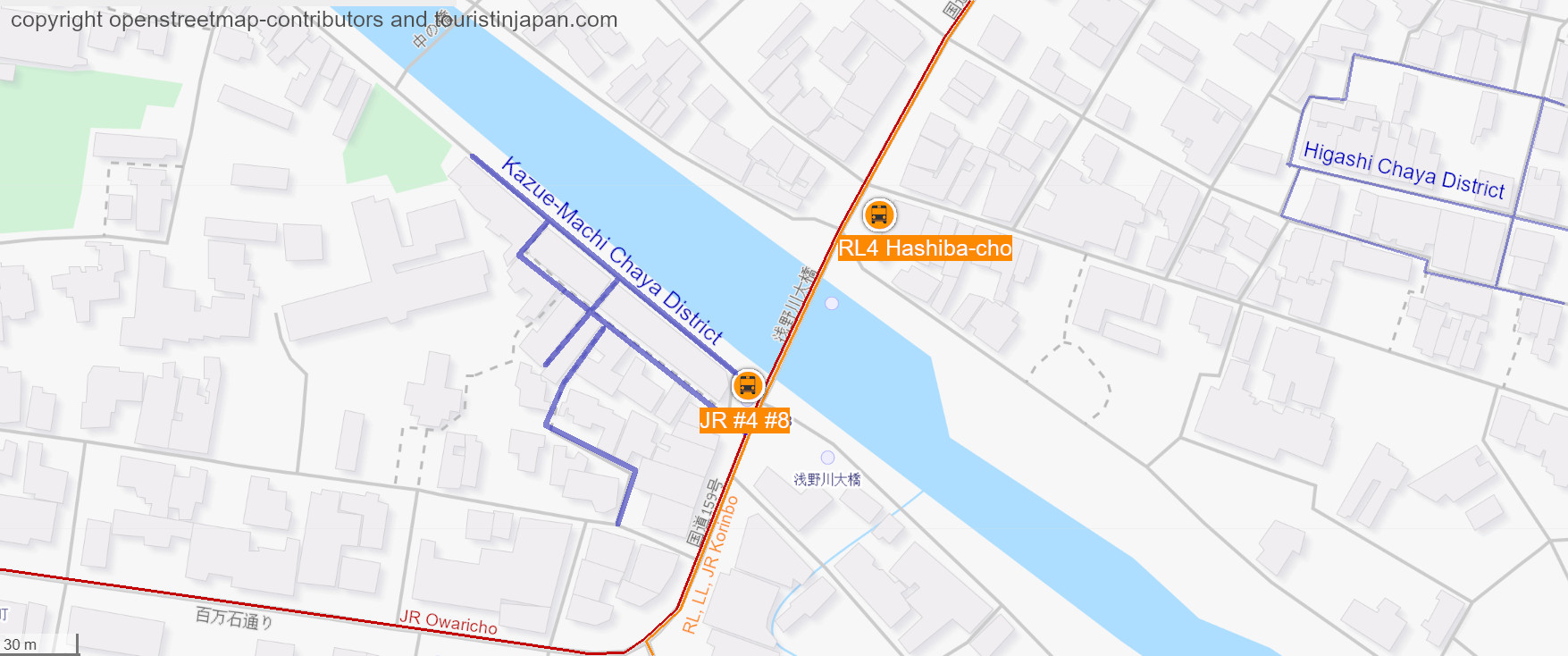 Getting there
The Kazue-Machi Chaya district is located right next to the Asanogawa bridge, in walking distance of the larger Higashi Chaya District.
Loop bus: the loop bus which runs around Kanazawa stops near Kazue-Machi Chaya. Both the Right Loop and Left Loop can be taken. The stops are respectively RL4 or RL5 (Hashiba-cho) and LL10 (Hashiba-cho). One-way fare: ¥200. A day pass costs ¥500.
Official Bus website: hokutetsu.co.jp
JR Bus: if you have JR Pass, then you can take advantage of the JR Bus which runs through Kanazawa. It is free for holders of the Japan Rail Pass. Both the Korinbo Line and the Owaricho Line, which depart from Kanazawa Station, stop near Kazue-Machi Chaya and Higashi Chaya. On the Korinbo Line, get off at off at stop #8 (Higashi Chaya District) when departing from Kanazawa Station. If driving towards Kanazawa Station, get off at #1 Higashi Chaya District. On the Owaricho Line, get off at stop #4 (Higashi Chaya District) when departing from Kanazawa Station, or stop #1 in opposite direction.
Nishinihon JR Bus website: nishinihonjrbus.co.jp
Cover photo by Fabian Reus. CC BY-SA 2.0.