Shiroyone Senmaida (literally "1000 rice paddies of Shiroyone"), is a scenic, terraced rice field located in Shiroyone Town, 11km north-east of Wajima city.
Terraced rice fields are well known across east Asia, and always draw a lot of attention for their strangely mesmerizing beauty. The technique of terracing in agriculture aids the utilization of sloped land for growing crops. This can be an advantage in hilly or mountainous areas, where flat lands are rare. For rice specifically, the terracing technique is also an advantage as this crop requires irrigation (controlled watering) – a process which is eased by gravity on a slope.
At Shiroyone Senmaida, the fields are flooded every year in April, and rice is planted in May. All work in these fields is carried out by locals and volunteers. The size of each paddy is so small, that all work must be done by hand.
Shiroyone Senmaida is no exception when it comes to beauty. With a scenic location, overlooking the Sea of Japan, this site of 1004 rice paddies has become one of the areas biggest attractions. In fact, it has been designated as a "special place of scenic beauty" by the Japanese government.
When to visit Shiroyone Senmaida
Facing north-west, the rice paddies of Shiroyone make a magnificent spot for watching the sunset. The setting sun reflects in the ocean and the many water filled rice paddies, transforming the fields into a huge art installation. The ideal time of year for sunset watching is April through July when the fields are flooded.
During the fall and winter season (mid-October to mid-March), 21'000 LED lights are installed along the edges of the individual fields. The lights are charged by solar panels during the day and then turn on at night. This makes for a real art installation, even in the winter time when the fields aren't flooded.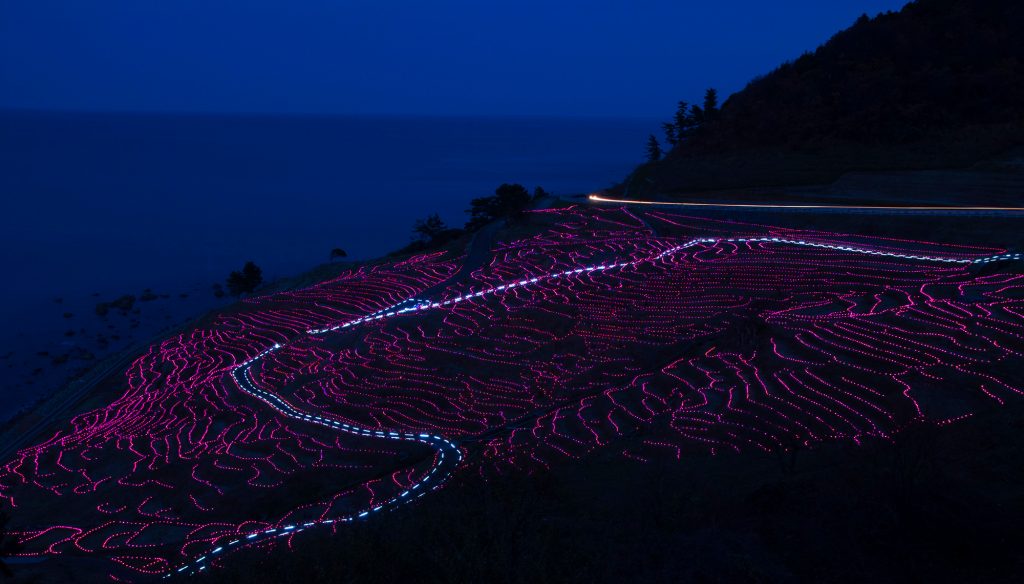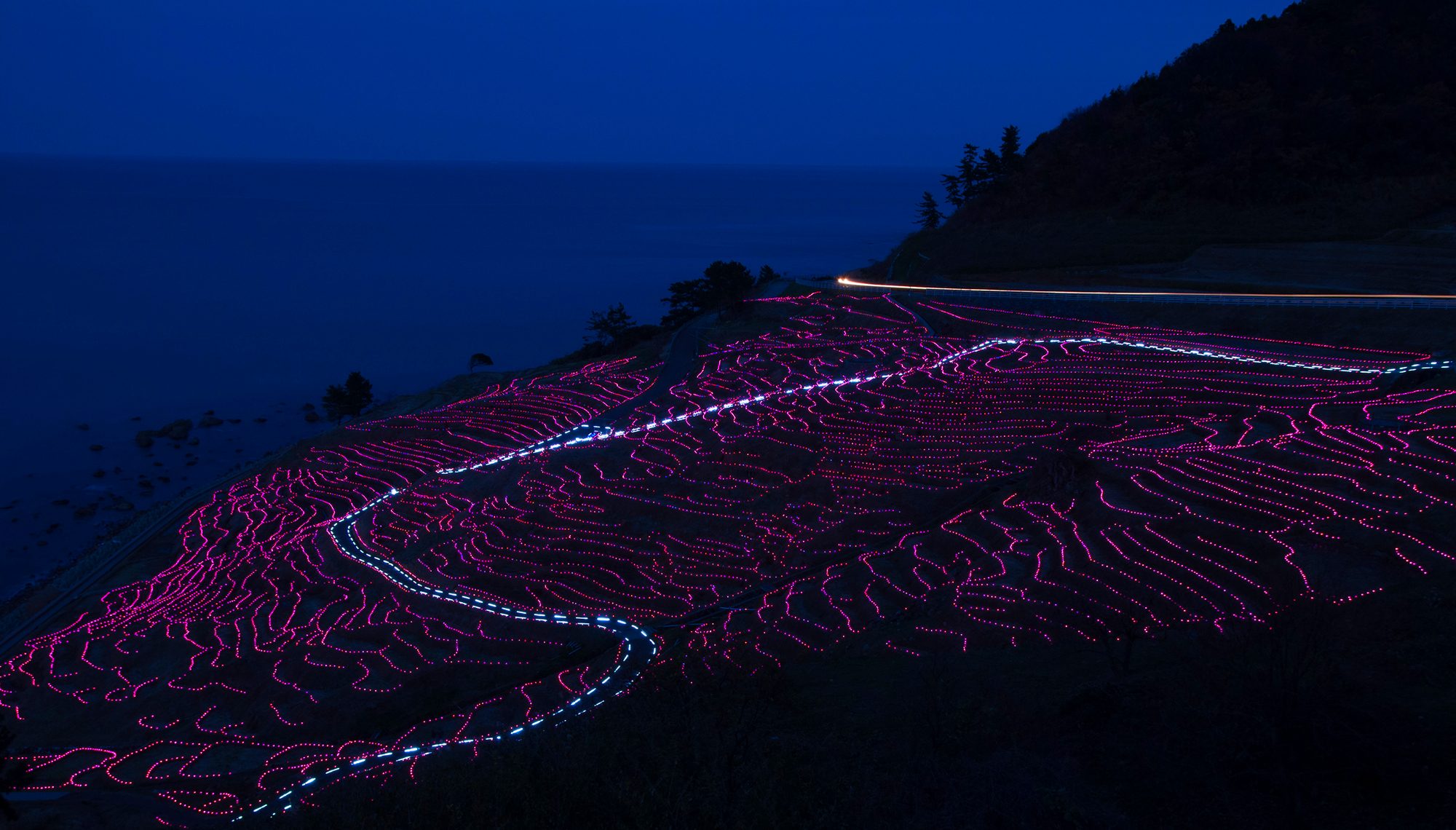 Getting there
Private tour: A convenient option is to book an all private tour of the Noto peninsula! This way of traveling provides a lot of freedom, great guidance and no need to drive yourself.
By car: from Wajima city, take route 249 about 11km in westerly direction. The drive from Wajima is about 20 minutes along the coast. Parking is available right next to the rice fields, where you also find a small visitor center / souvenir shop. Parking coordinates: 37.424158, 136.997957.
By bus: busses are available, leaving from Wajima Ekimae Bus Stop. Take the Machino Line, Hokutetsu Oku Noto Bus. The nearest bus stop to the rice paddies is Shiroyonesenmaida Bus Stop. The ride is about 20 minutes, and costs ¥480 in 2018. Be aware that the buses are infrequent, so check the schedule beforehand. If you arrive train from Tokyo, then you must travel via Kanazawa.
Planning a trip to the Noto region? Then check out all the other articles about the Noto Peninsula.