The Sosogi Coast, is an approximately 2km (1.25mi) stretch of rocky coast along the northern shore of the Noto Peninsula in Ishikawa Prefecture, Japan. The weather-worn rock formations define the appearance of this coast line, which has earned a listing as a "special place of scenic beauty", a designation given by the Japanese government.
The rocks along the coast are rhyolite, which is a volcanic rock. Thousands of years of erosion by the sea, rain and wind has shaped the rocks in this area into unusual shapes and formations. It is these formations that have earned the Sosogi Coast a reputation as a beautiful place. Walking along the coast line one must marvel at the power of the sea and the contrast between the blue ocean and the nearly black rocks.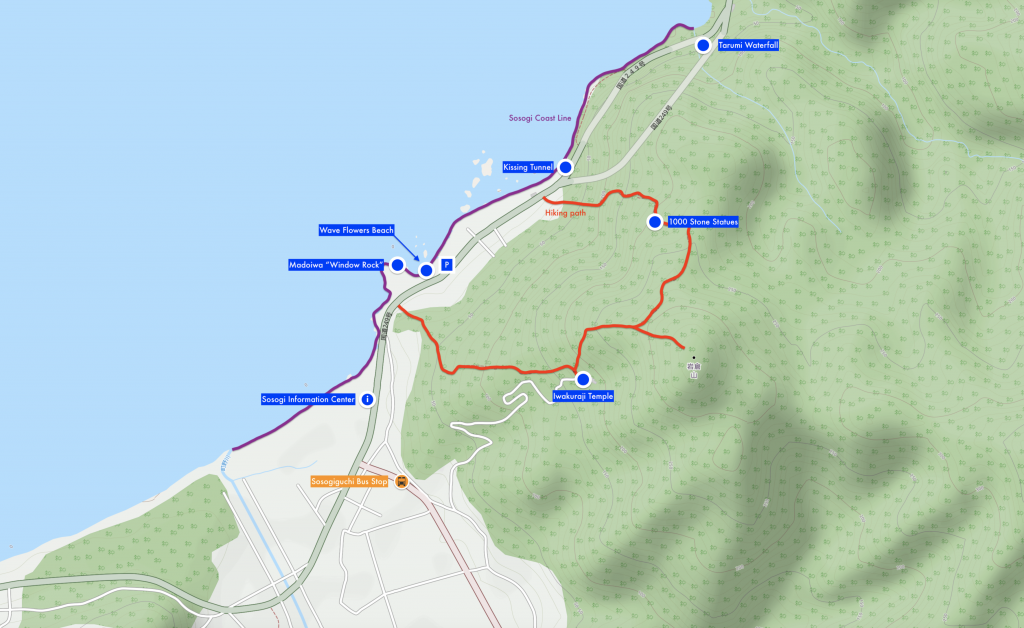 Especially famous on the Sosogi coast is Madoiwa (window rock), a rock formation with a 2m hole in the middle (not to be confused with the "gate rock" of the Kongo Coast). The hole has been eroded by the ocean over the years, and gives the rock a strange, unusual appearance. Other noteworthy sights along the Sosogi coast are the Kissing Tunnel, 1000 stone statues, Iwakuraji Temple and Tarumi Waterfall.
The area appears very windy and exposed to the elements. Nevertheless, a small settlement called Machinomachi can be found near Madoiwa rock. The village seems to mostly rely on fishing and farming for survival. Quite a number of small boats can be found on the shore along the town, clearly indicating how important fishing is here. The place is quiet, apart from the howling wind, and has a certain melancholic atmosphere.

Getting there

Private tour: A convenient option is to book an all private tour of the Noto peninsula! This way of traveling provides a lot of freedom, great guidance and no need to drive yourself.
By car: route 249 runs along the entire Sosogi Coast. Madoiwa can be reached from Wajima in about 30 minutes (20km / 12mi). There's a large, free parking area right next to Madoiwa rock. Parking coordinates: 37.458627, 137.076036.
By bus: the nearest bus stop to Madoiwa is Sosogiguchi Bus Stop. From Wajima, take the Machino line (町野線) 33 minutes (¥760) to Sosogiguchi Bus Stop. From the bus stop, walk 4 minutes to the Sosogi Information Center, or 9 minutes to Madoiwa "Window Rock". Click here to learn how to take a bus in Japan.
Planning a trip to the Noto region? Then check out all the other articles about the Noto Peninsula.