While Yakushima is known for it's amazing hiking, it is also known for it's many rainy days. If you run into a rainy day, or just want to rest your legs and experience more of Yakushima than the deep forests, then this 1-day road trip around the circumference of the island is just for you. Yakushima has a road running around it's entire perimeter – a 135km circular path which makes for a perfect day trip.
Hotels Yakushima 15 Day Hike in the Volcanic Wonders of Kyushu
Yakushima island is known for it's beautiful nature and world class hiking trails. Park areas such as Shiratani Unsuikyo Ravine and Yakusugi Land provide plenty of options to hike, both for beginners and experienced hikers. There are, however, many other things to see around the island. This self-guided road trip takes you to some of the best places along the perimeter of Yakushima, with almost guaranteed good views and wildlife encounters.
The route starts in Miyanoura, but you can adapt it to where your accommodation is and start from there. You need a car for this road trip – it's not possible to do it by bus within a day. Don't forget to bring lunch, either from one of the super markets in Anbo or Miyanoura, or bring a lunchbox from your accommodation.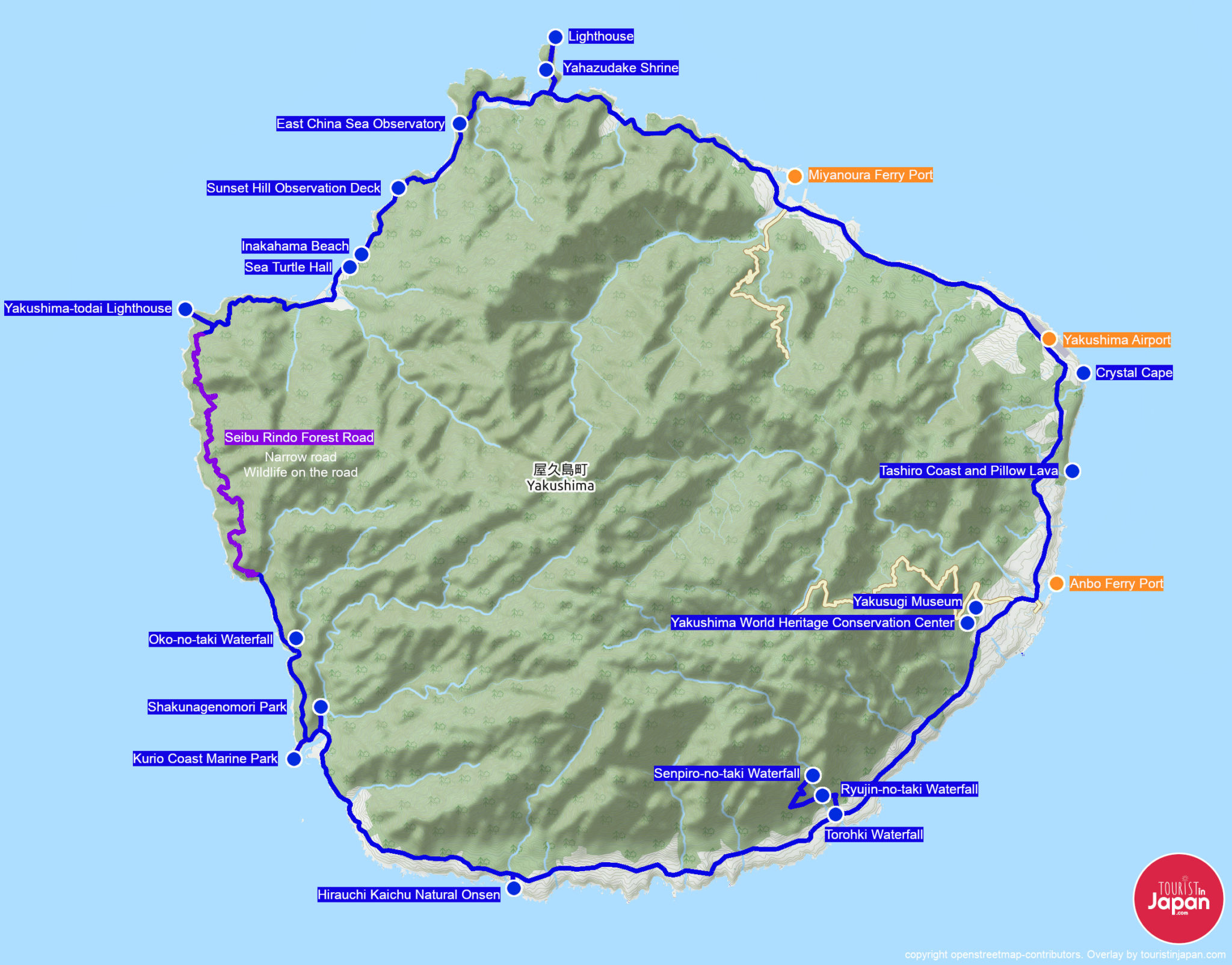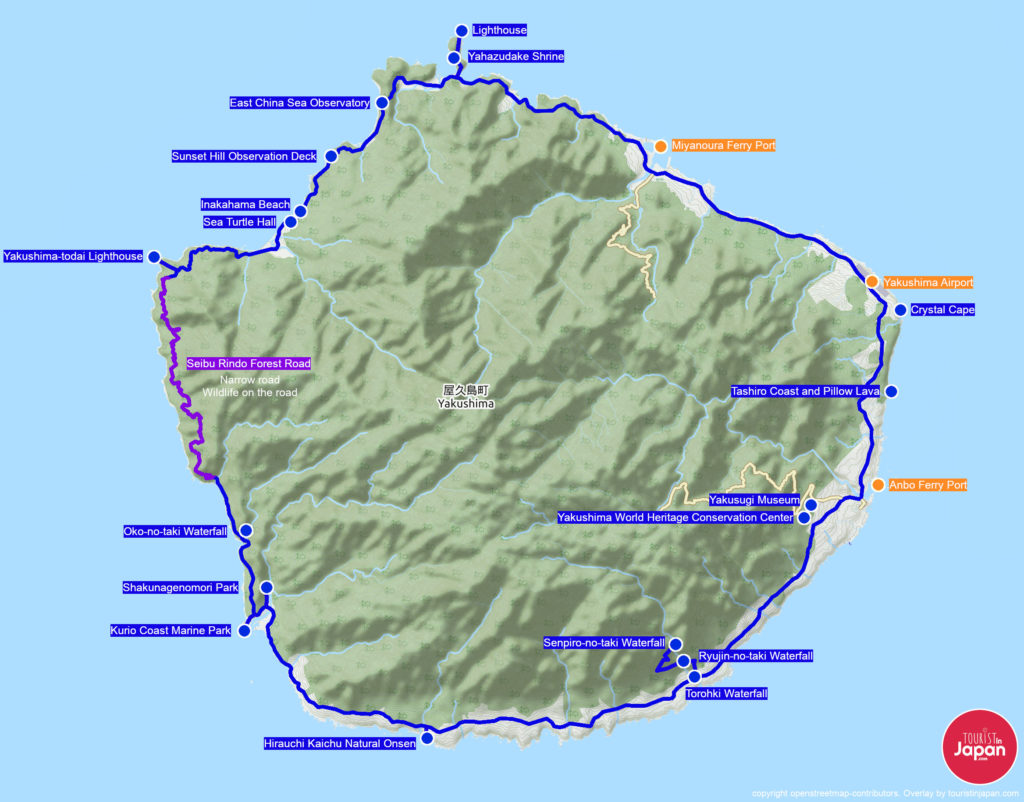 Yakushima Road Trip Points of Interest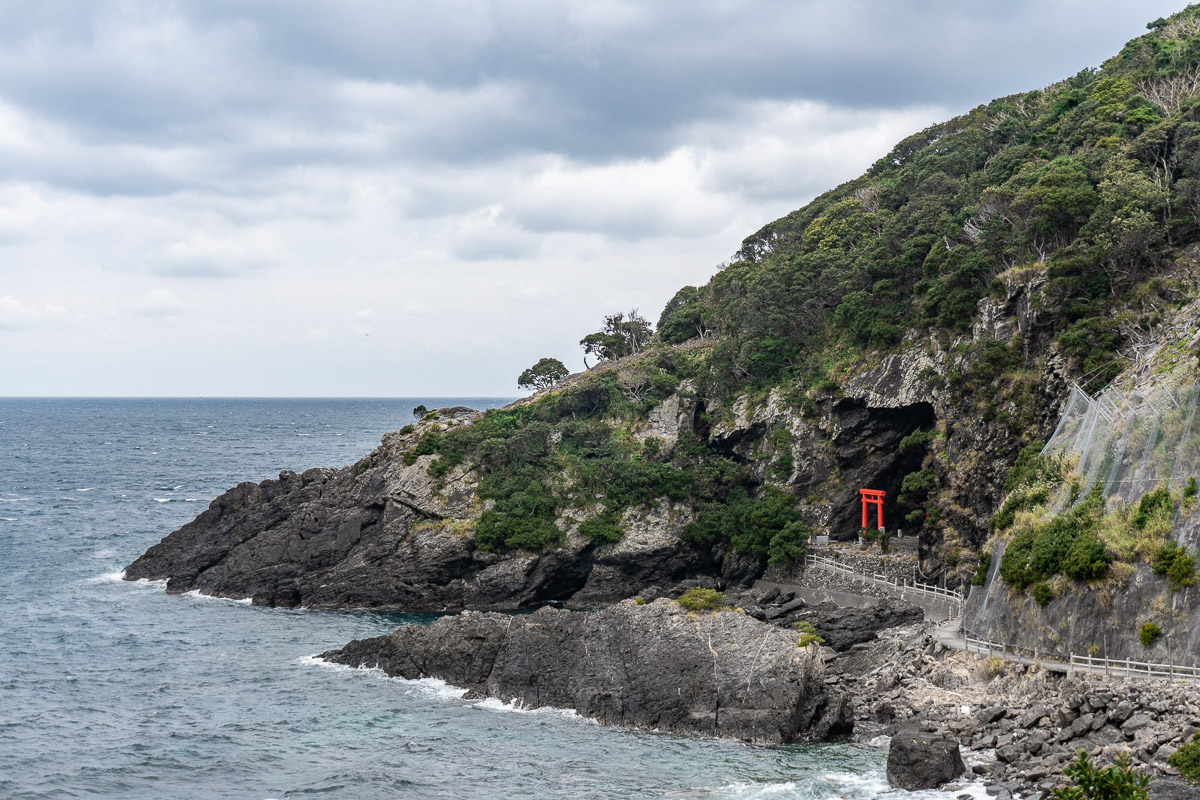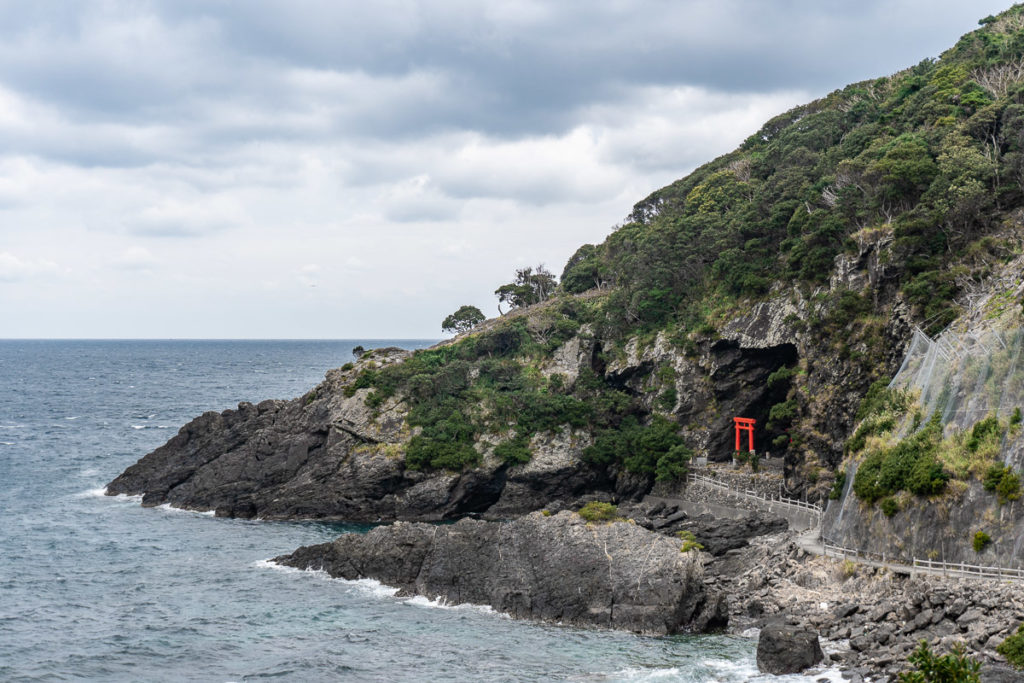 Yahazudake Shrine
Small shrine placed inside a cave close to the surface of the ocean. A torii gate is placed at the entrance of the cave, and a small shrine is hidden all the way in the back. Access by stairs and a short footpath.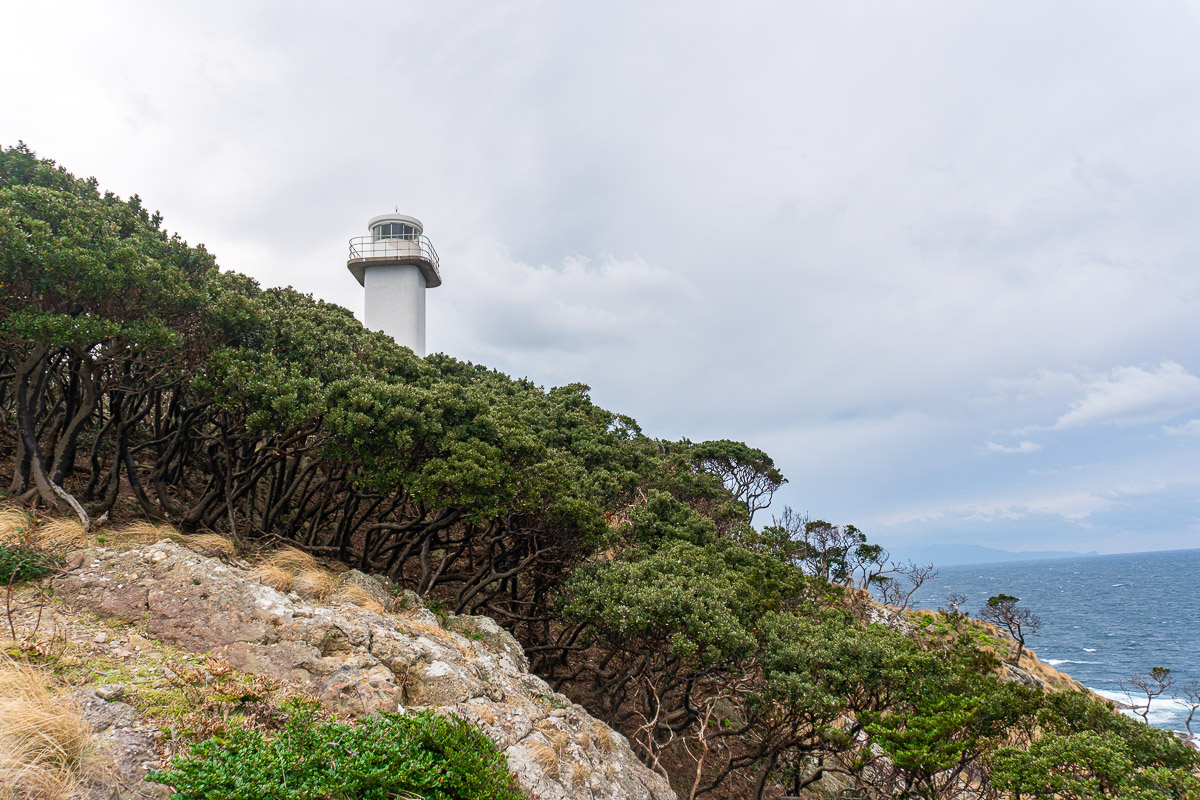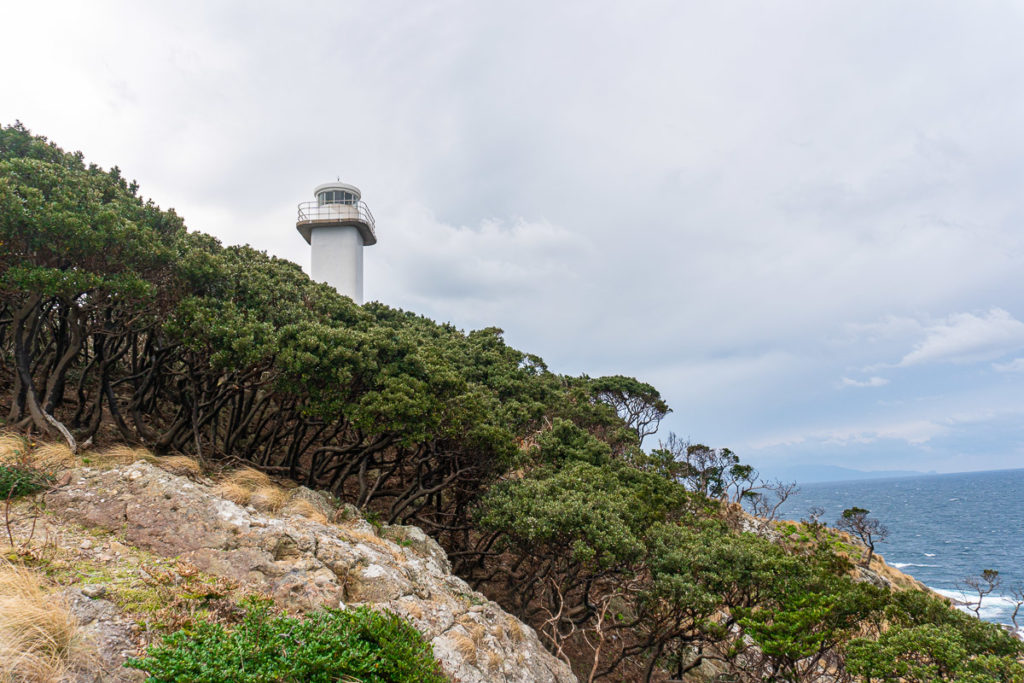 Ichiminato Lighthouse
A lighthouse located at the tip of the small peninsula that is home to Yahazudake Shrine. It isn't possible to enter the lighthouse, but the view is nice from the base of the tower.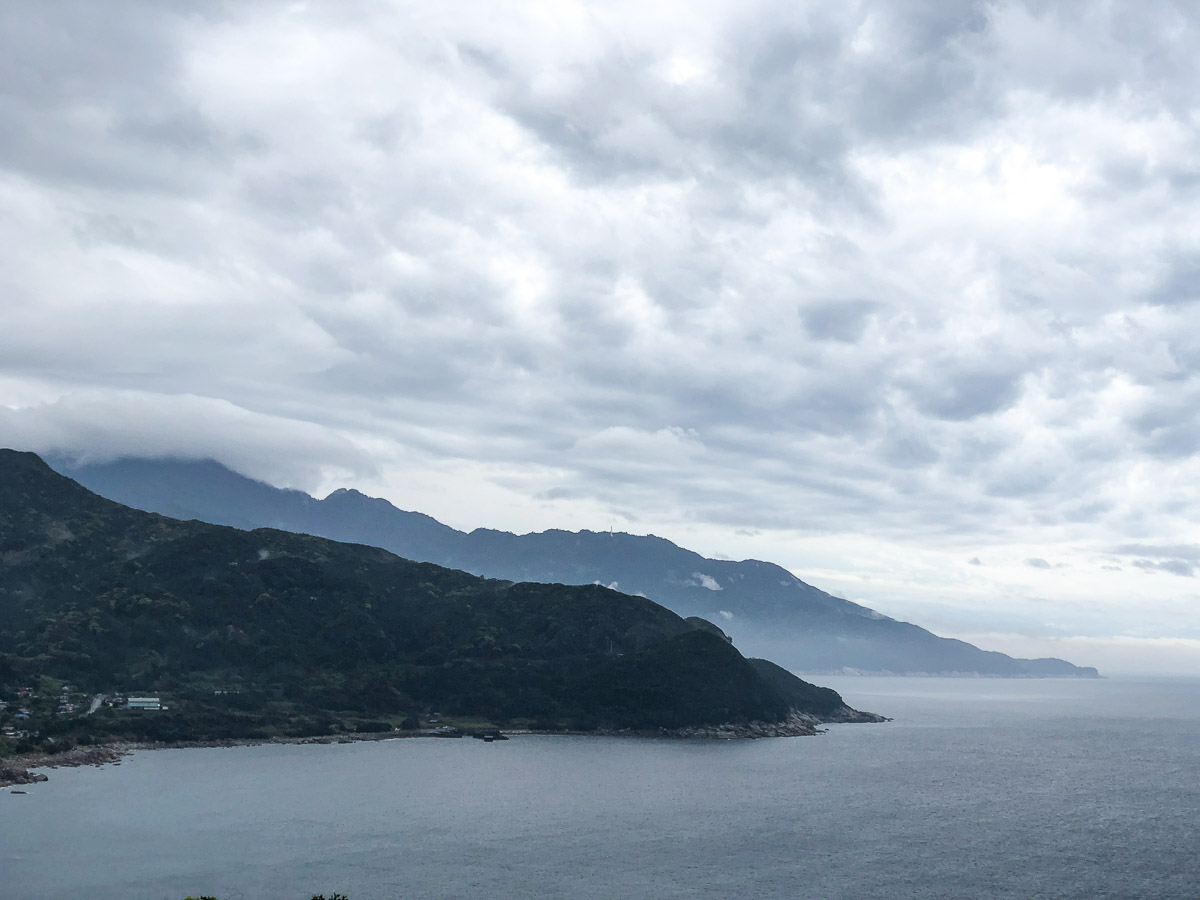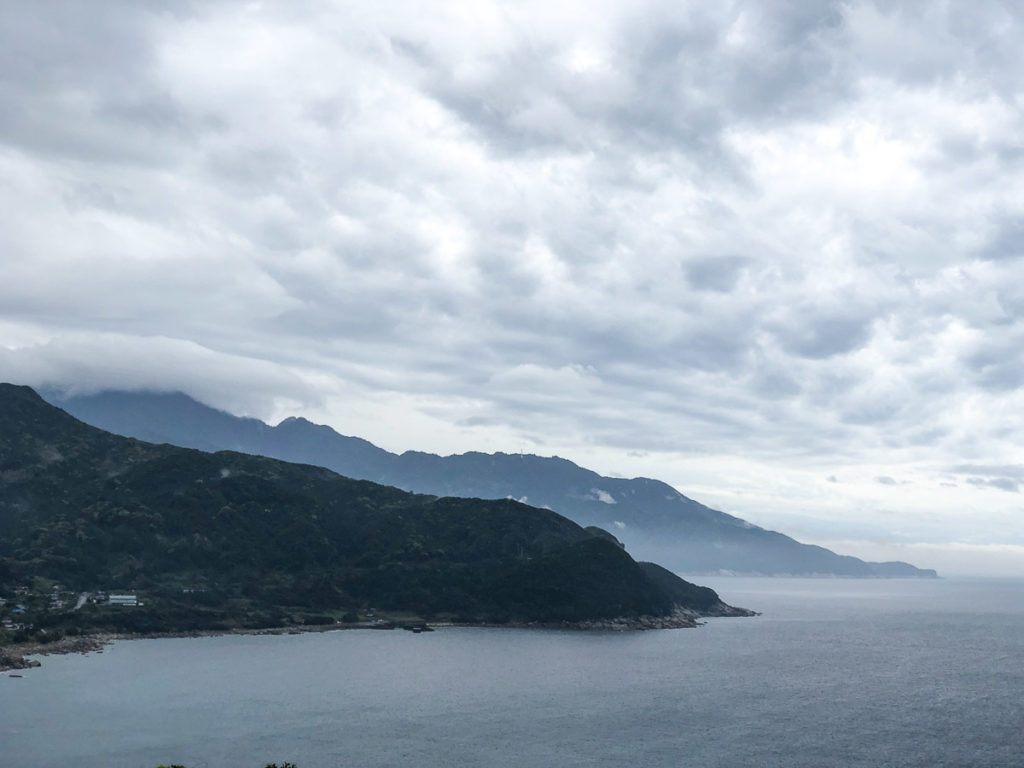 East China Sea Observatory
A roadside observation deck with a nice view over the blue East China Sea and the lush green mountains of Yakushima.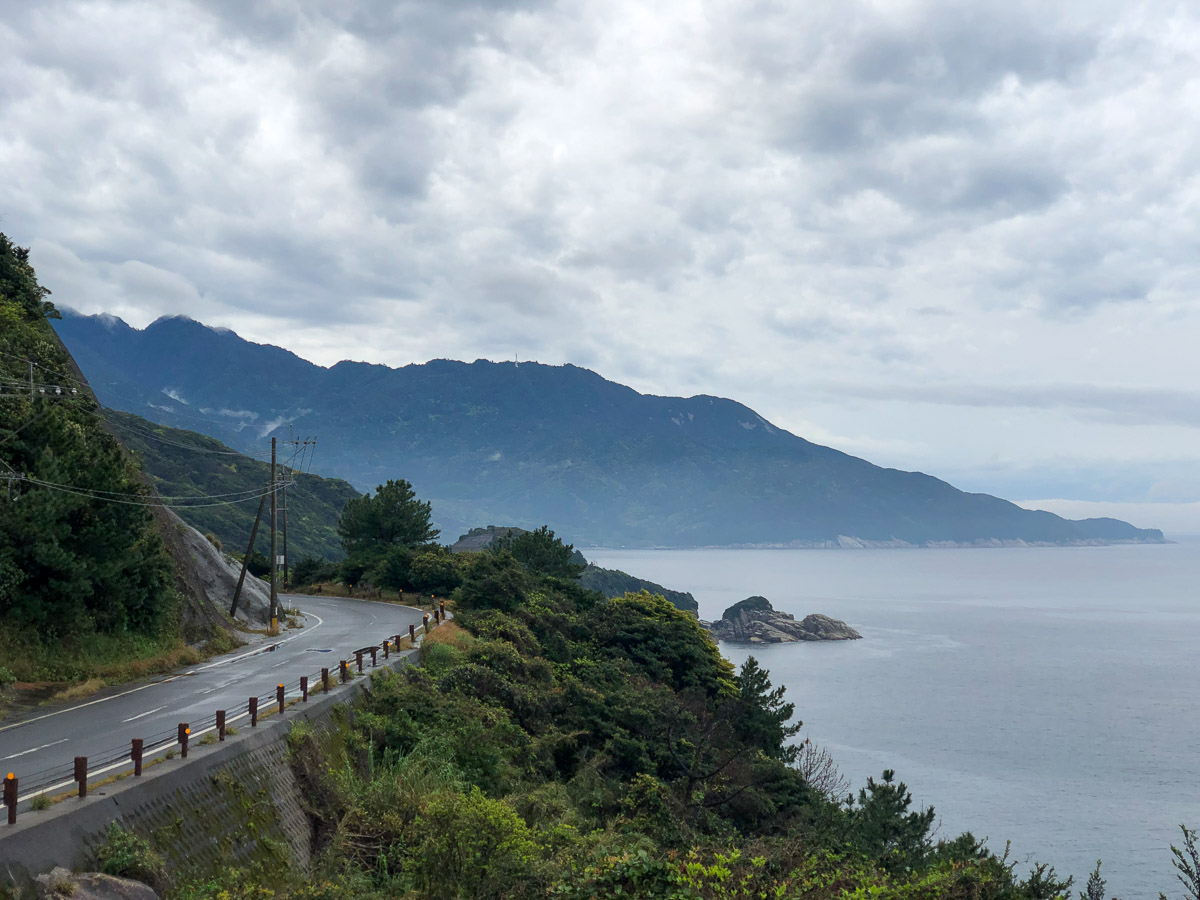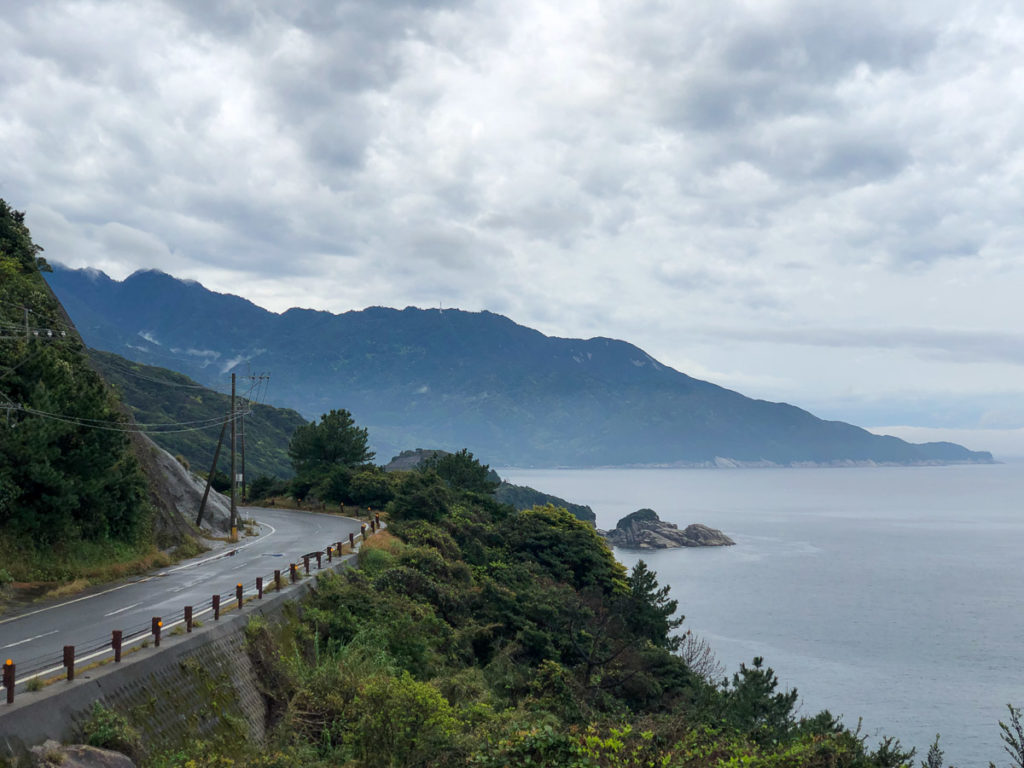 Sunset Hill Observation Deck
A roadside observation deck with a nice view over the east china sea. Ideal for sunsets, but beautiful at all times of day.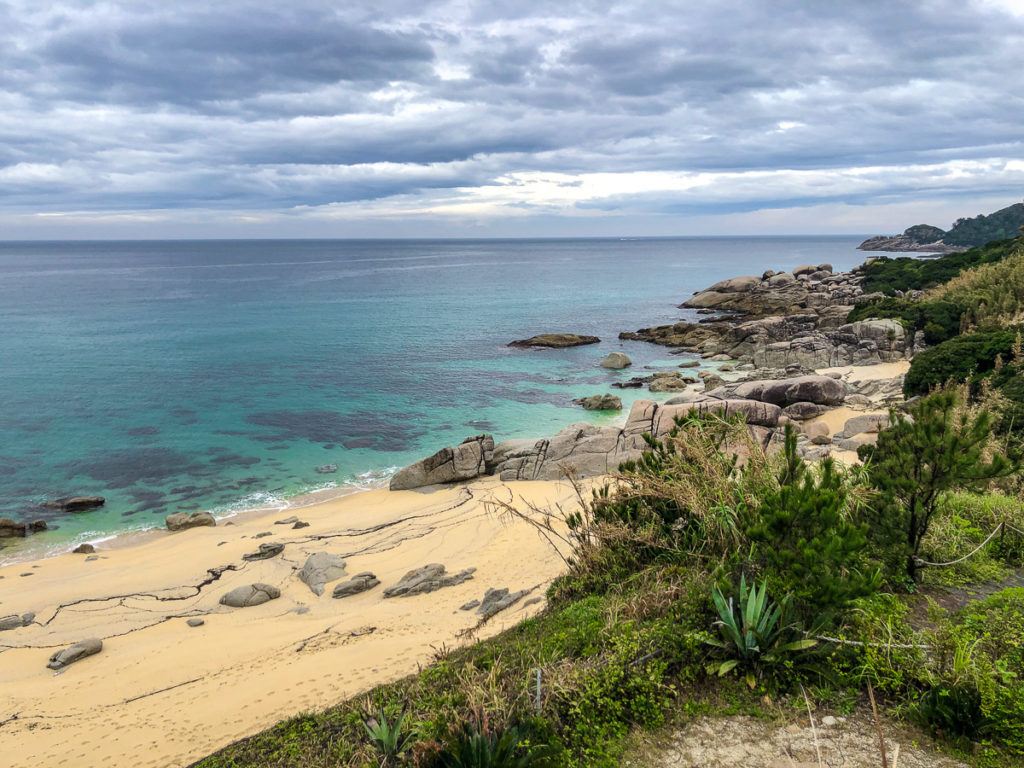 Inakahama Beach (and view point)
A stunning sand beach located on the western side of Yakushima. It is a turtle beach, where the sea turtles lay their eggs. Come at the right time and you might see baby turtles run for the waves. Other times of year it is a really nice place for a beach walk and the best sunset beach on the island.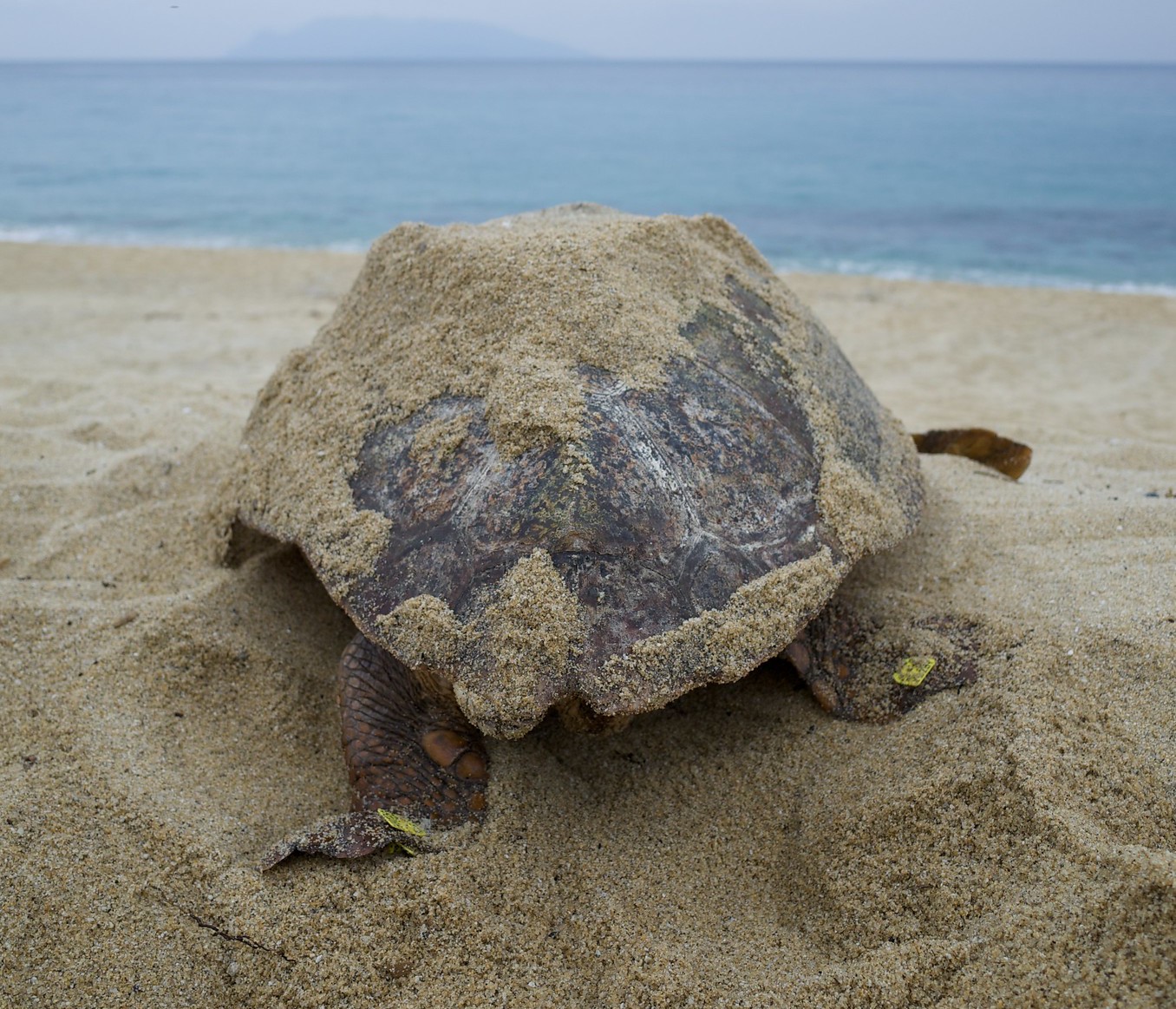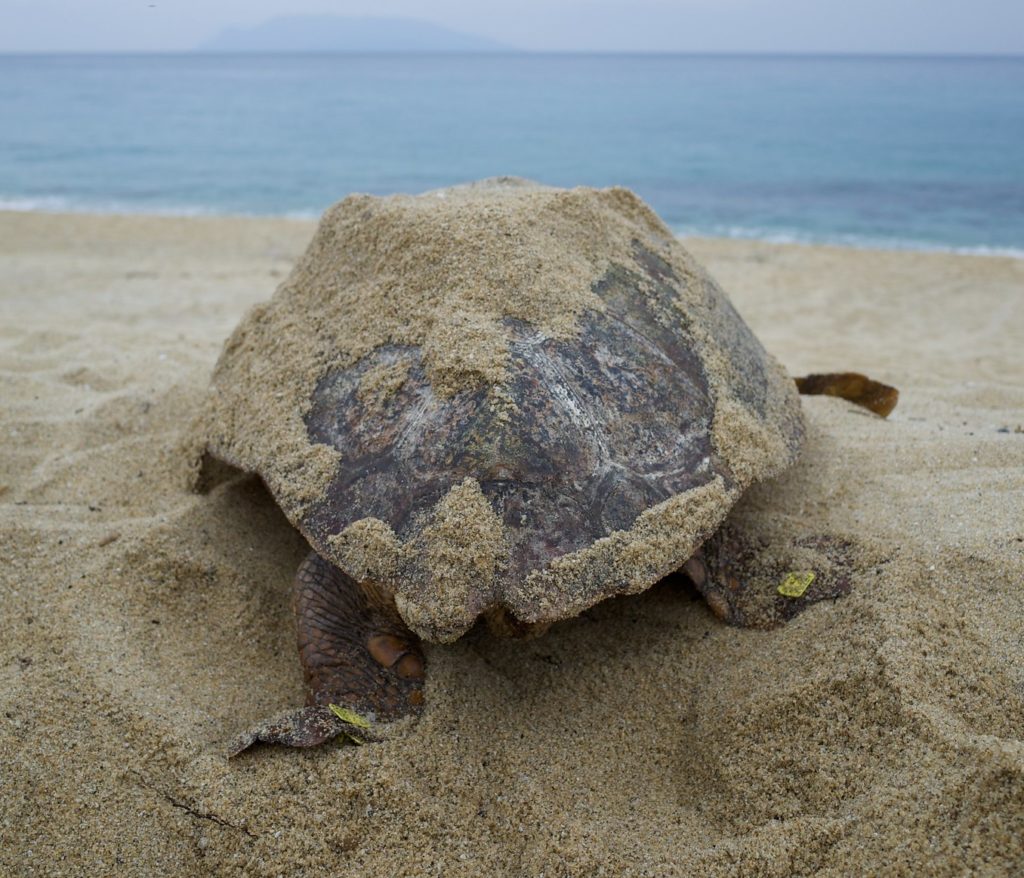 Sea Turtle Hall
An exhibition hall dedicated to the sea turtles which live in the waters around Yakushima and breed on the beaches. The exhibition is run by the non-profit organization Yakushima Sea Turtle Museum, which conducts research. Open 09:00 – 17:00. Closed on Tuesdays all year, and Wednesday from October-March.
Photo by yuichi hayakawa. CC BY-SA 2.0.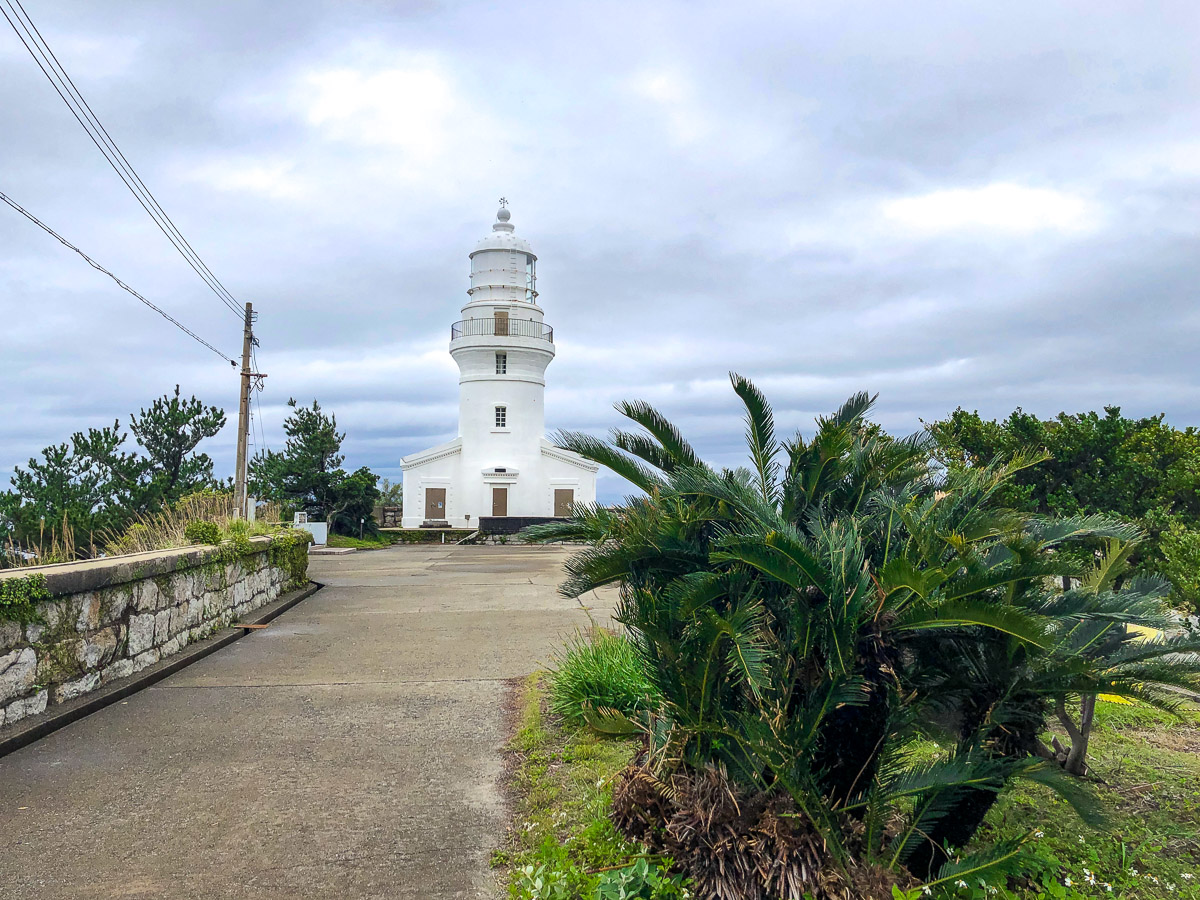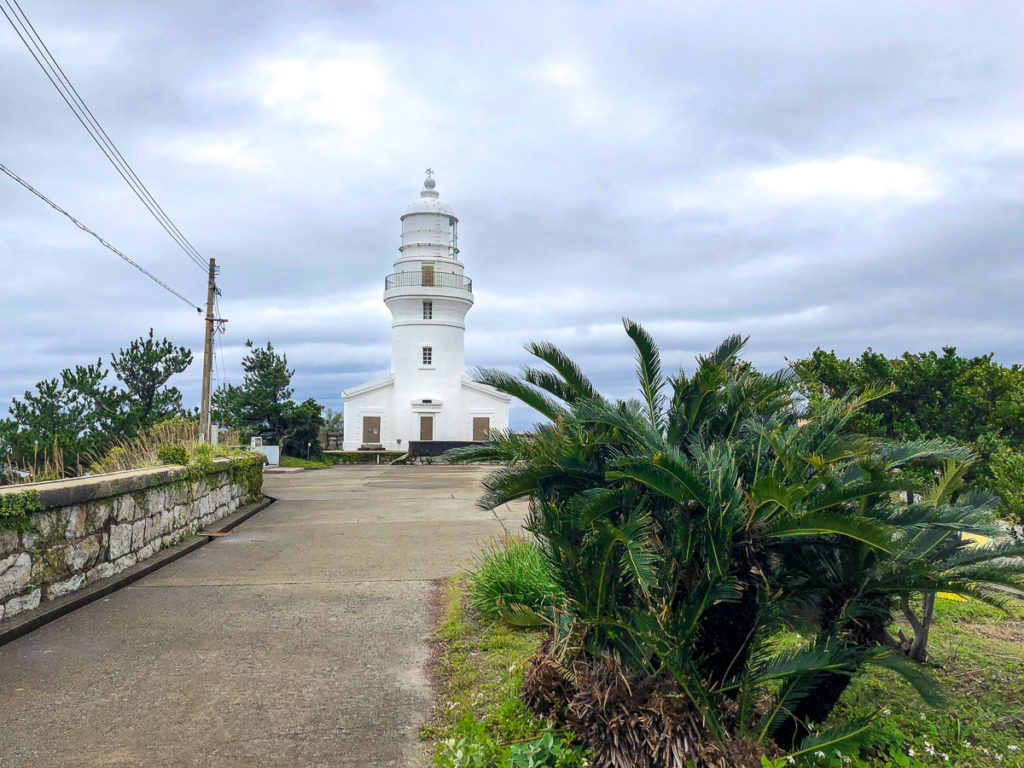 Yakushima-todai Lighthouse
Beautiful lighthouse located at the tip of Nagata Cape. There are magnificent views from the area in front of the lighthouse. If you climb over the wall in front of the tower, you can find a small, hidden shrine. The road leading to the lighthouse is very narrow, but there is a spacious parking area at the end.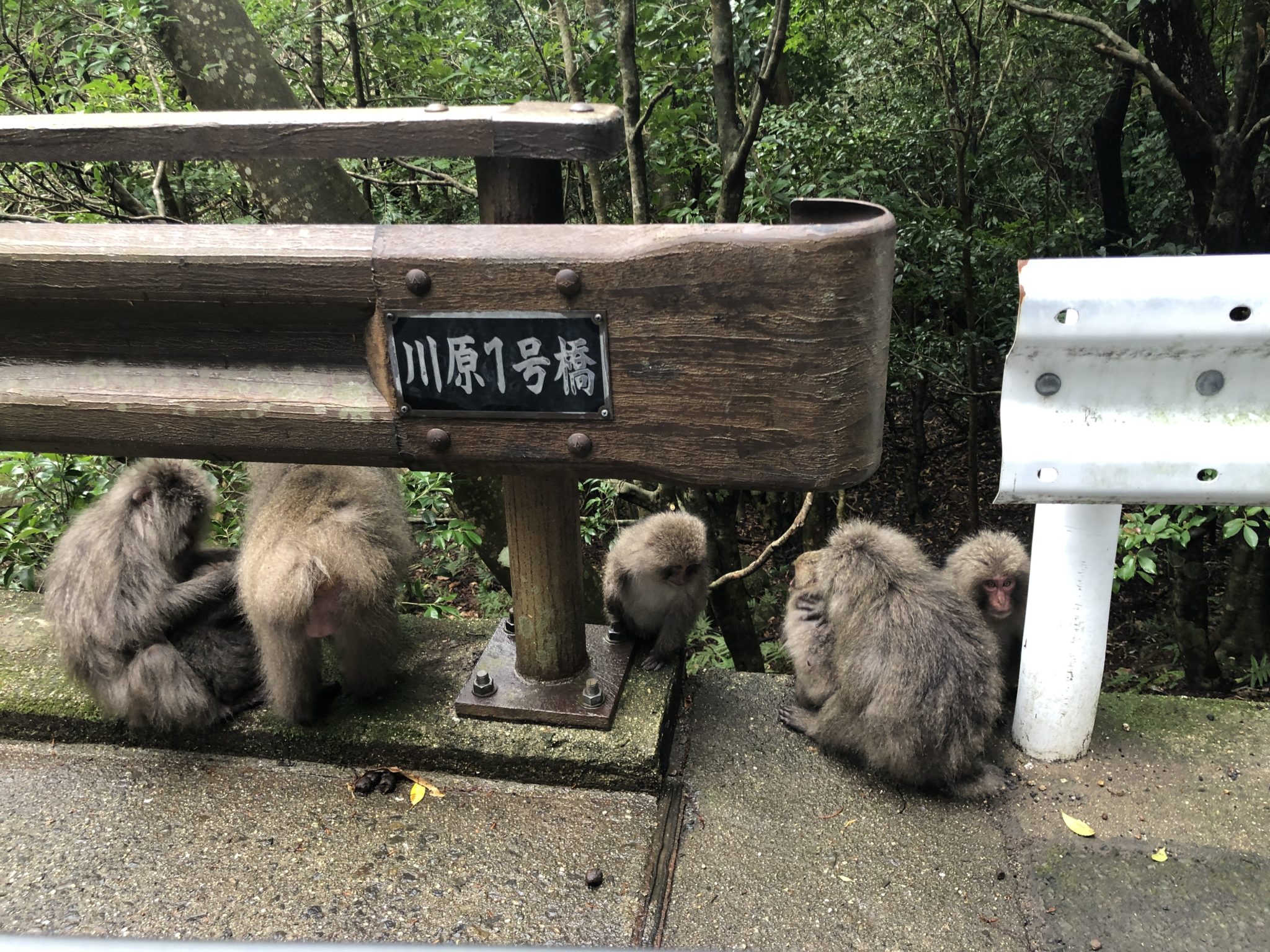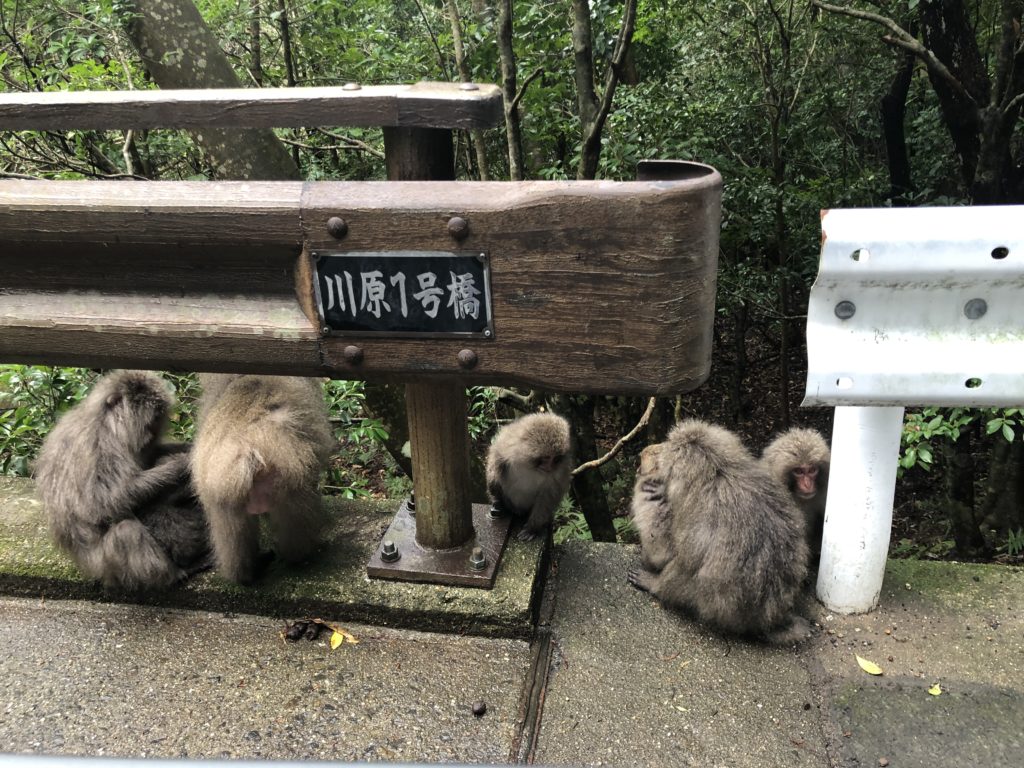 Seibu Rindo Forest Road
The Seibu Rindo forest road is a very narrow stretch of road which runs through a section of the island that is part of the UNESCO world heritage area. The road is often filled with wildlife, both monkeys and deer, so you should drive very carefully. The animals are used to cars, and won't scare off easily. it's an amazing area to observe the Yakushima Macaque.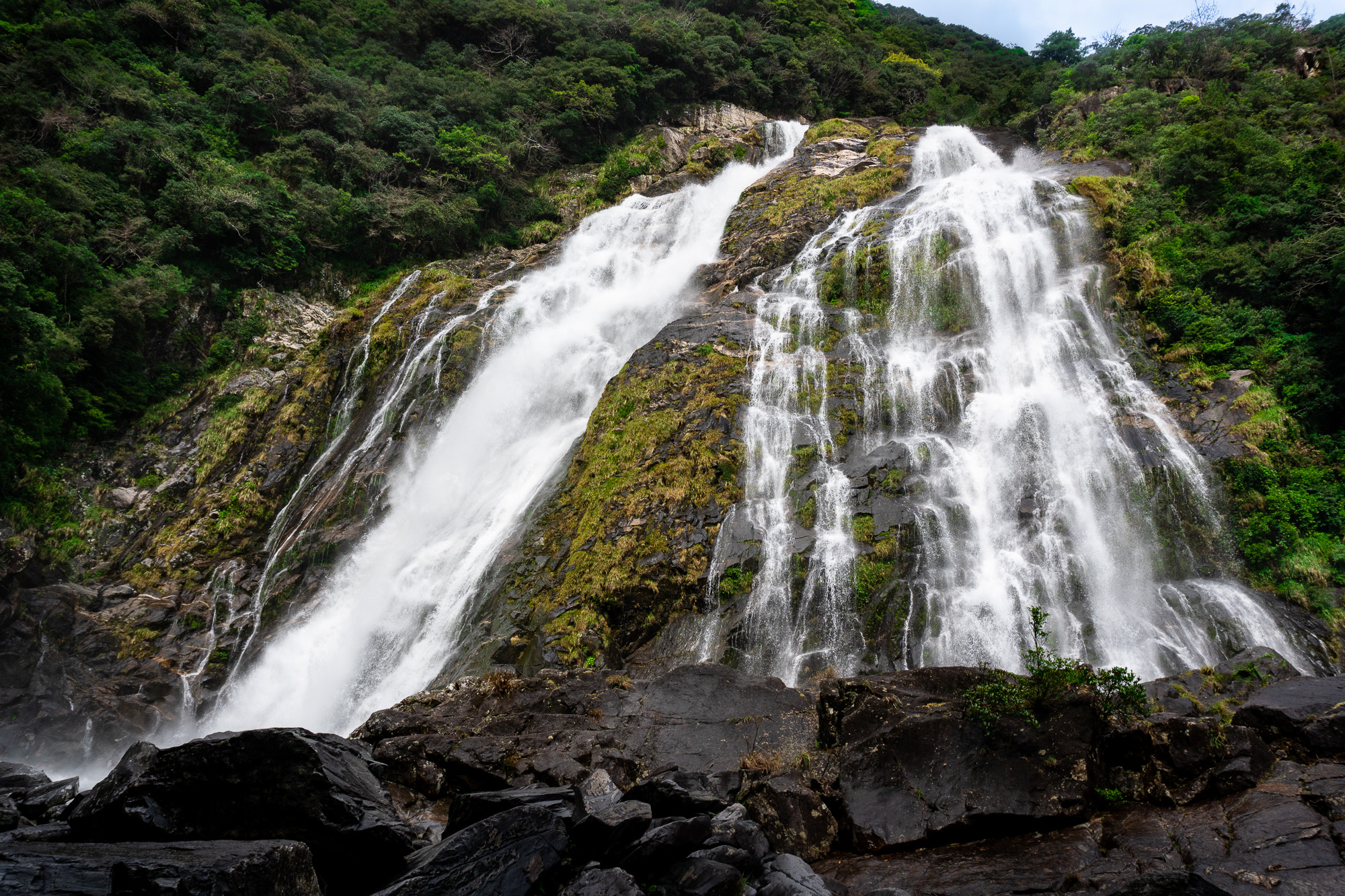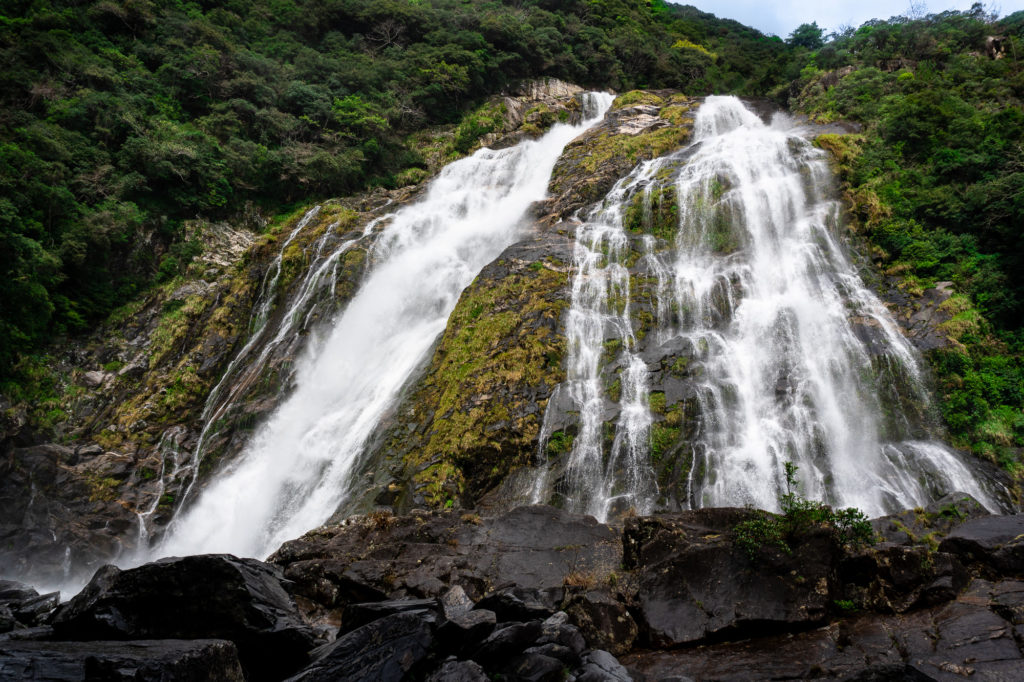 Oko-no-taki Waterfall
The 88 meters tall Oko-no-taki waterfall is possibly the most impressive fall on Yakushima. Be prepared to get a bit wet! There is no hiking needed to get to the fall, which is also wheelchair accessible. Read more.


Shakunage-no-mori Park
A small park area with a board walk (stairs) running along the peaceful river. There are many plants and flowers to be seen here, including Rhododendron. Open 9:00 – 18:30. September-March open 9:00- 16:30. Entry ¥500. Closed first tuesday of each month, and over christmas and new years.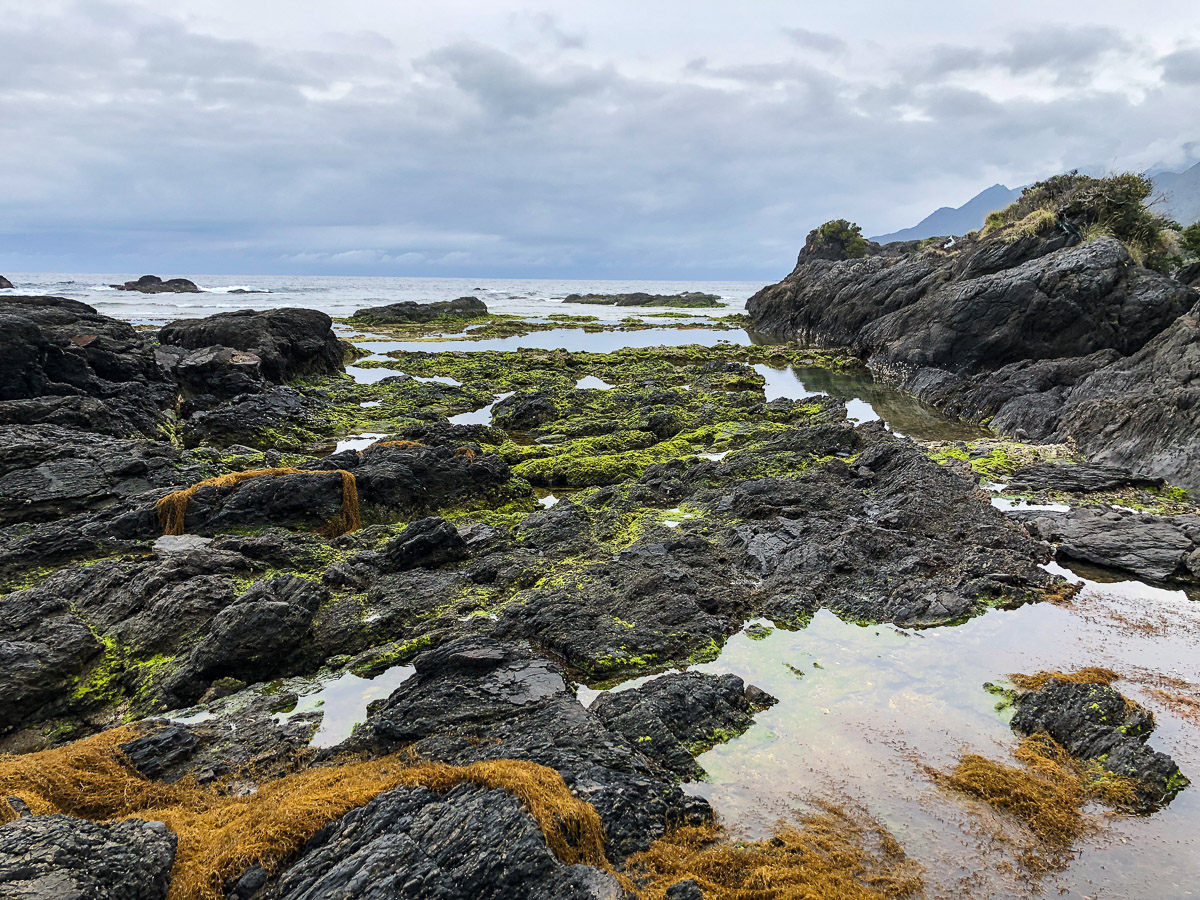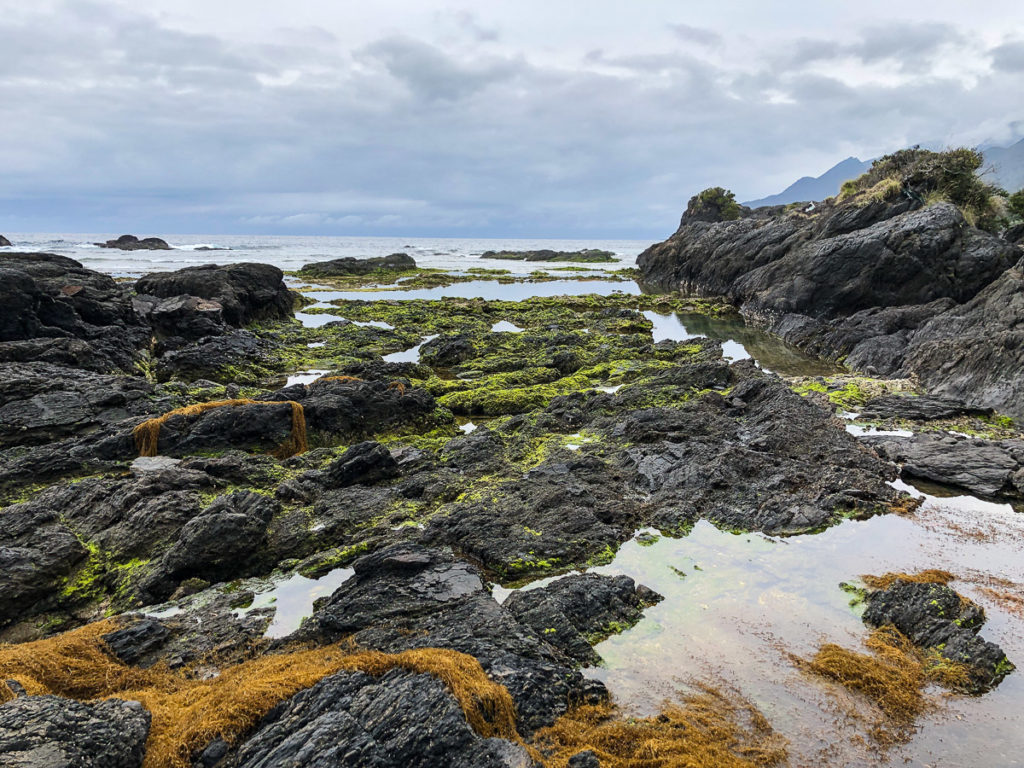 Kurio Coast Marine Park
This small cape jutting out of the south-western side of the island is part of a designated marine park. The marine park, which was designated in 2002, is home to a large number of corals and fish. The waters are exceptionally clear (good for snorkeling/diving) and at low tide there are tide pools which can be easily explored by foot. Be careful – the rocks can be slippery.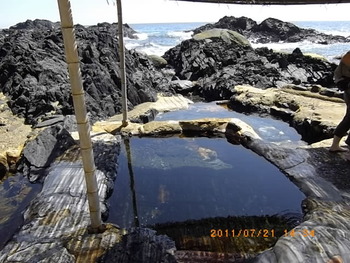 Hirauchi Kaichu Natural Onsen
This is a natural onsen (hot spring bath) located right next to the ocean. Actually, it is so close to the ocean that the baths are covered by the ocean at high tide. It is an amazing onsen experience to sit so close to the water. The onsen is shared (both men and women) and bathing suits are forbidden (must be naked). The water is mixed with ocean water.
Photo by Bokanmania of wikimedia commons. CC BY-SA 4.0.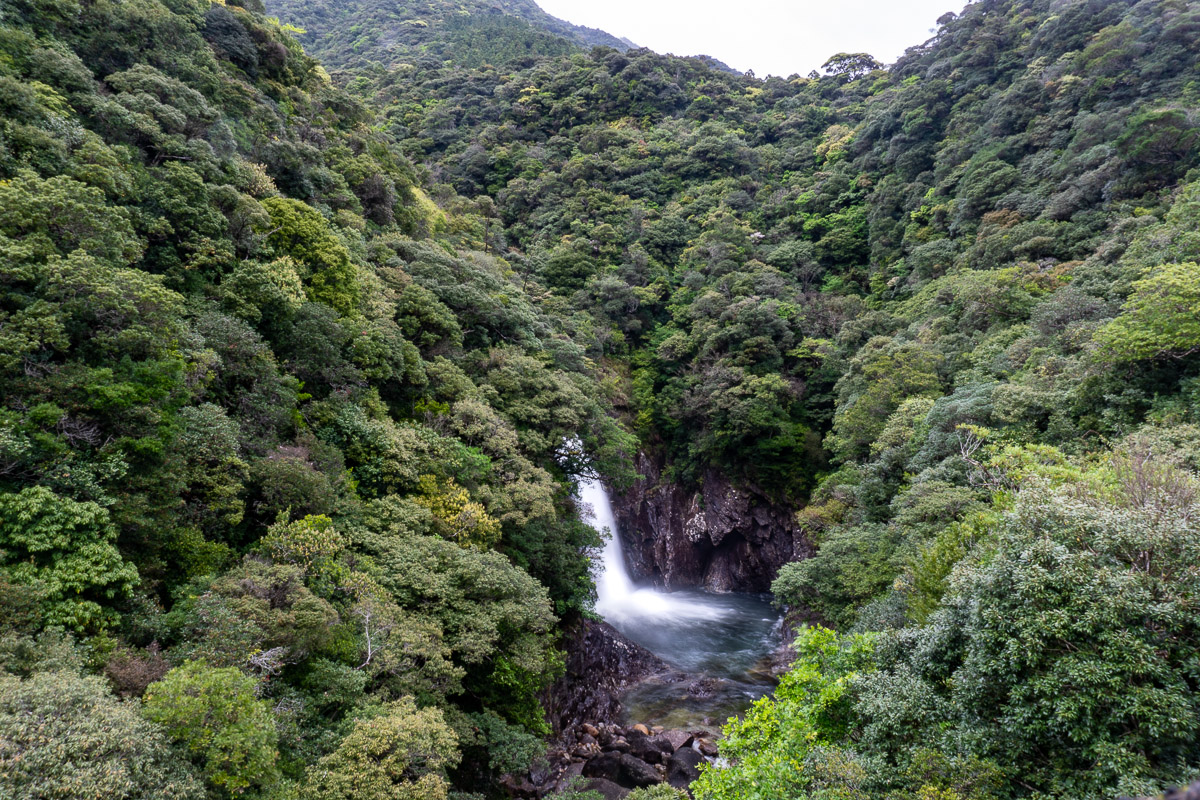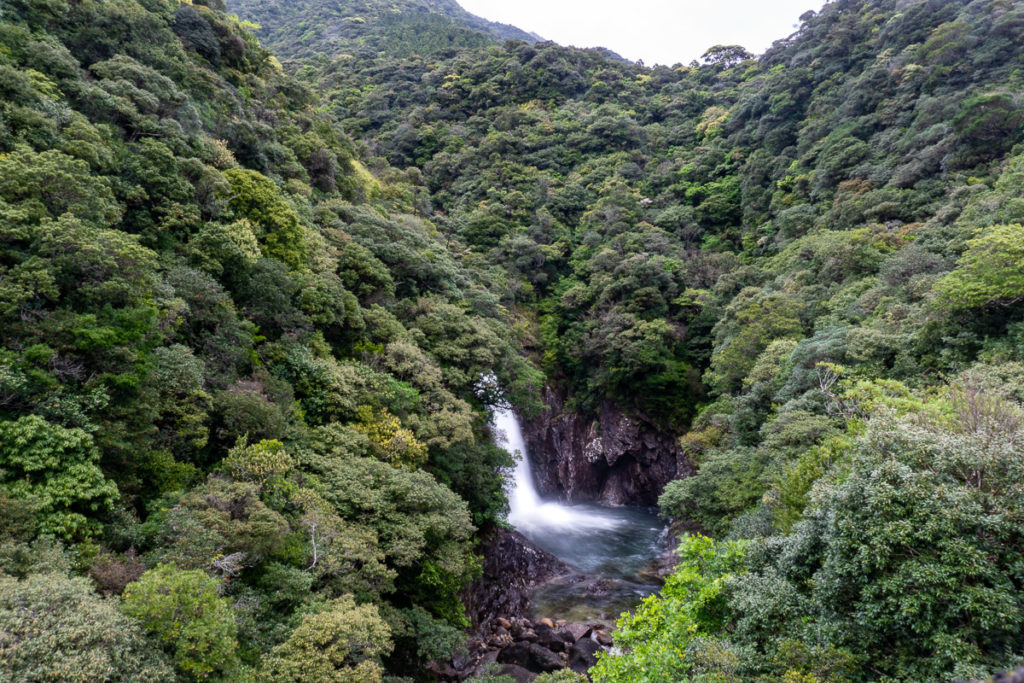 Ryujinno-taki Falls
Beautiful waterfall emerging from the forest. The fall can be seen on the way to Senpiro-no-taki Falls. Pull over the car on the side of the road (there is only room for a few cars at a time).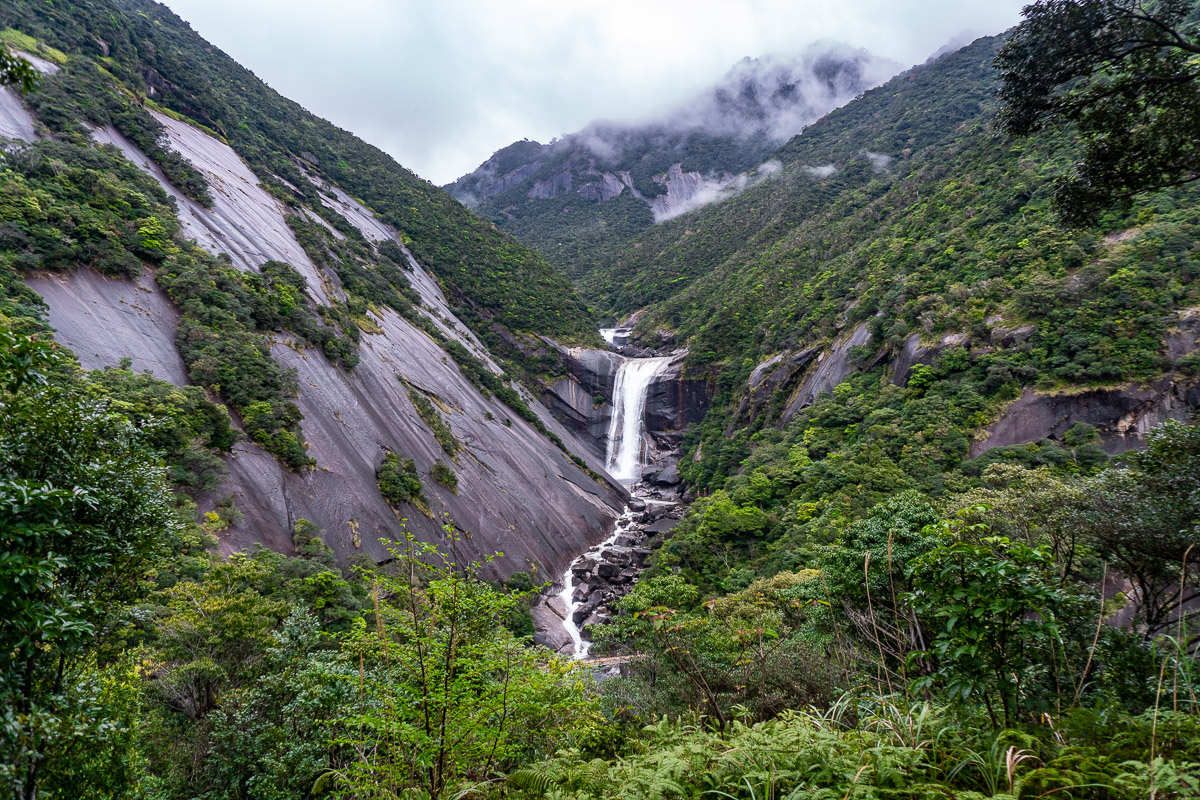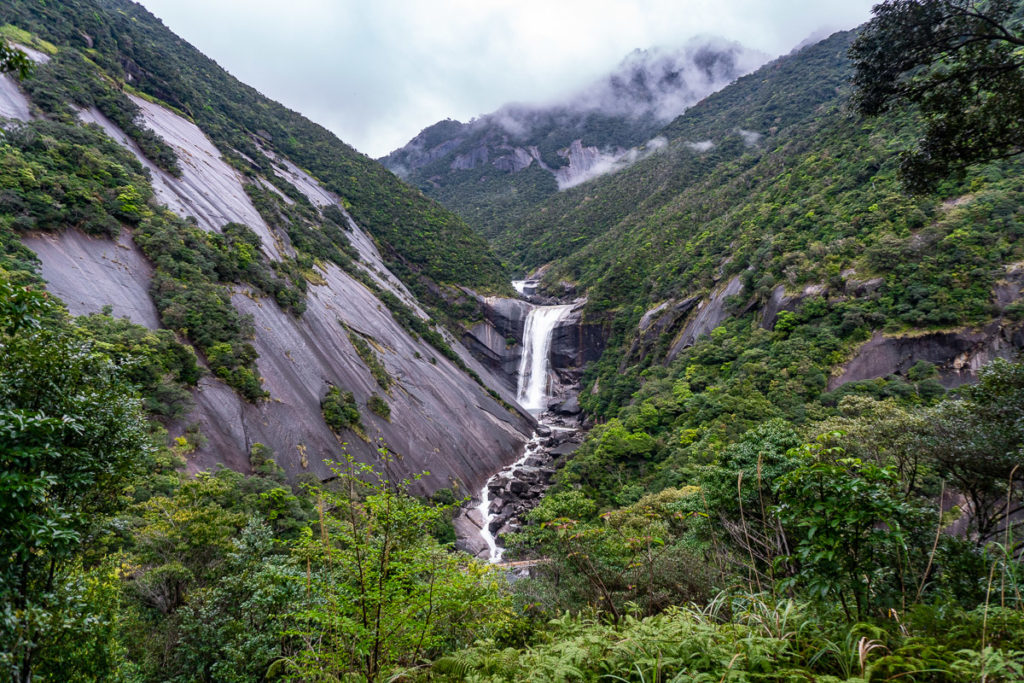 Senpiro-no-taki Falls Observation Deck
Large and very powerful waterfall which has cut a deep valley in the granite over the years. There is a big and modern visitors area with multiple observation platforms.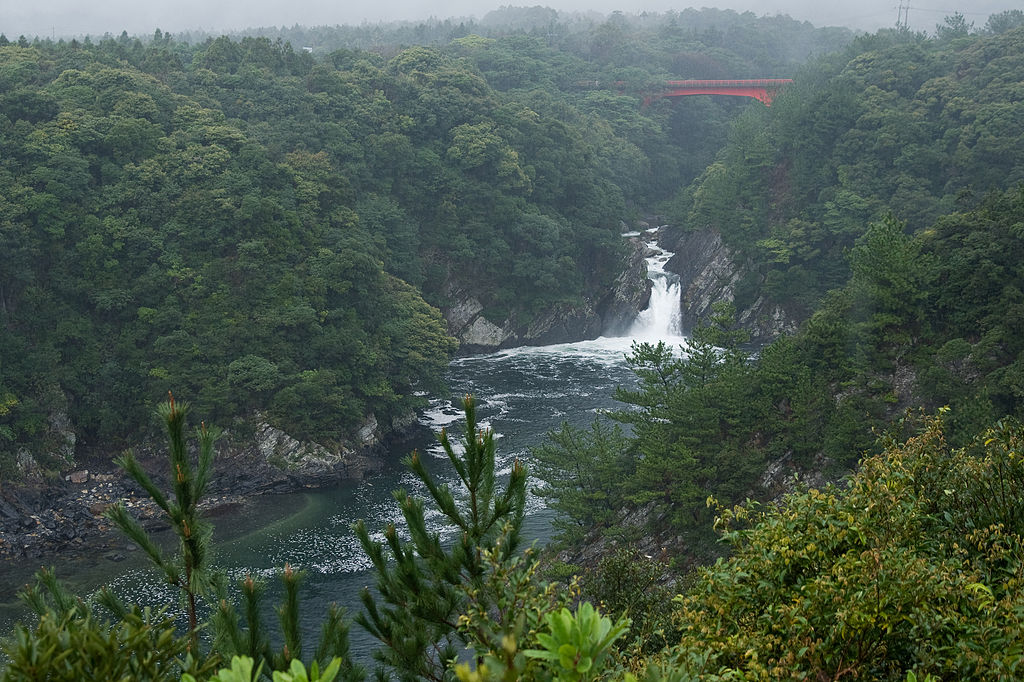 Torohki falls
The Torohki Waterfall is of the same river as the Senpiro-no-taki fall. The water continues from Senpiro-no-taki, towards the ocean, and falls over the Torohki fall, directly into the ocean. There are only two waterfalls in Japan which end directly in the ocean, and this is one of them. There is a viewpoint which can be accessed by a narrow footpath through the woods. Park at the farmers market and cross the road by foot.


Yakusugi Museum
An interesting museum dedicated to the ancient and gigantic Yakushima Cedar Trees. The museum covers the nature and the former logging activities in the area. It is a must-visit museum for understanding the history of Yakushima. Open 9:00 – 17:00. Closed 1st Tuesday on the month.


Yakushima World Heritage Conservation Center
The Yakushima World Heritage Conservation Center opened as a research and education center in 1996, three years after Yakushima was listed as a UNESCO World Heritage Site. Here you can learn why Yakushima has been designated a World Heritage Site. Open 9:00 – 17:00. Closed on Saturday from December – February, and around New Years. Free entry.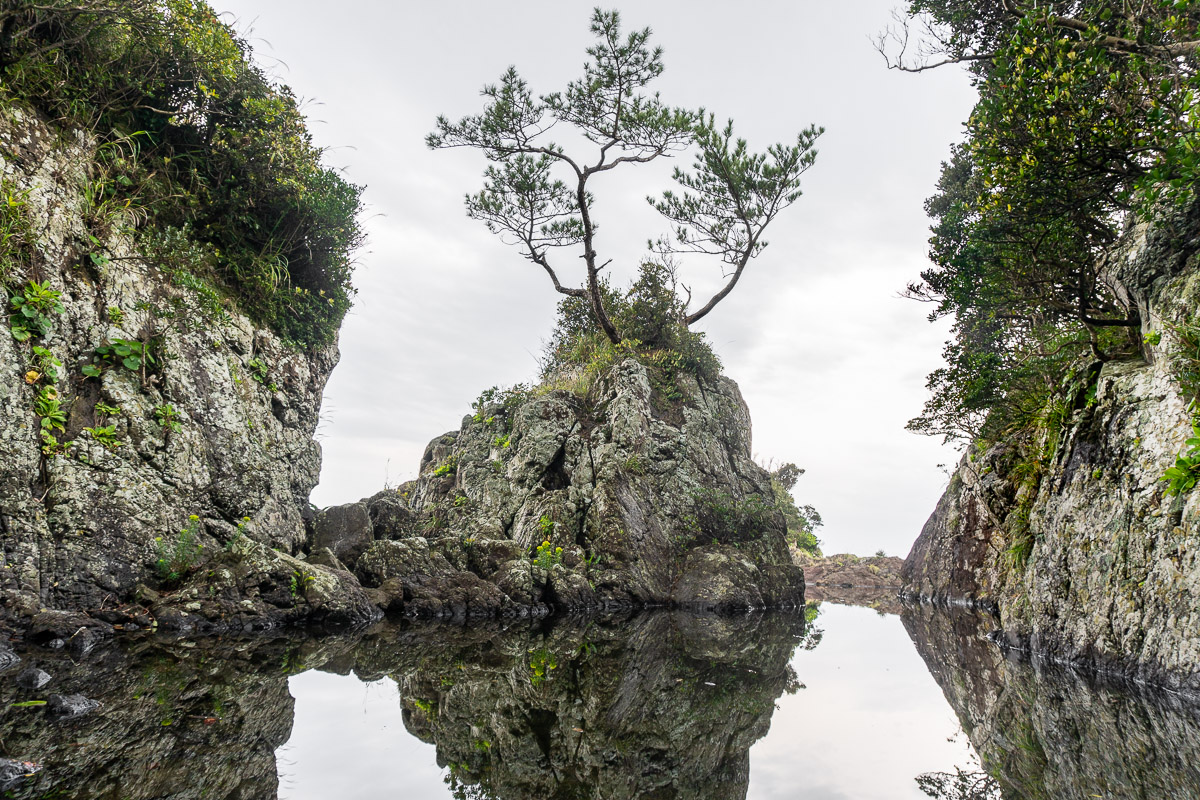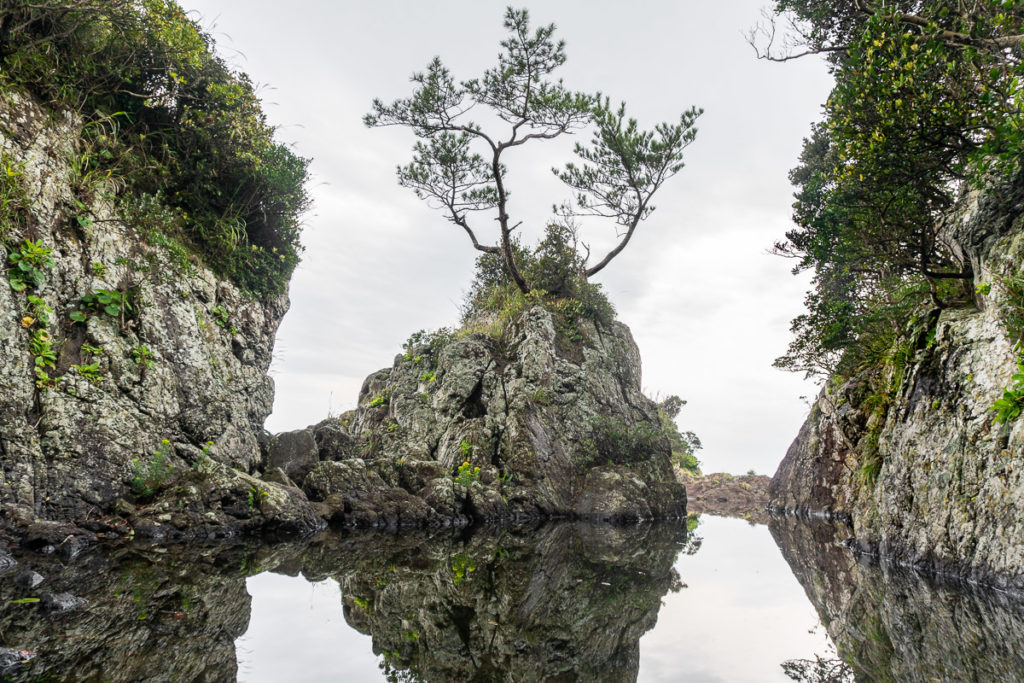 Tashiro Coast and Pillow Lava
A natural coastal area which was shaped by lava. There are some interesting rock formations and tide pools to be explored here. Often overlooked by tourists.


Crystal Cape
This is an almost tourist-free spot. It is a rocky section of the coast, just near the southern end of the airport. The cliffs, which have caves in them, look amazing with their layered structure. This location can only be accessed by foot. Take great care, as it can be a dangerous location.
Planning your visit to Yakushima
Where to stay
Yakushima has multiple villages around it's perimeter. The island is very mountainous, so all villages are near the coast. The two primary towns on the island are Miyanoura (north) and Anbo (east). Both towns have a port with a ferry connection to the main land. The airport is located between the two towns, on the north-eastern part of the island.
It is recommended to stay in either Miyanoura or Anbo, as both towns have restaurants and supermarkets. There are, however, hotels and guesthouses in other villages too, which may be advantageous depending on your plans and schedule.
Cheap Hotels in Yakushima (booking.com) Cheap hotels in Yakushima (agoda)
Activities for rainy days
Yakushima has a reputation for being a rainy island. While it might be slightly exaggerated, it's always good to have some backup activities for days where the rain is too heavy for outdoor activities. Bring proper rainwear and hiking won't be a big problem.
Sigonoya – make your own chopsticks (reservation required)
Oko-no-taki waterfall (extra strong and impressive during rain)
Onsen bathing – enjoy a traditional hot spring bath
Car rental
Renting a car is by far the best way to get around Yakushima. The bus system is infrequent and slow, but with a car you can cover many attractions on the same day, and get to places the bus doesn't go to. You will also avoid the stress and rush to catch the last bus after a day of hiking.
Tourist Information Offices
There are three tourist information offices around the island.
Busses in Yakushima
There is a local (and reliable) bus system in Yakushima, but busses are infrequent. If you plan to see a lot (more than one place per day) then taking a bus is generally not an option – renting a car would be better. If you must take a bus, then here are some details to help you:


Busses on Yakushima. Left: Tanegashima Yakushima Kotsu. Right: Matsubanda Kotsu. All photos by TangoDiscovery (wikimedia commons). CC BY-SA 3.0.
There are two bus companies operating in Yakushima; Tanegashima Yakushima Kotsu Bus and Matsubanda Kotsu Bus. There are day and multi-day bus passes available, but they can only be used in the busses of the specific company you buy it from.
The time tables are generally posted at the bus stops, but the most recent time tables can be found in the download section of Yakushima Tourism Associations website.
🔗 Yakushima Tourism Association
🔗 Yakushima Tourism Association (downloads)
🔗 Yakushima Kotsu Bus Time Table 2020 (english)
🔗 Yakushima Kotsu Bus Route Map
🔗 Matsubanda Kotsu Bus Time Table 2019-2020 (english)
Getting to Yakushima
Yakushima can be reached by ferry or plane. The options are listed below.
By plane
Yakushima airport (KUM) is located between the two town os Miyanoura and Anbo. It is quite a convenient and fast way to get to Yakushima. It is, however, usually a bit pricier than taking a ferry.
The airport in Yakushima has connections to Kagoshima Airport and Fukuoka Airport. All flights are operated by Japan Air Lines sister company Japan Air Commuter. Tickets can be purchased through Japan Air Lines or travel agencies.
By ferry
There are numerous ferries connecting to Yakushima. The ferries operate out of two main ports on the island; Miyanoura Port (northern side of island) and Anbo Port (eastern side of island).
There are three types of ferries that go to Yakushima:
Ferry name
Port
Transport time
Price
Toppy Boat (rocket hydrofoil)
Kagoshima Port ⇆ Miyanoura or Anbo
2-3 hours
¥9'200 one-way
¥16'600 return
Yaku 2 Car Ferry
Kagoshima New Port ⇆ Miyanoura Port
4 hours
¥5'000 one-way
¥9'500 return
¥39'000 car return
Hibiscus overnight freight ferry
Kagoshima Taniyama Port ⇆ Miyanoura Port
13 hours
¥3'900 one-way
¥7'800 return
Car varies by size
prices and other information may change. Please check directly with the provider.