Shiratani Unsuikyo Ravine is probably the most popular destination in all of Yakushima. The park is known for it's hiking trails through the deep and dark mountain forests, covered in moss and ferns, and home to the gigantic Yakushima cedar trees – some so large that the trail actually, physically, passes through the trees. The trails cross wild rivers and burbling streams, as they lead you past the incredible flora and fauna that lives in this virgin forest.
Hotels Yakushima 15 Day Hike in the Volcanic Wonders of Kyushu
Shiratani Unsuikyo Ravine, or Gorge, is said to have been the inspiration for the famous animated movie, Princess Mononoke. The movie takes place in a deep, dark forest where gods are said to live. The depicted forest has many similarities with this area. The large Taikoiwa rock (drum rock) even seems to appear in the movie. Shiratani Unsuikyo Park, together with it's sister park Yakusugi Land, is a haven for nature lovers and hikers. The natural experiences which can be had here are very authentic and of high quality, rivaling the best in the world. Experienced hikers may even voyage further into the mountains on multi-day hiking trips.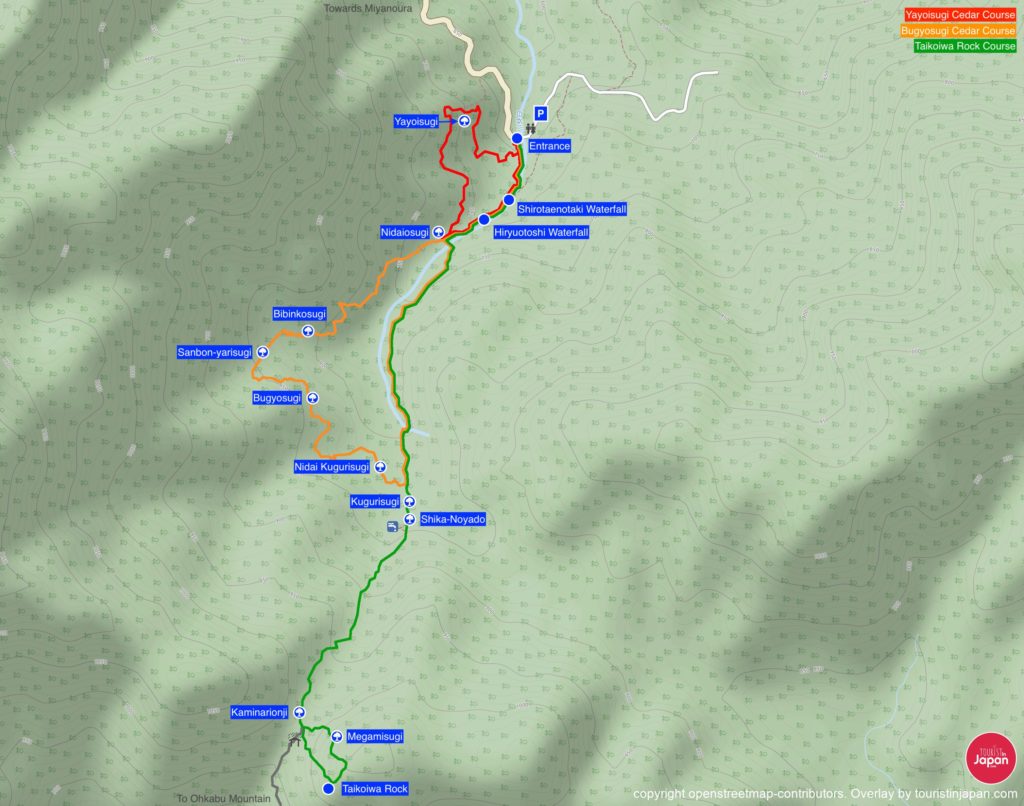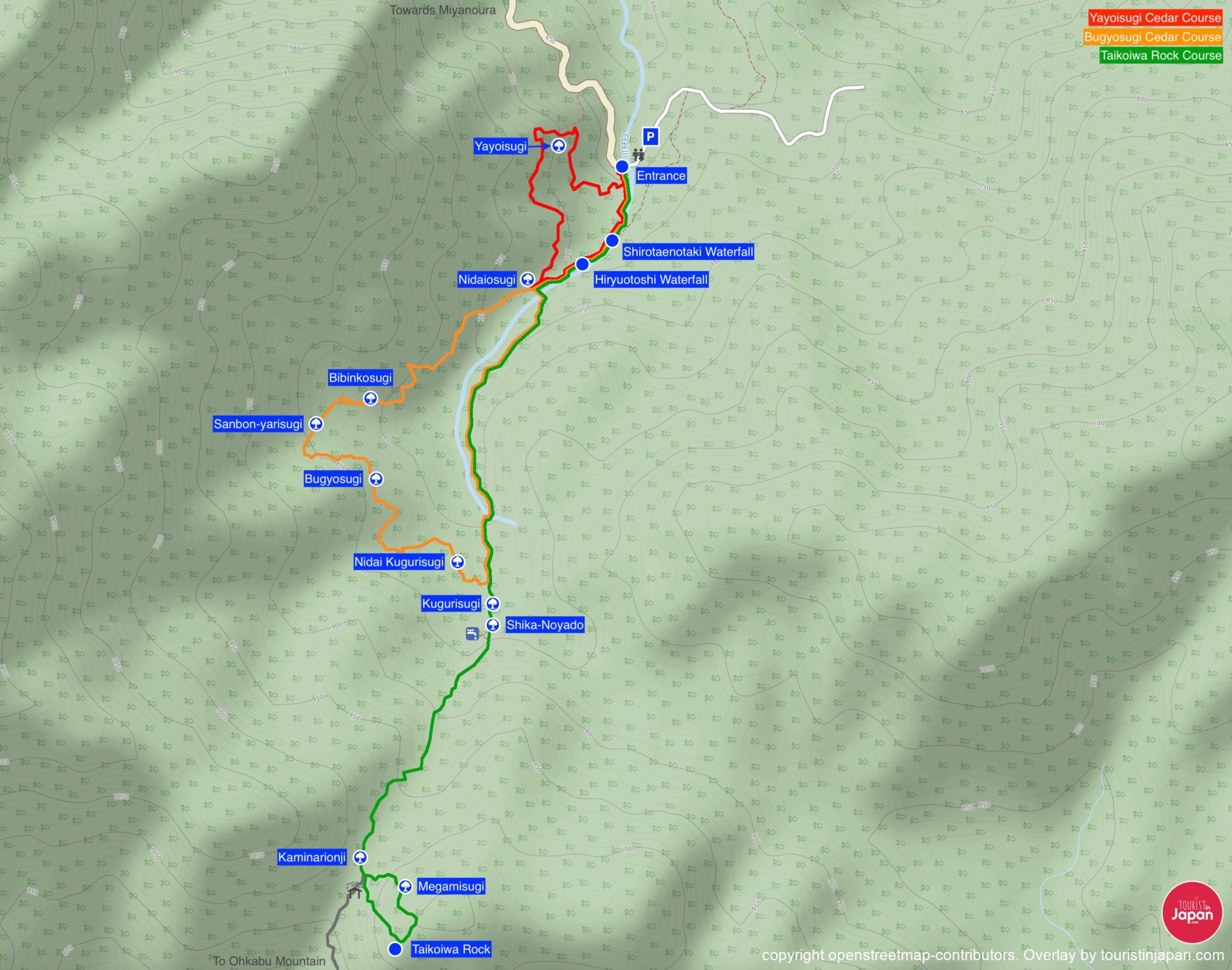 Hiking Trails of Shiratani Unsuikyo Ravine
Yayoisugi Cedar Course
Length: 2km / 1.25mi Time: 1 hour Difficulty: easy.
The Yayoisugi Cedar Course, so named because it loops out to a large cedar tree called Yayoisugi, is a maintained course which is suitable for inexperienced hikers. There are wooden walkways and no mountain trails. Despite the easy access, this trail still passes through some of the gorgeous moss covered forest of the area. There are also plenty of the famous, large cedar trees to see along the way, and the course crosses the wild rivers three times.
Bugyosugi Cedar Course
Length: 4km / 2.5mi Time: 3 hours Difficulty: medium.
Bugyosugi Cedar Course continues up the mountainside where the Yayoisugi Course ends. The trail turns into a real mountain trail, and requires hikers to wear proper footwear. The reward for the more tedious hike is an experience of walking through the wild and untouched forest, covered in moss and filled with giant cedars, some of which have been growing here for hundreds – even thousands – of years. Inexperienced hikers who want to be challenged and try something more, can also use this course as a good introduction to mountain trail hiking.
Taikoiwa Rock Round Trip Course (Kusugawa Trail)
Length: 5.6km / 3.48mi Time: 4 hours Difficulty: medium.
The Taikowa Course (or Kusugawa Trail) naturally leads to the Taikoiwa Rock, a large rock with an amazing view over the valleys and forests. The rock is located at an altitude of 1,050m (3445ft), approximately 420m higher than the park entrance. The hike is a little tough due to the uphill hiking, but the views are absolutely wort it. This rock has clearly been inspiration for certain scenes in Miyazaki's movie Princess Mononoke. A round trip to Taikoiwa Rock is about 5.6km (4 hours), but can be extended by branching off to the Bugyosugi trail on the way down.
Jomon Sugi
Length: 23km roundtrip / 14.3mi roundtrip Time: 12-14 hours roundtrip Difficulty: medium-hard. Read more.
Jomon Sugi is the most famous of Yakushima's cedar trees. This enormous tree measures just 25 meters in height, but 16 meters in circumference. It is said to be between 2000 and 7200 years old, making it the oldest tree in Yakushima. Hiking is the only way to get to Jomon Sugi. It is located deep in the mountain forest, where the gods are said to live. At an altitude of 1'934 meters (6345ft.) it is a tough uphill hike to get there. Jomon Sugi can be reached via the Kusugawa Trail (the Taikoiwa Course) or the Arakawa Trail. The course via the Kusugawa Trail (starting in Shiratani Unsuikyo Ravine) takes around 12 hours round trip and is only recommended for experienced hikers. It is necessary to start the hike at sunrise to make it back in time. There are two huts for overnight stays – one close to the tree, another about 1km (1 hour) away. Read more about the hike here.
Note about the Arakawa trail: March 1st to November 30th cars aren't allowed to drive up to the Arakawa Trail Head, and it is necessary to take a shuttle bus.
Planning your visit
Weather and Equipment
Yakushima is known for being a very rainy island at times. Therefore it is advisable to bring proper rain gear with you when you go hiking in the forest. Proper footwear is also very important as many paths are unmaintained and can get very slippery in the rain.
Getting there
By car: Shiratani Unsuikyo Ravine is reachable by car from Miyanoura town in 20-25 minutes (10km). Free parking is available near the park entrance. Show parking lot on map.
By bus: There are two bus companies operating in Yakushima; Matsubanda Kotsu and Yakushima Kotsu. Both companies have services from Miyanoura Ferry Port to Shiratani Unsuikyo. The bus generally depart 3-4 times a day in both directions depending on the company, so it is important to plan well.
There are 1, 2, 3 and 4-day passes available for purchase for the Yakushima Kotsu bus (can't be used with other companies).
The time tables are generally posted at the bus stops, but the most recent time tables can be found in the download section of Yakushima Tourism Associations website.
🔗 Yakushima Tourism Association
🔗 Yakushima Tourism Association (downloads)
🔗 Yakushima Kotsu Bus Time Table 2020 (english)
🔗 Yakushima Kotsu Bus Route Map
🔗 Matsubanda Kotsu Bus Time Table 2019-2020 (english)
Suggested Hotels in Yakushima