The Amami Islands are known for Kokuto Shochu, a type of distilled alcohol which uniquely uses brown sugar as a key ingredient. Kokuto Shochu is specific to Amami. Around the various islands of Amami there are many distilleries specializing in this unique variety of Shochu. Some of those distilleries have factory sales and tastings – some even offer reserved tours.
Hotels in Amami Amami Private Guided Daytrip 3D2N Package Stay in Amami
Shochu is a distilled alcohol which is produced across most of southern Japan. Especially from the southern half of Kyushu and below the Shochu production is, and has historically been, important. Different varieties of Shochu exist, with the main difference being the ingredients. Some regions use sweet potato, others barley and others again rice. In Amami the special ingredient is brown sugar, probably due to the presence of many sugar cane farms across the islands.
Below is a list of 16 distilleries spread across the Amami islands. Many of the distilleries have factory sales, if not every day, then certain days of the week. Most of them also offer the possibility to taste the products. Some of the factories offer guided tours of the production facilities, but usually an advance reservation is required. Don't expect to show up and get a tour, but try to arrange a tour with the factory in advance, either via their websites, phone or have your accommodation call them and ask.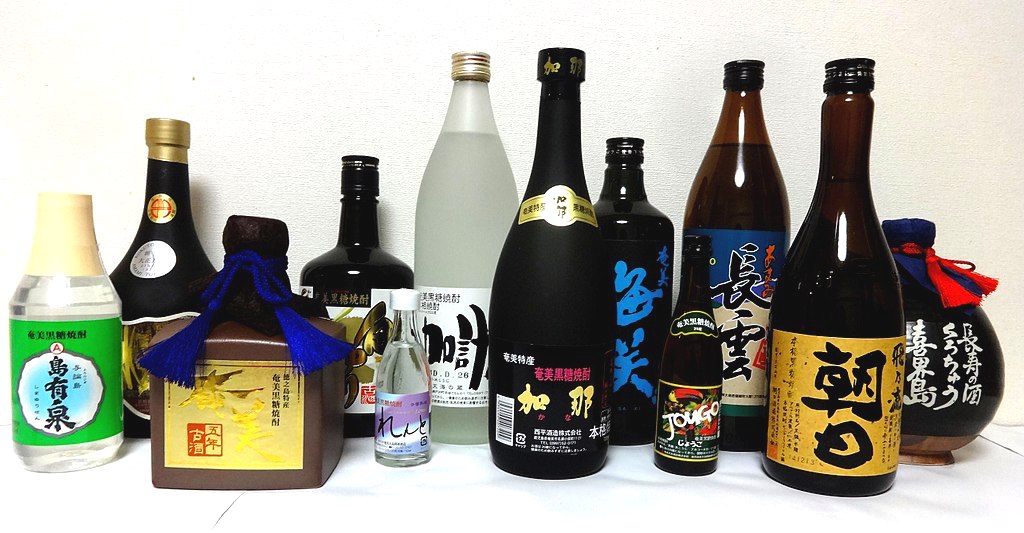 Kokuto Shochu, Amami. Photo by Hhaithait (wikimedia commons). CC BY-SA 4.0.
Can't choose between the 16 options? Amami Oshima Kaiun Shuzo on Amami Oshima is recommended. They have a large shop, it's easy to find and tasting is possible. Their most famous product is the brand Lento, a Kokuto Shochu which is aged using a technique which exposes the liquid to acoustic vibrations. In this case, the vibrations come from classical music. Quite a spoiled Shochu, isn't it?
Shochu Distilleries around Amami
Suggested Hotels in Amami