Sumiyoshi Shrine is a seafarers shinto shrine in central Fukuoka, and is presumably the oldest shinto shrine in Kyushu. The current buildings date back to 1623, but the shrine existed long before that.
In a charming, wooded park, near the Naka river in Hakata-ku, Fukuoka one finds the historic Sumiyoshi shrine. Sumiyoshi shrines are shinto shrines which are dedicated to the three gods (kami) Sokotsutsunoo, Nakatsutsunoo and Uhatsutsunoo. These three deities together are gods of fishing and the sea, effectively making the Sumiyoshi shrines the seafarers place of prayer. Japan being an island nation, quite a number of "Sumiyoshi" shrines can be found around the country. The shrine in Hakata, however, has special importance as many sailors shipped out from Hakata, when going to China or Korea. When the sailors travelled to Hakata over land, they would start at the equally famous Sumiyoshi shrine in Osaka. They would then make stops at shrines along the way, paying their respects to the gods of the sea. The last shrine they would pay a visit before leaving was the Sumiyoshi shrine in Hakata.
The shrine's main hall is designated an important cultural property. The shrine also holds historically important objects – most notably a copper axe and sword, which are designated national treasure.
On the grounds of the shrine are also two smaller shrines dedicated to Ebisu and Amaterasu, gods of fishermen and the sun respectively.
Sumiyoshi-zukuri, a traditional shinto building style
While the 1623 main hall of Hakatas Sumiyoshi Shrine does show some influence from buddhist building styles, it is also known for displaying architectural elements which hint at classical Sumiyoshi-zukuri architecture.
Sumiyoshi-zukuri (literally Sumiyoshi appearance/form) is a japanese building style from before Buddhism came to Japan and is therefore considered purely Japanese. This particular architectural style is typically characterized by flat roofs, two X-shaped finials (chigi) and a number of decorative logs called katsuogi placed on the roof. Additionally, a Sumiyoshi-zukuri style main hall is typically surrounded by a fence. To observe these features at the Sumiyoshi Shrine in Hakata, go around the main hall and observe it from the backside.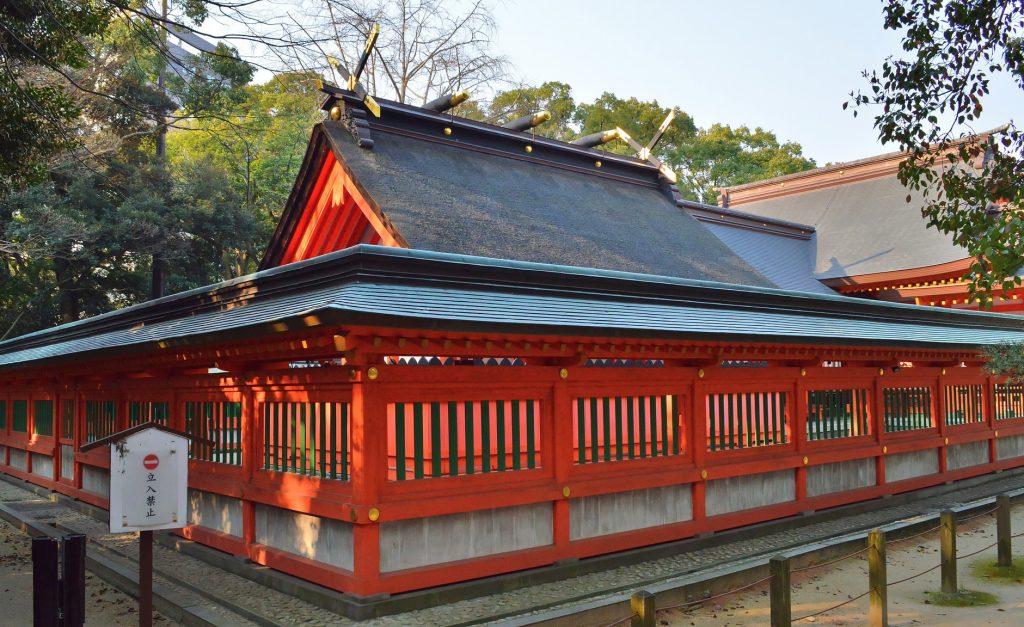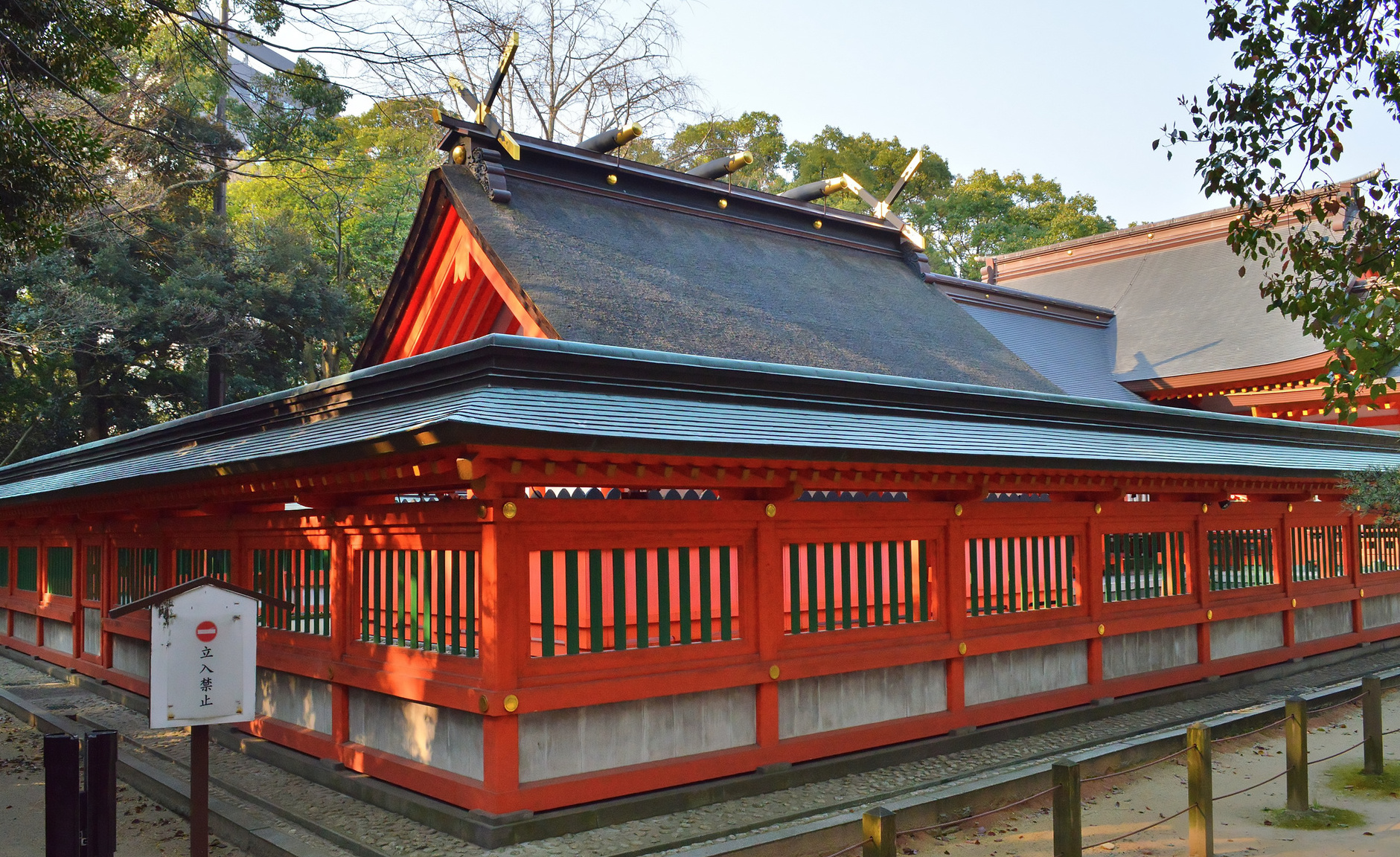 Area tips: If you are spending some time in Fukuoka, then check out the Fukuoka 1-day itinerary, and you might also find interest in Rakusuien Garden, which is located right next to Sumiyoshi shrine.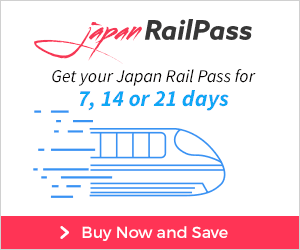 Getting there
By foot: Sumiyoshi Shrine is located a short 12 minute walk from Hakata station.
By bus: the nearest bus stop is Sumiyoshi bus stop. From Hakata station busses 9, 11, 15, 16, 17, 19, 50, 58, 58-1 and 214 stop here. Alternatively one can take bus 6 or 6-1 to TVQ bus stop. From either bus stop there's a good 5 minute walk to the shrine. Click here to learn how to take a bus in Japan.