Fukuoka is Japans 7th largest city, and is definitely worth a visit! You can spend quite a few days exploring the city, but 2 days will give you a great impression if you are short on time. This itinerary is designed to make sure you hit all the most important spots in the central city during your 2 day visit.
2 day itinerary Map Accommodation Tours Fukuoka / Kyushu
If you don't have two full days, then I recommend that you check out the Fukuoka 1 Day Itinerary. On the other hand, if you have can find an extra day, then check out the great 3-day itinerary. At the bottom of the article you find a subway map along with some hotel recommendations. To get a historical perspective on the city, the "Historical Hakata Tour" is recommended as an addition to this self guided tour.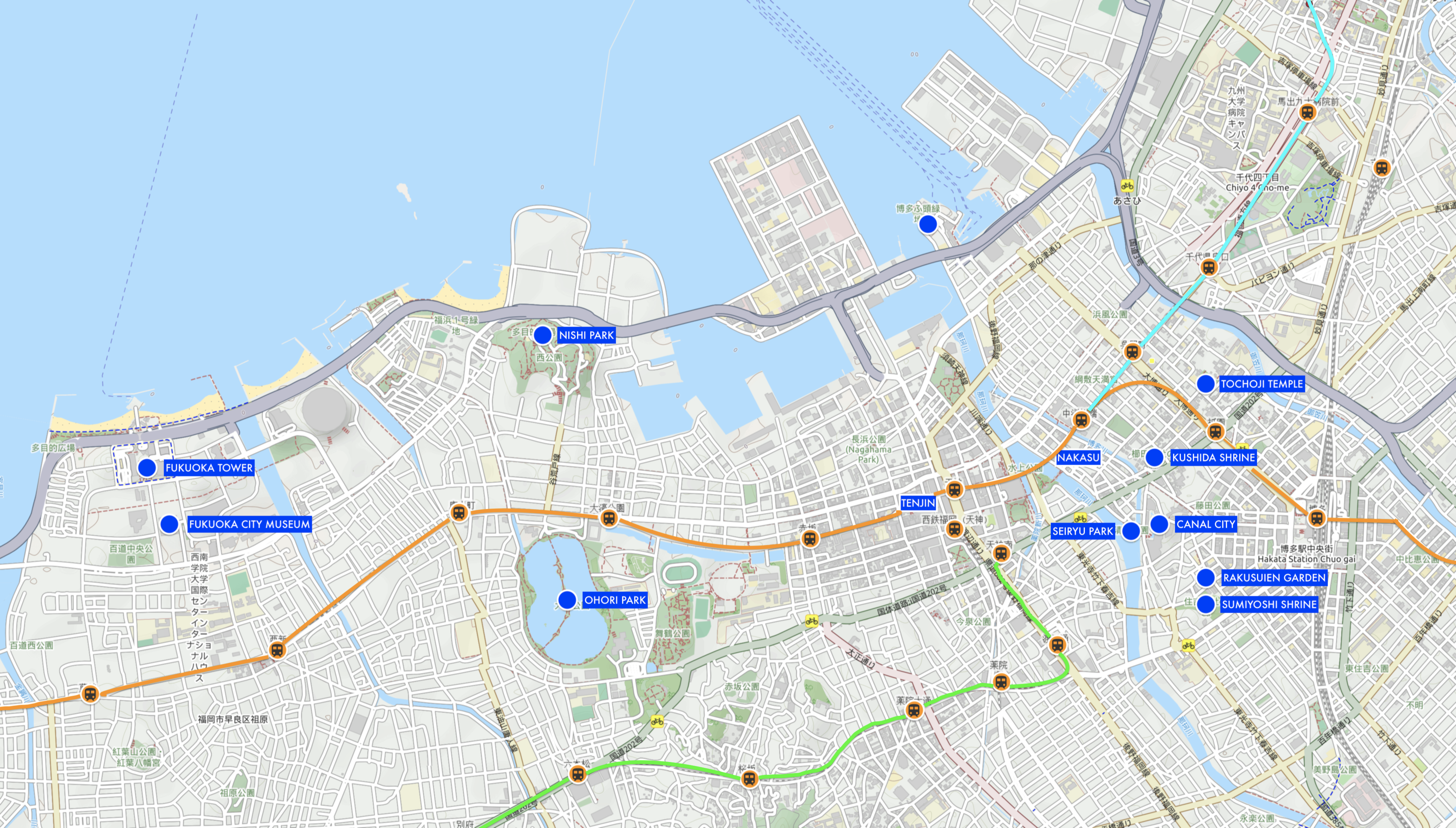 Fukuoka 2-day itinerary map with points of interest and subway map. Map source: openstreetmaps.org.
2-day itinerary Fukuoka
Day 1 (Hakata)
The first day is spent exploring the Hakata area, north of the Naka river. The itinerary contains shrines, temples, a Japanese garden, views of the city and much more.
Day 2 (Western Fukuoka)
The second day in Fukuoka will be spent exploring the western part of Fukuoka, on the southern side of the Naka river. The itinerary contains parks, a museum, shopping and views of the city.

Itinerary details
Details of Day 1

Kushida Shrine
is a really interesting shrine located very near Fukuokas night life district, Nakasu. This shrine is home of the Hakata Gion Yamakasa festival, which is also why some of the festivals enormous floats are stored and displayed on the shrines grounds. Take some time to explore the large area belonging to the shrine. There are many small curiosities and interesting details to be found around Kushida, like the Chikara Ishi stones – a set of huge, engraved stones which Sumo wresters have donated to the shrine. The stones are moved in place by the wrestlers as a proof of strength. There is a trial stone on the ground where you can try your own strength.
Nearest station: Gion Subway Station.
Entry fee: free

Tochoji Temple
is a Shingon Buddhist temple located in Fukuoka. It is one of the major attractions within the city, and is a definite must-visit when in Fukuoka. Main attractions here are The Great Buddha of Fukuoka, The walk through heaven and hell and the huge, red 5 story pagoda. If you are lucky enough to be visiting during Sakura season then you will be welcomed by an enormous cherry tree with thousands of delicate, pink flowers.
Nearest station: Gion Subway Station.
Entry fee: Free. Donation to see Buddha.

Seiryu Park
Seiryu park is a small, open park at the tip of Nakasu island. The park has the river splitting in two around it, making it feel almost lie you are on a boat. Located by the river it is a beautiful place for watching cherry blossoms in the spring.
Nearest station: Gion Subway Station. Best accessed by foot or bus.
Entry fee: free

Canal City Hakata
is a massive shopping complex, located near Nakasu and Kushida Shrine. The complex is famous for it's venetian inspired water ways and it's water projection shows. It's a big multi-level shopping mall featuring all sorts of shops, cafes, restaurants, game centers and a cinema. It's a good place to explore and get lost in the many interesting shops, while waiting for the next water projection show.
Nearest station: Gion Subway Station. Best accessed by foot or bus.
Entry fee: free

Rakusuien Garden
Rakusuien is a small, beautiful Japanese garden located centrally in Fukuoka. The garden also has traditional tea rooms which can be booked for private events. It's a peaceful place to look at blossoming trees in the spring and fall leaves in autumn, or just to get a break from the city.
Access: by foot or bus. Nearest bus stop: TVQ.
Entry fee: ¥100 (Adult) / ¥50 (children)

Sumiyoshi Shrine
Sumiyoshi Shrine is a historical seafarers shinto shrine in central Fukuoka. It is presumably the oldest shinto shrine in all of Kyushu. The shrine is notable for it's long history, and for being the last "sumiyoshi" shrine many seafarers would visit before shipping out from Hakata. Some buildings display elements of classic shinto architecture.
Access: by foot or bus. The nearest bus stop is Sumiyoshi bus stop.
Entry fee: free

Hakata Port Tower
Hakata Port Tower is a radio tower in Fukuoka. The tower has a free observation deck. The tower doesn't seem to be well known amongst tourists, despite being free, and offering amazing views of both the sea, harbor and city.
Access: the nearest bus stop is "Hakata Futo" (wharf)
Entry fee: free

Nakasu Area
is Fukuokas nightlife district. The area is effectively located on an island, but is connected to both sides by a large number of bridges. It's a fun place with many charming back alleys to explore in the early evening. Nakasu is the perfect place to get a quick dinner or drink.
Nearest station: Nakasukawabata Station. If you arrive from Canal City, then Nakasu is reachable in few minutes by foot.
Details of Day 2

Ohori Park
is a beautiful public park located centrally in Fukuoka, and a great place to start the day. The park centers around a large pond with three small islands. Near Ohori Park you find Fukuoka Castle Ruins, the foundation and boulders left of Fukuoka Castle. The castle was demolished in connection with the Meiji restoration, but enough remains to give an idea of the the size and area it covered. The castle ruins are located in Maizuru Park which is a prime spot for cherry blossom (sakura) viewing in early spring.
Nearest station: Ōhorikōen Station.
Entry fee: free

Fukuoka City Museum
is a fairly recent museum, dedicated to telling the history of Fukuoka. It's a great place to spend an hour or two, to understand how Fukuoka came to be the city it is today. Amongst the main attractions here is the "King of Na gold seal", which is designated as Japanese national treasure. Photo credit: Nkmr844, licensed under CC.
Nearest station: Nishijin station.
Entry fee: ¥200
Fukuoka Tower
is a 234m. (768ft) tall observation tower on the west side of central Fukuoka. The tower is located on the coast and therefore offers a magnificent view of both Fukuoka and the sea from it's observation decks.
Nearest station: Nishijin station. From Nishijin station take bus 6, 15 or 94.
Entry fee: ¥600 for foreign tourists

Nishi Park
is a beautiful park, located on a hill towards the sea. In the park one finds the Koun Shrine, along with some amazing views over the city and Hakata bay. The park is filled with cherry trees, making it a perfect spot for viewing cherry blossoms (sakura) in the spring.
Nearest station: Ōhorikōen Station. Best accessed by foot or bus.
Entry fee: free

Tenjin Area
is the hip shopping district of Fukuoka. This is where all the major brands have their shops. It's also in this area where you find the major Japanese department stores. It's a great place to do some (window) shopping and get a coffee. Don't miss Tenjin central park, where you can't miss the plant covered ACROS building. If you have the energy, then take the walking path up to the top of the building where you have a great view over the area and the sea. Read more.
Nearest station: Tenjin Station.
Area map: see here.

Planning your stay in Fukuoka
Hotels and accommodation
Booking hotels in advance is advisable, especially during Sakura season. Head over to booking.com or Agoda to explore all hotel options in Fukuoka.
Hotel Nikko Fukuoka
☆☆☆☆☆
Luxury hotel with direct access to train and subway. One of the best in Fukuoka.
Reserve with booking.com
Reserve with agoda
Pocket Wi-Fi and SIM-cards
Having an internet connection can help you a great deal when navigating the streets of a new city. Booking Pocket Wi-Fi or getting a Japanese SIM-card for your phone can be a great way to help yourself out of a tricky situation.
Rent portable Wi-Fi Buy Data SIM-card
Transport in Fukuoka
Fukuoka has a small, but useful subway network which is great for moving around between the city's attractions. Combined with the city's massive network of busses, it is easy to get around in Fukuoka.
1 or 2 Day Pass for Fukuoka Subway