Umi no Nakamichi Seaside Park (海の中道海浜公園) is a huge, all-season family park and day-trip destination located on the Uminonakamichi Peninsula in Hakata Bay, Fukuoka. The park features a large number of attractions aimed primarily at families with children. The attractions of Umi no Nakamichi include numerous flower gardens, a zoo, playgrounds, a water park, sports facilities and a sea observation platform. While primarily targeted families, the park is also a great flower viewing spot for everyone else, as the parks flower gardens are extremely big and varied.
Accommodation Tours Fukuoka / Kyushu 1-2 Day Pass for Fukuoka Subway
Many of the parks attractions are aimed at families with children, however it is a very popular spot with young couples too. Especially the extensive collection of flowers spread out over themed gardens, as well as the open fields with extensive "oceans" of flowers attract the younger generations. The gardens are designed to be beautiful through all seasons, so you can even visit during winter. The "Flower Museum" is a unique feature of Umi-no-Nakamichi. It is a collection of 10 themed gardens, which all provide unique experiences.
All photos © touristinjapan.com
The park is quite extensive, so renting a bike is recommended if you want to cover several locations on the same day. It is possible to walk, though you should bring water and snacks with you.
If you are looking for more activities in the Fukuoka area, then check out the Fukuoka articles. Good suggestions around Fukuoka are the Nanzo-in temple and Dazaifu Tenmangu Shrine – two very popular attractions in the area.
Attractions of Umi no Nakamichi
Flower Gardens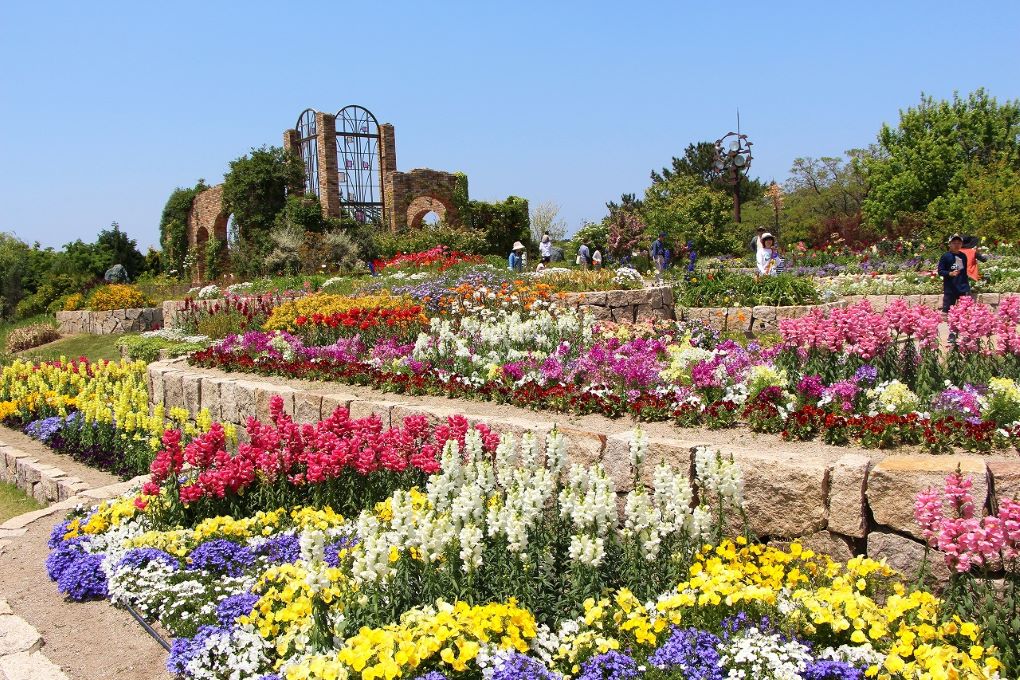 Umi no Nakamichi Seaside Park has a large number of different flower gardens. Most of the gardens are beautiful through all seasons. The gardens include the Canal Water Fountain Garden, the Flower Museum (divided into 10 individual gardens), the Rose Garden, the Flower Hill, the Colorful Flower Garden, the Rainbow Flower Garden, the Toy Box Flower Garden and the Hydrangea Pathway.
Photo © uminomichi seaside park. Used with permission.
Zoo and Petting Zoo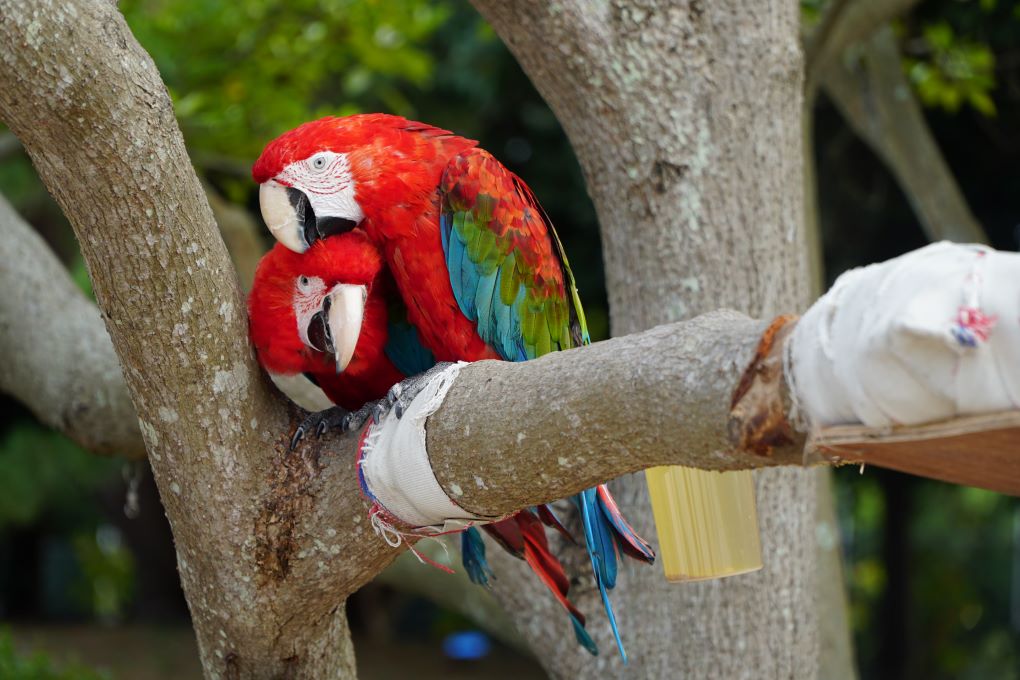 Umi no Nakamichi Seaside Park features an impressive zoo, including some petting areas. The zoo area has monkeys, parrots, turtles, capybara, prairie dogs, kangaroos, flamingos and much more.
Playgrounds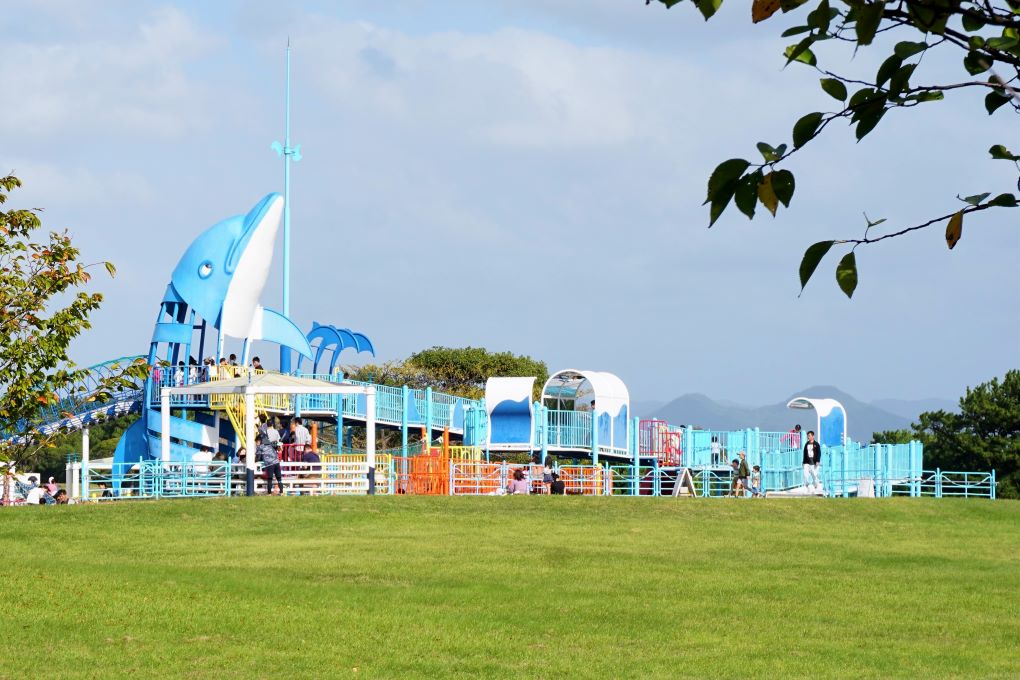 The area of Umi no Nakamichi has numerous exciting playgrounds for children. The playgrounds are of various types, but with a common theme of sea/water. The Sky Dolphin and it's maze of bridges and activities catches the eye with a huge dolphin shaped tower. The Whale Cloud is an enormous trampolin, or "Fluff-Poline" as they call it. The Waterside Playpark is a monkey-like park where children can be active, climb, balance and have fun.
Additionally there are areas for put-put golf, disc golf and a barbecue area.
Cycling Paths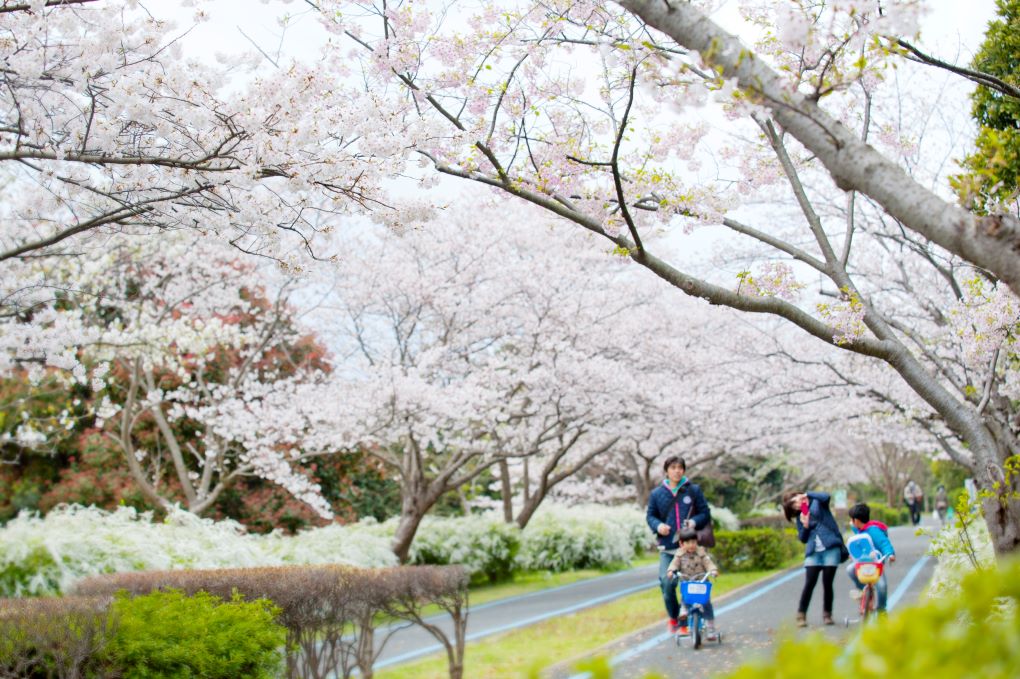 Umi no Nakamichi Seaside Park covers a huge area. The area is so big that some people may find it hard to cover by foot. Luckily there are cycling paths covering the entire park. Bicycles can be rented inside the park for a reasonable price. It's a great place for children to get some safe experience with cycling, and a comfortable way to move around between the parks attractions.
Photo © uminomichi seaside park. Used with permission.
Sunshine Pool and other water areas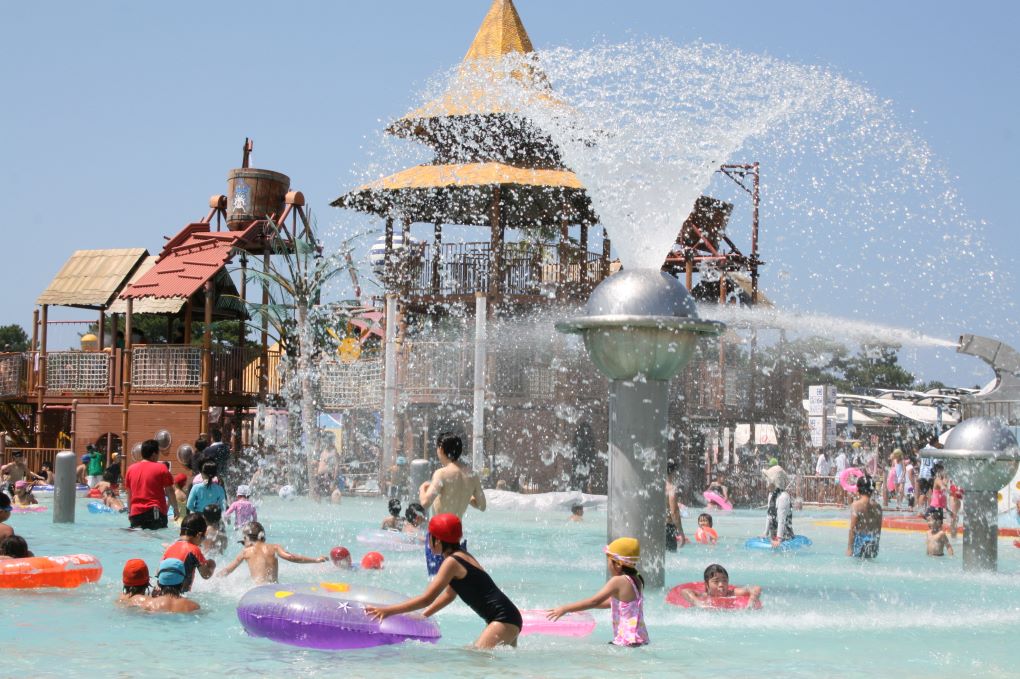 During the summer months the parks 3 water activity areas are open, so bring your bathing suits. The Sunshine Pool is a huge water park full of fun activities. The Jabujabu Pond is a pool with a shallow water depth of only 20-30cm, well suited for children who are less comfortable with water. Lastly, the Splash Fountain is a fun place to cool down on a hot summer day.
Photo © uminomichi seaside park. Used with permission.
Marine World Aquarium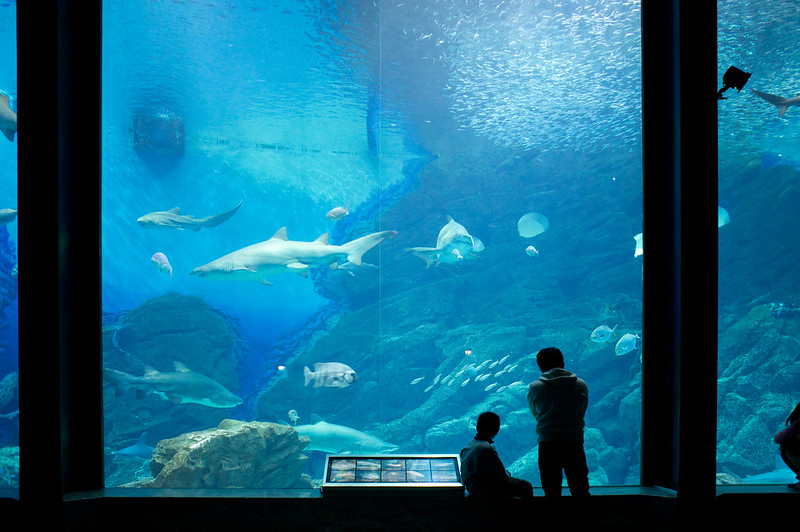 While not technically inside the park, the Marine World Aquarium can easily be combined with a visit to Umi no Nakamichi Seaside Park. The aquarium focuses on the marine life around Kyushu and is very educational, for both adults and children.
Photo by Takashi Yamaoku. CC BY-SA 2.0.
Planning your visit
Getting there
By train: from Hakata Station in Fukuoka, take the Kagoshima Line or Sonic-Nichirin Line north to Kashii Station. At Kashii Station, change to the Kashii Line bound for Saitozaki. Get off at the second to last stop, Uminonakamichi Station. 35 minutes, ¥480. Covered by the Japan Rail Pass.

By ferry: from Hakata Port in Fukuoka you can take a ferry to Saitozaki Ferry Terminal. The ferry takes 15 minutes and costs ¥450. From the port, you can walk to the park entrance in 5-10min.
? Port of Hakata website (find schedules here)