Nagasaki City (population: 412,000), in Nagasaki Prefecture on the western side of Kyushu, is a city full of history. Across the world Nagasaki is known for being the second city ever to be hit by an atomic bomb. However, even before that time, Nagasaki was known world wide. For centuries this southern port city was the only place where Japan traded with the outside world. This special role as an international trade port has shaped the city into what it is today, an international city unlike any other city in Japan.
Hotels Nagasaki Guided Tour JR Pass (All Kyushu)
Nagasaki is full of international influences. Especially the Dutch, Portuguese and the Chinese have strongly influenced not only the city's architecture, but also it's food, religion and general mentality. It is a treasure chest of international history, and the best place in Japan to explore Japans meeting with the western world.
1-day itinerary Nagasaki
With this itinerary you will explore the rich history of Nagasaki. You will learn about the arrival of the Europeans in Japan in the 1500's, visit an old dutch trading post, explore European-style buildings, a former Chinese temple, enjoy one of Japans top-3 night views and taste Nagasaki's famous Champon noodle dish. Of course, you will also visit the Peace Park and the Atomic Bomb Museum, a part of recent history which has defined Nagasaki.
Itinerary Details
Itinerary details

Nagasaki Peace Park
Nagasaki Peace Park is a wide and open park, made to commemorate the day the atomic bomb fell on Nagasaki (9. august 1945). The park has two parts; the memorial park and the hypo center park. The memorial park is home to the peace fountain and the impressive Peace Statue designed by Seibo Kitamura. Nearby is the Atomic Bomb Museum which is the next stop on the itinerary.
Nearest tram stop: Peace Park Stop. Trams No. 1, No. 2 and No. 3.
Entrance fee: free.

Nagasaki Atomic Bomb Museum
Nagasaki Atomic Bomb Museum, located right the the Peace Park, is a museum dedicated to remembering the traumatic bombing of Nagasaki. Following a visit to the Peace Park, the museum is the best place to learn about the bombing, and the events leading up to it. The museum also displays artifacts from the bombing and numerous photos of Nagasaki before the bombing, as well as a reports, told by survivors of the horrific event.
Nearest tram stop: Atomic Bomb Museum Stop. Trams No. 1, No. 2 and No. 3. from the Peace Park you can walk to the museum in a couple of minutes.
Entrance fee: ¥200.

Meganebashi Bridge
Megane Bridge, also known as Spectacles Bridge or Meganebashi in Japanese is an old stone bridge which spans the Nakashima River in Nagasaki. The bridge is famous for resembling a pair of eyeglasses when it reflects in the water of the river below it.
Nearest tram stop: Meganebashi Bridge. Tram No. 2, No. 4 and No. 5.
Entrance fee: free.

Kofuku-ji Temple
Kofuku-ji, located in Nagasaki's temple town district, was the first Obaku Zen temple in Japan. It was established in 1620 by a Chinese priest, as a place to pray for the safety of seafarers. It's Chinese architecture makes Kofuku-ji stand out among Japanese temples and shrines and makes a must-see location in Nagasaki. The temple is in a walkable distance from Megane Bridge.
Nearest tram stop: Civic Hall. Tram No. 2, No. 3, No. 4 and No. 5.
Entrance fee: unknown.
Nagasaki Chinatown
Nagasaki Shinchi Chinatown is an area in central Nagasaki, which used to be home to Chinese traders during the Edo period. Today it is a typical colorful "chinatown" district, full of restaurants and shops. It is also the main venue for the Nagasaki Lantern Festival which takes place every year in the late winter. Nagasaki's Chinatown is the perfect place to explore the city's internationally inspired cuisine.
Nearest tram stop: Shinchi Chinatown. Trams No. 1, No. 2 and No. 5.
Entrance fee: free.

Dejima
Dejima (出島 "exit island") in Nagasaki, is a former island where first the Portuguese, and later the Dutch, were permitted to conduct business with the Japanese during the isolation era. It was through this island that Japan imported all it's western knowledge and products. Today the area functions as a sort of large museum about the Dutch trade with Japan, and provides an interesting introduction to the development of Japans relationship with the western world.
Nearest tram stop: Dejima. Trams No. 1 and No. 2.
Entrance fee: ¥520.

Glover Garden
Glover Garden is a park and museum, located on a hillside in Nagasaki's Minamiyamate area. The park, which belonged to the prominent Scottish merchant Thomas Blake Glover, has a magnificent view over Nagasaki city and harbor. It contains a number of old western-style houses, of which the most prominent is Glover's own former villa. The park functions as an open-air museum, and is a great spot to watch the sunset.
Nearest tram stop: Oura Cathedral Stop. Tram No. 5.
Entrance fee: ¥620.
Mount Inasa (Nagasaki Night View)
Mount Inasa (Inasayama) is a small mountain located on the western side of the city. It offers one of Japans 3 best night views, and is completely free. Mount Inasa is relatively close to downtown Nagasaki, and is easily accessible by a scenic ropeway.
Ropeway station: Fuchi Shrine Station. Other options are available, click here to read more.
Entrance fee: free. Ropeway costs ¥1250 roundtrip.
Planning your stay in Nagasaki
Hotels and accommodation
Hotel Monterey
☆☆☆☆
High-end hotel located near the famous Glover Garden and Oura Cathedral.
Reserve with booking.com
Reserve with agoda
APA Nagasaki Ekimae
☆☆☆
Budget friendly, mid-range hotel located close to Nagasaki Station.
Reserve with booking.com
Reserve with agoda
Tours, tickets and experiences
Nagasaki is full of history and stunning things to see and do. Booking a couple of experiences or tours could enhance your experience further and let you dive deeper into the local culture of Nagsaki as well as the surrounding areas such and Sasebo and Mount Unzen. Below is a selection of tours and experiences which you may find interesting.
Nagasaki Food
Three unique foods to try in Nagasaki:
Champon (noodle dish)
Shippoku Ryori (internationally influenced cuisine, representative of Nagasaki's international history)
Okoze (poisonous stone fish)
Internet on the go
Having an internet connection can help you a great deal when navigating the streets of a new city. Booking Pocket Wi-Fi or getting a Japanese SIM-card for your phone can be a great way to help yourself out of a tricky situation or help you get the most out of your day.
Transport in Nagasaki
Nagasaki has an effective and useful network of trams. There are five lines, numbered 1 though 5. Line 2 is a rare late-night line, so normally you will only encounter lines 1, 3, 4 and 5. The below map shows the tram lines and stops through the city of Nagasaki.
The tram has a flat-fare price of ¥130 (children ¥70). A one-day pass is available for ¥500 (children ¥250)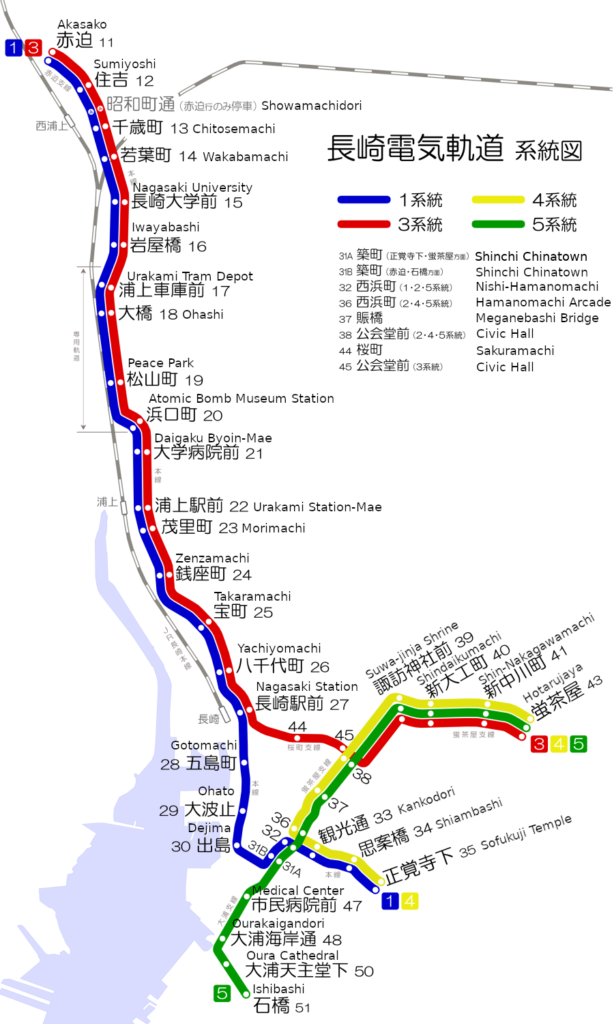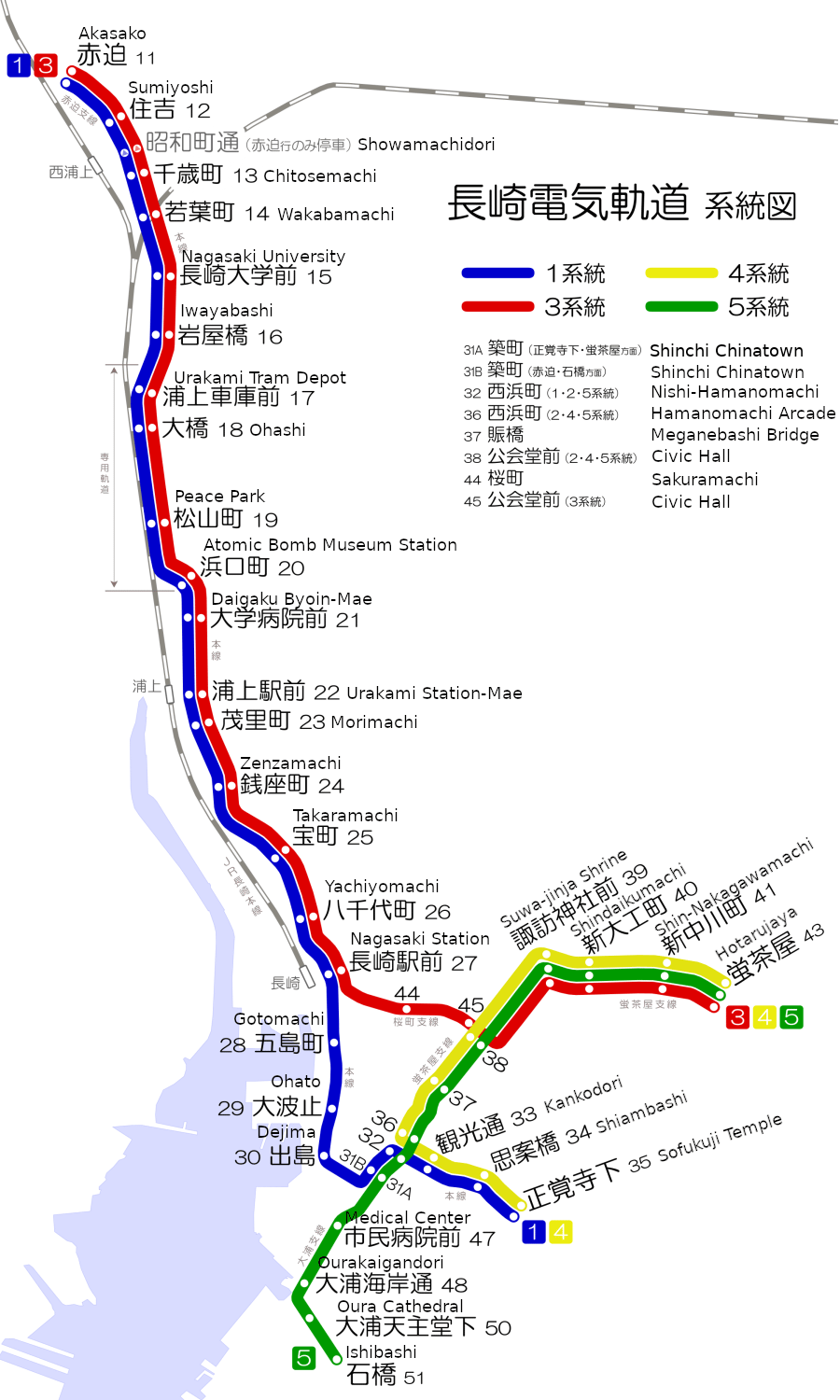 Getting to Nagasaki
By Train
Getting to Nagasaki by train is really easy. While there is no Shinkansen Line directly to Nagasaki, there is an express train from Hakata Station (Fukuoka) which will take you to Nagasaki in less than 2 hours. The train is covered by the Japan Rail Pass.
From Fukuoka, take the Kamome Limited Express Train from Hakata Station to Nagasaki Station. The ride is just under 2 hours, and is covered by the Japan Rail Pass.
From Osaka, take the SAKURA Tokaido-Sanyo Shinkansen to Hakata Station (Fukuoka). From Shin-Osaka station it is around 2.5 hours to Hakata. From Hakata Station, take the Kamome Limited Express Train to Nagasaki Station (just under 2 hours). The entire journey should take 4-5 hours, and is covered by the Japan Rail Pass, as long as you take the Sakura Shinkansen train, and not the Nozomi Shinkansen.
From Tokyo, taking the train to Nagasaki takes nearly 8 hours, so it might be a better option to fly. If you must take the train, then you can save a lot of money by buying a Japan Rail Pass. Take the HIKARI shinkansen from Tokyo Station to Shin-Kobe Station. From Shin-Kobe station, take the SAKURA shinkansen to either Hakata Station or Shin-Tosu Station. From either of those two stations, take the Kamome Limited Express train to Nagasaki Station. Fastest possible transit time by train is around 8 hours. The entire journey is covered by the Japan Rail Pass, as long as you don't take the Nozomi Shinkansen.
Japan Rail Pass (7, 14 or 21 days) JR Kyushu Rail Pass (3 or 5 Days)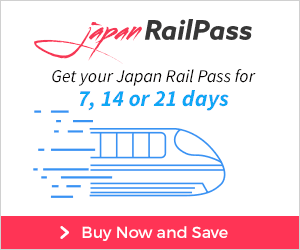 By Air
Nagasaki Airport (NGS) is the closest airport to Nagasaki, and the obvious choice for flying into Nagasaki. There are connections between Nagasaki Airport and Tokyo Narita, Tokyo Haneda, Osaka Itami, Osaka Kansai, Nagoya, Kobe, Naha, Fukue, Tsushima and Iki airports. In addition to that there are a couple of international destinations, including Hong Kong and Shanghai.
By bus
There are many options to get to Nagasaki by bus. Busses depart for Nagasaki from Fukuoka, Fukuoka Airport, Beppu, Oita, Kumamoto, Sasebo, Miyazaki and Kagoshima among others. If you plan on traveling by bus, then it's worth getting the Kyushu SunQ Unlimited Bus Pass. The pass is available in 3 and 4 day variants, and gives unlimited bus rides on all buslines which are participating in the SunQ program (a lot of the busses in Kyushu are covered by the pass). The busses which are covered by the SunQ pass are marked with a SunQ logo on the outside.